Trump Blames Biden Distrust, Harris' 'Nasty Comments' for Vaccine Hesitancy
Former President Donald Trump is blaming some people's hesitancy about COVID-19 vaccination on President Joe Biden and Vice President Kamala Harris, saying they have stoked distrust in getting inoculated.
In a Yahoo Finance interview published Monday, Trump lauded his administration's ability to bring COVID-19 vaccines to the public in record time, crediting himself for 185 million Americans getting at least one dose. However, the nation is still seeing spikes in coronavirus cases, largely fueled by unvaccinated people, and health officials are struggling to convince those who haven't gotten vaccinated to go for the shot.
When Yahoo Finance's Adam Shapiro asked if he thought misinformation about the vaccines was contributing to people's reluctance to get inoculated, Trump responded with a resolute "no."
"Vice President Harris made some very nasty comments, and I think maybe people took that seriously, what she said. But I think they hurt the vaccine," Trump said.
Newsweek reached out to the White House for comment but did not receive a response in time for publication.
The pandemic was at the forefront of last year's presidential campaign, and Trump continued to push the message that COVID-19 vaccines were coming, even speculating that they could arrive before Election Day. Some pushed back on Trump's timeline, believing it was too ambitious, and Harris said she wouldn't take any advice on vaccines from the former president.
"I will say that I would not trust Donald Trump, and it would have to be a credible source of information that talks about the efficacy and the reliability of whatever he's talking about," Harris told CNN's State of the Union in September 2020. She added that the vaccines will be an "issue for all of us."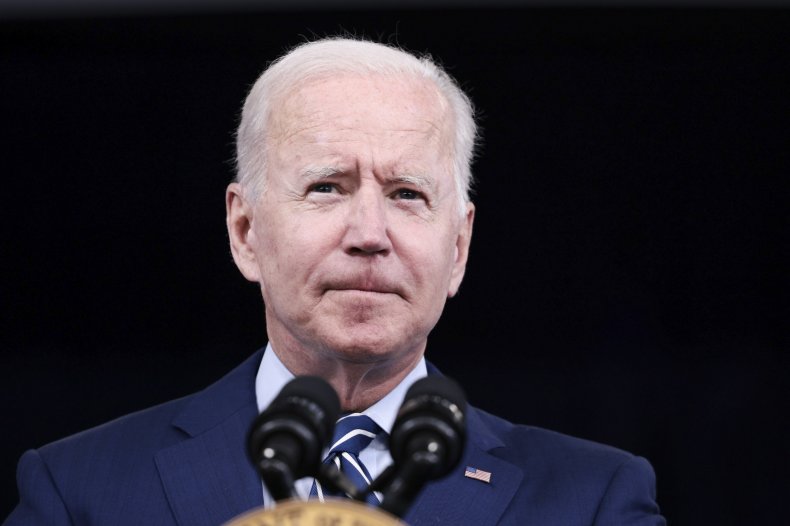 At the vice presidential debate a month later, Harris reiterated that if Trump "tells us we should take it, I'm not going to take it." Instead, she said, she would listen to Dr. Anthony Fauci, director of the National Institute of Allergy and Infectious Diseases. If the NIAID recommended it, she added, she would be "first in line."
Former Vice President Mike Pence went after Harris for her comment, saying it would undermine the public's confidence in the vaccines if they arrived during Trump's time in office. He also called the remark "unconscionable" and told her to "stop playing politics with people's lives."
The COVID-19 vaccines started being administered last December after Pfizer and Moderna received emergency use authorizations from the Food and Drug Administration for their shots. Initially, they were available only to those who were considered at high risk of contracting the disease and individuals working in certain professions. By April, states were rolling out the vaccines to those over 18 regardless of their risk status or profession, and vaccinations hit a peak in the spring.
They've since been trending downward, and the drop-off delayed Biden's July Fourth goal of having 70 percent of Americans vaccinated with at least one shot. Reluctance to get vaccinated helped fuel the summer surge in virus cases, driving many overwhelmed hospitals to the breaking point.
Polls show Republicans are more reluctant than Democrats to get a COVID-19 vaccine, and Trump's supporters booed him at an Alabama rally when he advised attendees to get vaccinated. Asked what was contributing to vaccine hesitancy, Trump told Shapiro he thought it was because "they don't trust Biden" or his administration.
"When I was president, there was a rush to get it. Everybody wanted to get it. It was only after that you started to hear this," Trump said. "After I left, people don't want to take it. And it's very interesting."
Trump told Shapiro he thought the pandemic would have ended "long before now," adding that you "don't hear Biden being criticized for the fact that this thing is lingering on."
The recent COVID-19 surges across the country contributed to Biden's falling approval rating, and with vaccinated individuals once again having to wear masks, there is frustration and concern that the pandemic will never end. However, Biden has stood behind his response to the health crisis, and while the administration's top strategy is to increase initial vaccinations, the president is also pushing for widespread booster doses.
Waning immunity from the vaccines could put people at risk as the Delta variant persists, and vaccination critics have cited booster doses as another example of moving the goalpost. But it's not uncommon for vaccinations to involve booster shots, and while Trump wouldn't commit to getting a third dose, he told Shapiro he was open to it.