Trump Blames 'Big Media, Big Tech' as he Rails Against Election 'Fraud' Without Evidence
President Donald Trump claimed that social media and media outlets contributed to swaying the U.S. Presidential election towards Democratic presidential candidate Joe Biden during a Thursday press conference from the White House. Trump also claimed that the Democrats were attempting to execute fraud in an attempt to steal the election from him.
In his address, Trump alleged that polls published by news outlets and social media contained false information, referring to them as "fake." However, no solid evidence has been uncovered to indicate the polls were knowingly rigged.
"The pollsters got it knowingly wrong, knowingly wrong, and everybody knew it at the time," Trump said. "There was no blue wave that they predicted. They thought there was going to be a big blue wave." Trump also referred to the Democratic party as the "party of the big donors, the big media, the big tech, it seems, and the Republicans have become the party of the American worker and that's what's happened. We're also, I believe, the party of inclusion."
Trump said that he obtained victories in battleground states like Florida and Ohio "despite historic election interference from big money, big media and big tech."
"If you count the legal votes, I easily win," Trump said, referring to the presidential election in totality. "If you count the illegal votes, they can try to steal the election from us."
Newsweek reached out to the Biden campaign for comment.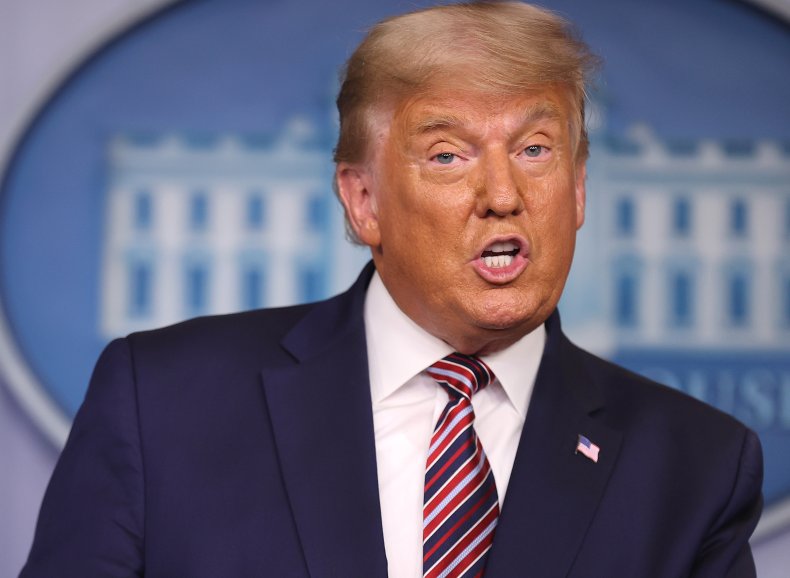 Trump also claimed that in some areas where ballots were still being counted, Democrats were attempting to "commit fraud."
"This is a case where they're trying to steal an election," Trump said. "They're trying to rig an election and we can't let that happen."
In a Thursday tweet, Trump said that his administration would challenge the legality of some reported battleground state victories for Biden.
"All of the recent Biden claimed States will be legally challenged by us for Voter Fraud and State Election Fraud," Trump tweeted. "Plenty of proof - just check out the Media. WE WILL WIN! America First!"
Twitter flagged Trump's post as being potentially "misleading about an election or other civic process."
Trump has expressed concerns that he could lose his re-election bid as swing states continue to count mail-in and absentee ballots. In Pennsylvania, where 20 electoral votes are at stake, Trump's lead over Biden appeared to be shrinking on Wednesday. Victory in Pennsylvania would give Biden more than the 270 electoral votes needed to win the presidency.
On Wednesday, Trump's re-election campaign filed suit in Pennsylvania and requested a halt to ballot counting. According to the lawsuit, Trump's campaign officials were not granted "meaningful access" to the tabulation process. A Thursday ruling by a Pennsylvania appellate court allowed representatives of Trump's re-election campaign to "observe all aspects of the canvassing process." However, those individuals must remain within 6 feet of election workers and wear face masks to comply with COVID-19 safety protocols.
This is a breaking story and will be updated as more information becomes available.