Trump Blames Dem Immigration Policy for Coronavirus: 'Border Security is Also Health Security'
While talking about the coronavirus outbreak to a campaign rally crowd in North Charleston, South Carolina on Friday, President Donald Trump said the immigration policy instituted by the Democrats was "a direct threat."
"We must understand that border security is also health security," Trump said.
"Whether it's the virus that we're talking about or many other health threats, the Democrat policy of open borders is a direct threat to the health and wellbeing of all Americans," Trump added.
Trump also spoke about his creation of a White House virus task force, which he called "a big thing."
"I requested $2.5 billion dollars to ensure we have the resources we need. The Democrats said, 'That's terrible. He's doing the wrong thing. He needs $8.5 billion, not $2.5 [billion]," Trump said. "I've never had that before, ask for two and a half and they give me eight and a half, so I said, 'I'll take it!' I never had that before."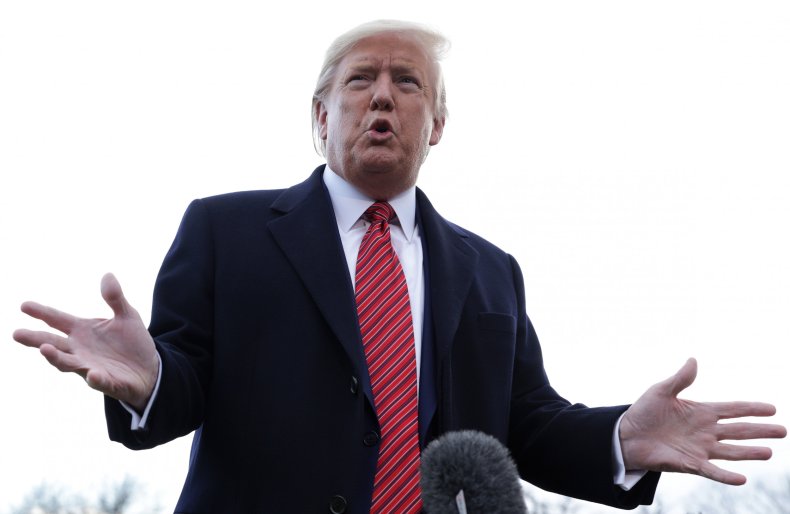 Senate Minority Leader Chuck Schumer proposed $8.5 billion in emergency funding to combat the spread of coronavirus in the U.S. after Democrats said Trump's funding request was "too little and too late."
"America must prepare for—and aggressively combat—all infectious diseases with urgency and vigor," read a Wednesday press release from Democrats in the U.S. Senate. "In order to do so, we need a comprehensive plan and robust resources to execute a mission. Thus far, the Trump administration has failed to develop a plan and request the appropriate resources from Congress."
Newsweek reached out to Schumer's office for comment but did not receive a response in time for publication.
Trump has received criticism for placing Vice President Mike Pence in charge of the White House coronavirus task force.
"Mike will be working with the professionals, doctors, and everybody else that's working," Trump said in a news conference Wednesday. "Mike is going to be in charge and Mike will report back to me."
U.S. Department of Health and Human Services Secretary Alexander Azar is the chairman of the task force. Pence has also appointed Ambassador-at-large and United States Global AIDS Coordinator Deborah Birx to the task force. According to a Thursday statement, she will report to Pence and "be supported by the National Security Council staff."
Pence's record on health-related issues, however, is spotty. While he was governor of Indiana in 2015, Pence was slow to approve a needle exchange in the face of an HIV outbreak in his state. "I'm going to go home and pray on it," Pence said at the time.
Pence did wind up approving the needle exchange program but told reporters in March 2015, "I will tell you, I do not support needle exchange as antidrug policy, but this is a public health emergency."