Trump Blames French Protests on Paris Agreement, Claims People Are Chanting 'We Want Trump!'
President Donald Trump has said that unhappiness with the Paris Agreement on climate change is behind the violence that has flared up in France.
Thousands have gathered in Paris for a fourth week of anti-government protests that have pitted police against the so-called "yellow vest" movement which had initially opposed fuel tax rises.
Read more: No choice but to start the impeachment proceedings says Watergate official
"The Paris Agreement isn't working out so well for Paris. Protests and riots all over France," Trump tweeted on Saturday morning referring to the climate change deal struck in 2016 that he pulled the U.S. out of last year.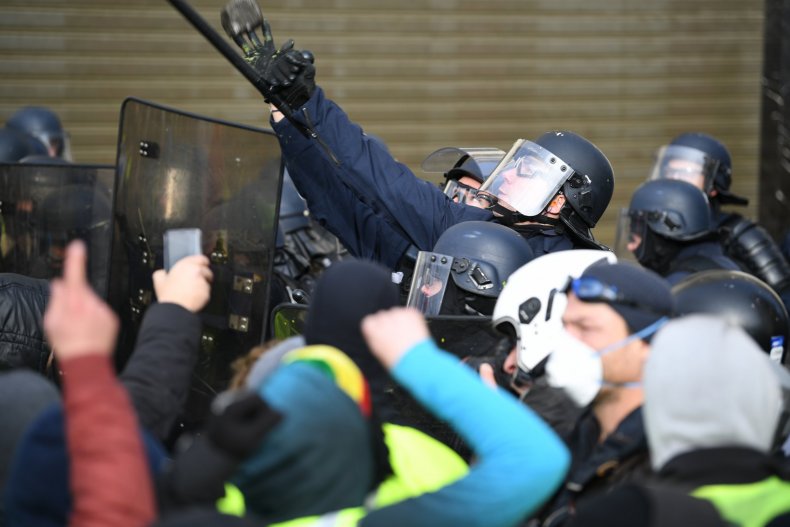 "People do not want to pay large sums of money, much to third world countries (that are questionably run), in order to maybe protect the environment. Chanting "We Want Trump!" Love France," Trump added.
But people were quick to react to Trump's claim that the civil unrest was due to the climate change deal. Journalist Brian Krassenstein tweeted to his nearly 600,000 followers: "The Yellow-vest riots in France have absolutely nothing to do with the Paris Climate agreement.
"Meanwhile, you are basically endorsing the violence in an effort to justify your ignorant move to pull out of the Climate agreement. You should be ashamed of yourself."
Serabbi tweeted: "The French people don't want you- NO ONE with a brain wants you- their protests have NOTHING to do with you or the environment."
Meanwhile former Democratic candidate for U.S. Congress, Grena Grayson took issue with Trump's claim that the French people like him, tweeting: "I was recently in France and spoke with multiple protestors. NONE of them "want Trump."
Laurent Nunez, a junior interior minister, said 31,000 people were taking part in Saturday's demonstrations, with around 8,000 in Paris and up to 5,000 are on the Champs-Elysées, the BBC reported.
There were reports of around 130,000 people taking part in protests around the country last weekend.
President Emmanuel Macron's government fears the protests will be hijacked by "radicalized and rebellious" crowds, having announced earlier this week that the planned hikes in petrol and diesel taxes, which sparked the protests, would be canceled.
But protesters now have a broader set of economic demands, including lower taxes, higher salaries, cheaper energy costs, better retirement provisions and even the resignation of Macron.
In a tweet sent also sent on Saturday morning, Trump ambiguously threw his support behind Macron, riffing on the shortcomings of a proposed Europe-wide army.
"The idea of a European Military didn't work out too well in W.W. I or 2. But the U.S. was there for you, and always will be. All we ask is that you pay your fair share of NATO.
"Germany is paying 1% while the U.S. pays 4.3% of a much larger GDP - to protect Europe. Fairness!" wrote that the the idea of a European Military didn't work out too well in W.W. I or 2," he tweeted.