Trump Blames His 'Friend' Xi Jinping for North Korea's Threat to Cancel Face-to-Face Summit
President Donald Trump alleged that Chinese President Xi Jinping "could be influencing" Kim Jong Un, after the North Korean leader threatened to call of the highly anticipated June 12 summit in Singapore.
During a meeting with NATO Security General Jens Stoltenberg on Thursday, Trump referred to Kim and Xi's meeting last Monday and Tuesday in Dalian: "If you remember two weeks ago, all of a sudden out of nowhere Kim Jong Un went to China to say hello again–second time–to President Xi."
He added: "It could very well be that he's influencing Kim Jong Un. We'll see what happens. Meaning the President of China, President Xi, could be influencing."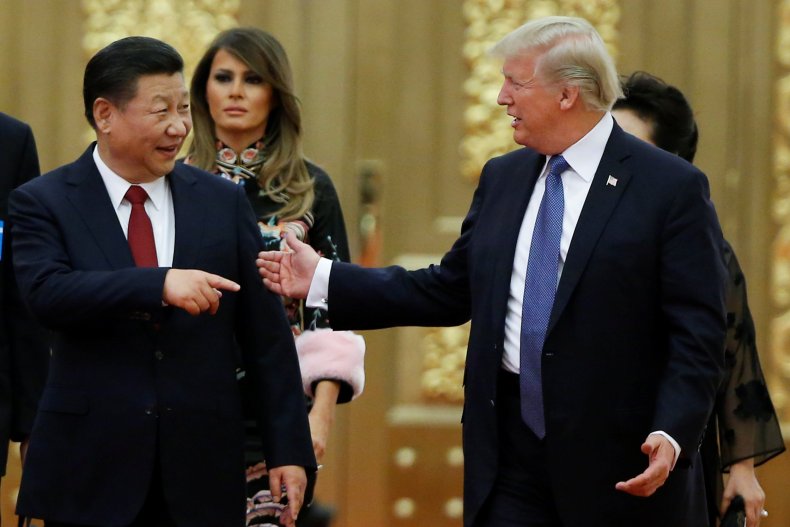 A day earlier, Chinese Foreign Minister Wang Yi advised Trump to remain calm and acknowledge North Korea's efforts to de-escalate tension. "All parties, especially the United States, should cherish this opportunity for peace and should not work as a barrier," he said, during an official trip to Paris. "To solve this problem, it's necessary for the two parties to work toward the same direction, not the opposite. What I would like to emphasize is that the current eased situation on the peninsula issue has been hard-won."
Trump announced last month that he and Xi "will always be friends, no matter what happens with our dispute on trade" in a tweet, amid tense tit-for-tat retaliatory tariffs between China and the U.S.
Trump and Kim are expected to meet at a summit in Singapore on June 12 for historic negotiations. However, on Wednesday the North Korean leader threatened to cancel the meeting that would see the two leaders in the same room for the first time.
In a statement, Kim Kye Kwan, the DPRK's vice minister of foreign affairs, hit back at national security adviser John Bolton's suggestion that North Korea should be treated like Libya.
"I appreciated the position positively with an expectation that upcoming DPRK-U.S. summit would be a big step forward for catalyzing detente on the Korean peninsula and building a great future," the statement read. "But now prior to the DPRK-U.S. summit, unbridled remarks provoking the other side of dialogue are recklessly made in the U.S. and I am totally disappointed as these constitute extremely unjust behavior.
"If the Trump administration fails to recall the lessons learned from the past when the DPRK-U.S. talks had to undergo twists and setbacks owing to the likes of Bolton and turns its ear to the advice of quasi- 'patriots' who insist on Libya mode and the like, prospects of upcoming DPRK-U.S. summit and overall DPRK-U.S. relations will be crystal clear."
The White House shrugged off the threat, saying Trump was "hopeful" the meeting will happen as planned but that he would be fine if Kim changes his mind.
"The president is ready if the meeting takes place," said Sarah Huckabee Sanders, the White House press secretary. "And if it doesn't, we will continue the maximum pressure campaign that has been ongoing."