Trump Blames Kabul Catastrophe on Biden's Weakness: 'He Didn't Do Anything'
Republican former President Donald Trump has blamed the recent catastrophe unfolding at Afghanistan's Kabul International Airport on the weakness of Democratic President Joe Biden.
"Biden came in and [the Taliban] saw a weakness and he didn't do anything. He didn't do anything," Trump said in a Thursday night interview with Fox News host Sean Hannity. "And they took over and then we ran out, just destroyed the image of America, of our great country, of our incredible warriors. They are incredible warriors, but they still need leadership at the top, and they don't have it."
As Biden oversaw the withdrawal of Americans and allies from the region, militant Islamic extremists with the Taliban quickly overtook the country. The airport has become the withdrawal's focal point as U.S. and Taliban forces surround the country's main exit point, cooperating in an uneasy and fragile partnership.
The U.S. has since rushed to evacuate as many people as possible from the region as Biden's August 31 withdrawal deadline draws near. But a Thursday terrorist attack on the airport has complicated the already difficult effort. The attack killed 13 U.S. military service members and nearly 60 Afghanistan civilians. It also wounded 150 people.
Throughout Trump's 33-minute interview with Hannity, he repeatedly called the recent events an "embarrassment," and added, "It's only going to get worse." Trump said his administration had the Taliban "completely under control", using airstrikes against them whenever their forces moved.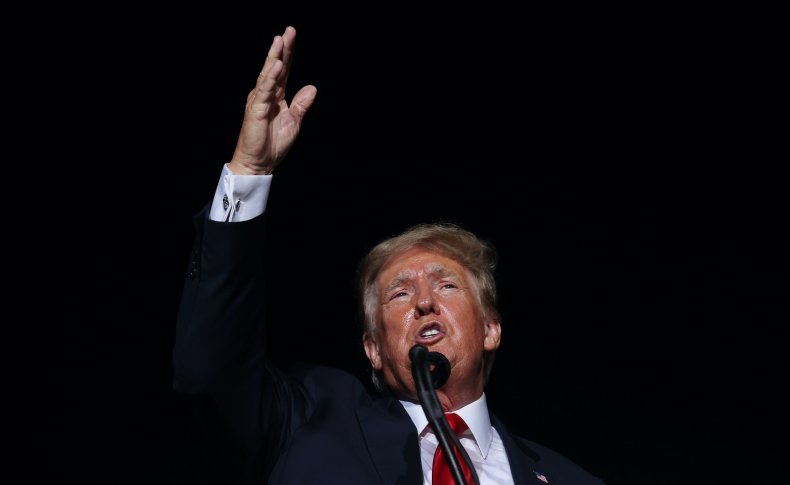 In contrast, Trump said that the Biden administration offered "zero resistance" to the Taliban after Biden became president.
"You didn't have to expedite anything," Trump said of Biden's rush to evacuate the country. "We had plenty of time. They weren't going to move. We had total control," Trump said. Trump also criticized Biden for leaving U.S. military equipment in the region, risking its falling into enemy control.
"I think it was the dumbest move anybody's ever made, perhaps in the history of our country, allowing this to happen," Trump said. "We look like fools all over the world. We're weak, we're pathetic. We're being led by people that have no idea what they're doing."
Despite Trump's criticisms, the Taliban killed over 3,000 Afghan civilians in 2020, when he was still president. That year, Trump met with Taliban forces to establish a May 1 withdrawal deadline. Trump has since criticized Biden for the deal, saying that it should have been "conditions-based."
On August 14, Biden criticized Trump's deal saying that it "left the Taliban in the strongest position militarily since 2001."
"I faced a choice—follow through on the deal, with a brief extension to get our forces and our allies' forces out safely, or ramp up our presence and send more American troops to fight once again in another country's civil conflict," Biden said.
On August 16, Trump's personal website deleted an April 18 statement from Trump declaring, "Getting out of Afghanistan is a wonderful and positive thing to do."
In July, Trump's former Secretary of State Mike Pompeo also said he did "applaud" the withdrawal, adding that he wanted "the Afghans to take up the fight for themselves." As the country began to fall to the Taliban, Biden voiced frustrations that the Afghan military and government didn't oppose them more forcefully.
Trump's former national security adviser John Bolton said on August 18, "While Biden bears responsibly for bungling the implementation, I have no confidence Trump would have executed it any more competently."
Newsweek contacted the White House for comment.