Trump Blames 'Klu Klux Klan Dressed' Protesters After Deposition: 'Baseless Harassment'
Former President Donald Trump blamed protesters dressed in Ku Klux Klan attire after he was deposed for more than four hours on Monday over a 2015 incident where protestors allege they were assaulted outside of Trump Tower.
The men allege that Trump's security team assaulted them during a demonstration outside of the tower in New York City and their lawyer, Benjamin Dictor argued that the former president has a history of encouraging violence at events.
Following the deposition, which has been years in the making, Trump issued a statement of his own.
"The Klu Klux Klan [sic] dressed protester case should have never been brought as the plaintiffs have no one to blame but themselves. Rather than protest peacefully, the plaintiffs intentionally sought to rile up a crowd by blocking the entrance to Trump Tower on 5th Avenue, in the middle of the day, wearing Klu Klux Klan [sic] robes and hoods," Trump said in a statement Monday afternoon.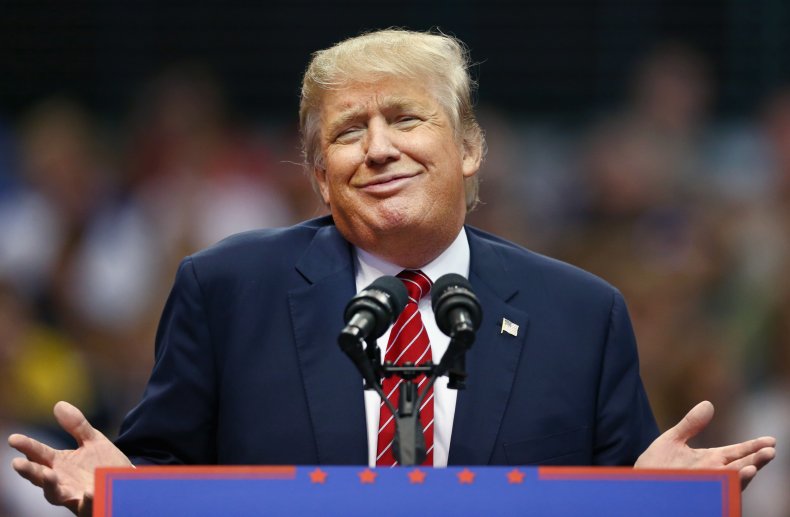 "When security tried to deescalate the situation, they were unfortunately met with taunts and violence from the plaintiffs themselves. Seeing this for what it is, prior to my deposition today, the Court dismissed almost all of the plaintiffs' claims—except for a baseless claim for injuries they never suffered, and the temporary loss of a worthless cardboard sign which was soon thereafter returned to them. After years of litigation, I was pleased to have had the opportunity to tell my side of this ridiculous story—Just one more example of baseless harassment of your favorite President."
The lawsuit was filed in 2015 by a group describing themselves as "human rights activists of Mexican origin" who protested Trump's rhetoric on immigration. The group was protesting in front of the Trump Tower in September when Keith Schiller, Trump's then-head of security, allegedly hit one of the protestors, Efrain Galicia, in the head. Galicia had attempted to stop Schiller from taking cardboard signs that said, "Trump: Make America Racist Again," when the incident occurred. The four men were wearing Ku Klux Klan suits during the protest.
According to the lawsuit, Galicia tried to hold onto the sign when Schiller ripped it away and tore it into pieces. Lawyers wanted to question the former president to determine whether he was responsible for how his employees acted as he was not present at the time.
Schiller defended his actions and said that he was attempting to clear the sidewalk and that the man grabbed him from behind before Schiller struck him.
Trump was first ordered to give a deposition in 2019 by a New York judge but it was postponed while he served in the White House. The former president has called the deposition "harassment."
If the case moves to trial, a video of Trump's testimony will be played for the jury.