Trump Blames Obama, Iran Nuclear Deal for Funding Iranian Missile Attack Against U.S. Forces in Iraq
President Donald Trump on Tuesday pinned the blame for missile strikes carried out by Iran against U.S. forces in Iraq Tuesday night on his predecessor, suggesting former President Barack Obama's administration funded the weapons used against American forces with the "foolish" Iran Nuclear Deal.
"The missiles fired last night at us and our allies were paid for with the funds made available by the last administration," Trump claimed at the White House during a special televised event, flanked by top military generals and administration officials, including Vice President Mike Pence, Secretary of State Mike Pompeo and Defense Secretary Mark Esper.
The president labeled the Iran Nuclear Deal, which he withdrew from, as "foolish" and noted the large sums of money given to the foreign country by the United States under Obama.
There has been no evidence presented to directly tie Iran's missile strikes Monday night, which did not result in any casualties, to the roughly "$150 billion" and another "$1.8 billion in cash" Trump cited as part of the international agreement. The larger sum of money referenced was Iranian assets that were unlocked due to lifted sanctions under the deal while the smaller cash sum was also used in part for the release of American prisoners.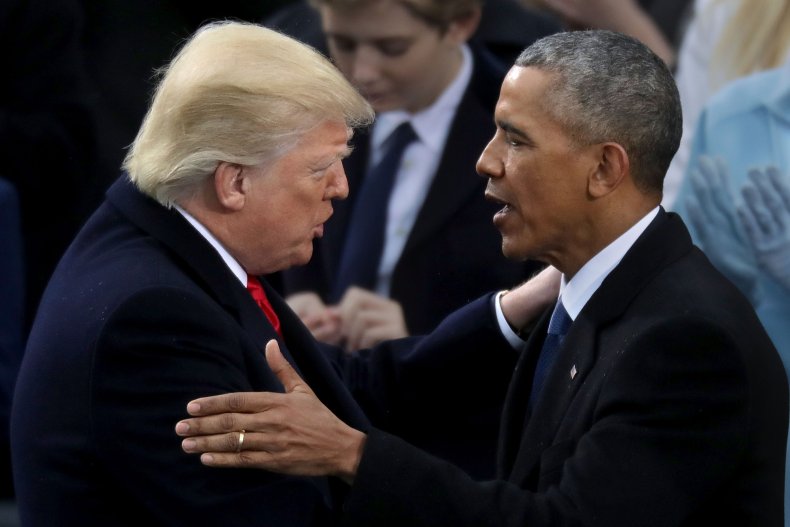 "Instead of saying thank you to the United States, they chanted Death to America," the president continued. "In fact, they chanted Death to America the day the agreement was signed."
Trump also confirmed media reports that he plans to impose additional economic sanctions against the Middle Eastern country, though further details were not provided.
"The United States will immediately impose additional punishing economic sanctions on the Iranian regime, these powerful sanctions will remain until Iran changes its behavior," he said.
Iran's Tuesday night missile strikes came in retaliation to Trump's order last week for a military strike which killed top Iranian general Qasem Soleimani amid heightened tensions between the U.S. and Iran.
The escalation with Iran has concerned Democrats in Congress that the president is driving the U.S. toward the brink of another war and lack a long-term solution to de-escalate tensions. They've responded by stating their intention to limit Trump's ability to unliterally take foreign military action without congressional approval, though the details of when a vote on a War Powers resolution, as well as what it will include, remains unknown.
Republicans, however, continue to back the president, arguing that his decision to kill a top foreign official who was deemed a terrorist—whom the administration has said was planning an imminent attack against U.S. forces—was the correct move. In the wake of Tuesday night's attack, several GOP lawmakers did call on Trump to de-escalate the situation.
Trump on Wednesday characterized his decision to take out Soleimani last week, which came immediately following an attack on the U.S. embassy in Iraq by Iran-backed Shiite militias, as "decisive action to stop a ruthless terrorist from threatening American lives." He vowed that, so long as he is president, Iran will "never be allowed to have a nuclear weapon."
Following its strike against U.S. forces in Iraq, Iran claimed Tuesday night it had concluded its retaliation for the killing of Soleimani and that is does not seek further escalation.
"Iran appears to be standing down, which is a good thing for all parties concerned and a very good thing for the world," Trump said.