Trump Blasts GOP Sen. Toomey Who Asked Colleagues Not to Back Trump for 2024
Former President Donald Trump attacked Senator Pat Toomey of Pennsylvania on Tuesday, calling the Republican "a terrible representative for both Pennsylvania and the United States, as a whole."
Trump also brought up his recent endorsement of Senate candidate Sean Parnell to replace Toomey in 2022, saying, "He will do all of the things that Toomey is incapable of doing. Sean Parnell will represent the Commonwealth of Pennsylvania the way it should be represented—and it's about time!"
Trump delivered the comments in a statement from his Save America PAC, which his chief spokesperson, Liz Harrington, tweeted out on Tuesday afternoon.
Last week, Toomey, who has previously said he will not seek reelection, urged his fellow Republicans not to support the former president should he announce a campaign for a second term in 2024.
Toomey was one of seven Republican senators who voted to convict Trump on an impeachment charge of inciting an insurrection at the Capitol.
"I think after what happened post-2020 election, I think the president's behavior was completely unacceptable," Toomey told CNBC last week. "So I don't think he should be the nominee to lead the party in 2024."
In his statement on Tuesday, Trump wrote, "The only reason Senator 'Gloomy' Pat Toomey is not running for the Senate in Pennsylvania is that I would not give him an endorsement."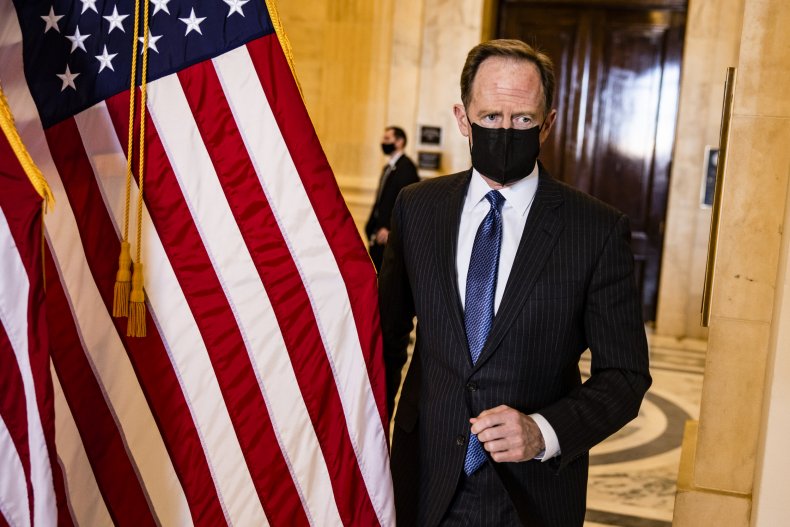 However, Toomey first announced his plan to retire from the Senate in October 2020 when he and Trump appeared to be on good terms. At the time, he told reporters, "I hope to be serving these last two years with President Donald Trump reelected. I support his campaign, I support his reelection."
Although Toomey ran for and won his Senate seat in 2016 with an endorsement from Trump, he did not endorse the former president in return until election day 2016. Toomey largely supported the Trump agenda in an administration where loyalty reigned, until drawing the line at the January 6 insurrection attempt.
On Tuesday, Trump also targeted Michigan Congressman Fred Upton, who voted to impeach him in January, by endorsing his challenger Steve Carra.
Last week, Trump endorsed the challengers of two other Republican members of Congress who voted for his impeachment: Representatives Jaime Herrera Beutler of Washington and Anthony Gonzalez of Ohio.
Back in June, Trump endorsed Kelly Tshibaka, a challenger to Alaska's Republican Senator Lisa Murkowski, who also voted for impeachment.
Newsweek reached out to the former president's office for comment on whether or not Toomey approached him asking for an endorsement, but did not hear back before press time.