Trump Is a Blip, Obama Administration Hopes in New Documentary 'The Final Year'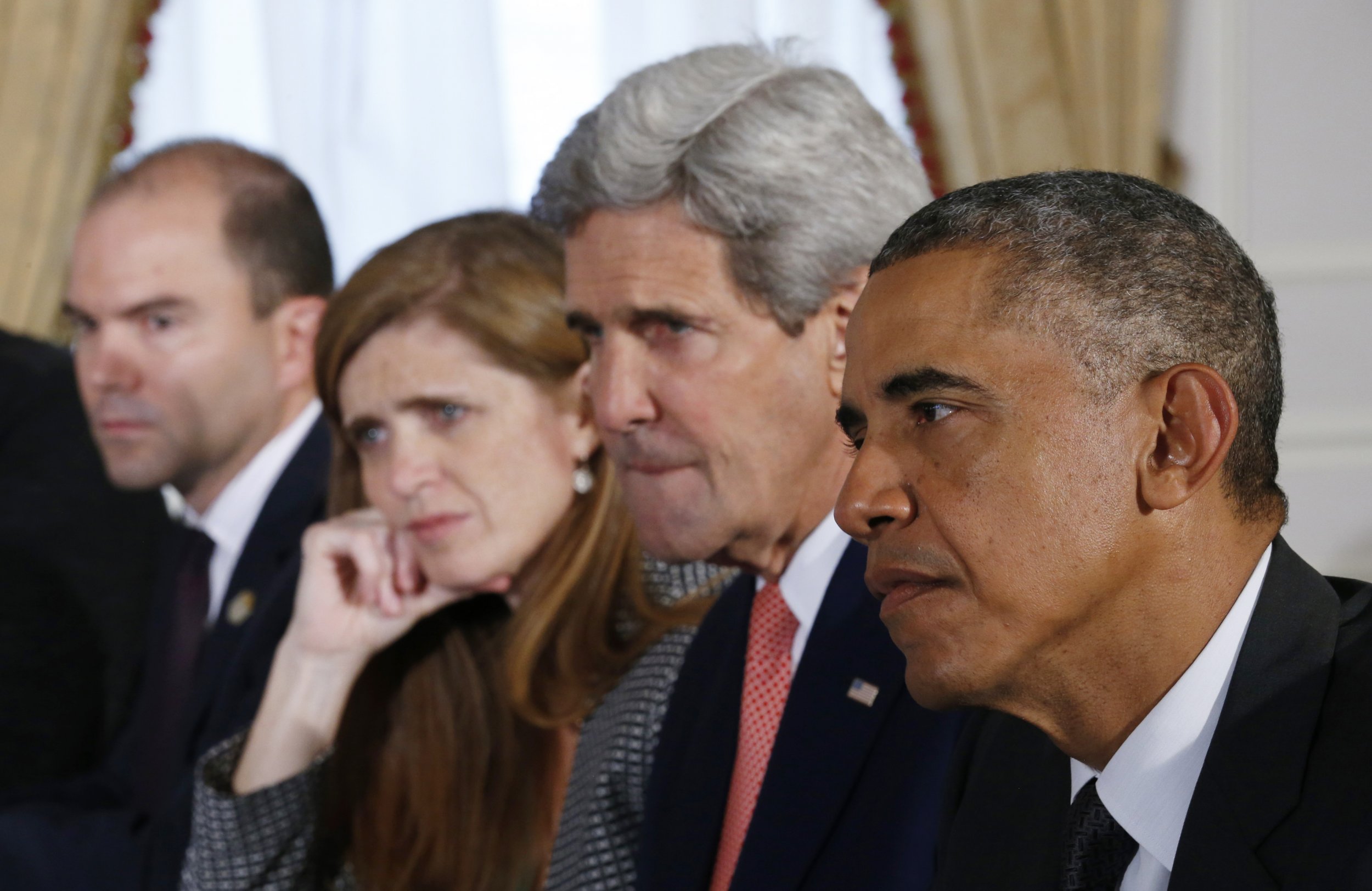 "Sit back, and for the next 90 minutes, Donald Trump is not president." It's not the way filmmaker Greg Barker predicted he'd introduce his latest documentary, as he did at an advance screening at Lincoln Center in New York City on January 8. But nothing about The Final Year turned out quite the way Barker would have anticipated when he started filming in September 2015.
The documentary was released to the public on January 19, just ahead of the anniversary of Trump's inauguration, and takes a behind-the-scenes look at the last 12 months of Barack Obama's presidency. It follows Obama himself as well as members of his foreign policy team—including Secretary of State John Kerry, Deputy National Security Advisor Ben Rhodes, U.S. Ambassador to the United Nations Samantha Power and National Security Advisor Susan Rice—as they race against the clock on issues including the Iran nuclear deal, the Paris climate agreement, negotiations with Cuba and the war in Syria.
"In retrospect, what our cameras captured was more than just high-ranking government officials at work, as fascinating and informative as that may be," Barker wrote in his director's statement. "We captured a worldview, an attitude, an approach to international affairs that—we now know—was fleeting, unique to a particular moment."
That Donald Trump prevailed over Hillary Clinton near the end of that period gives their efforts and the film an entirely different tone and purpose than anyone involved would have imagined. But by the time they began editing the footage, Barker told the New York audience in early January, "the Titanic had already hit the iceberg." The film they ended up making is a time capsule, "a look back at the way things once were," but also a galvanizer, a look at "how they might be again."
It's not hard to make a theater full of New Yorkers nostalgic for a time before Trump entered the White House. The city may be the 45th president's hometown, but its inhabitants have a complicated history with the former real estate mogul (only 18.4 percent of votes cast in the five boroughs went to Trump, and it was less than 10 percent in Manhattan). So those early viewers at Lincoln Center were more than happy to acquiesce when Barker asked that they imagine themselves back in pre-Trump America for the duration of the evening.
Power was in attendance and spoke after the screening. "Way more people are going to see this film now than would have seen it had Secretary Clinton won, as we expected her to do," Power told the crowd, some of whom had audibly sniffled during the film. "We would take the trade of nobody seeing this film and Trump not being president," she added. "But that's not a trade available to us."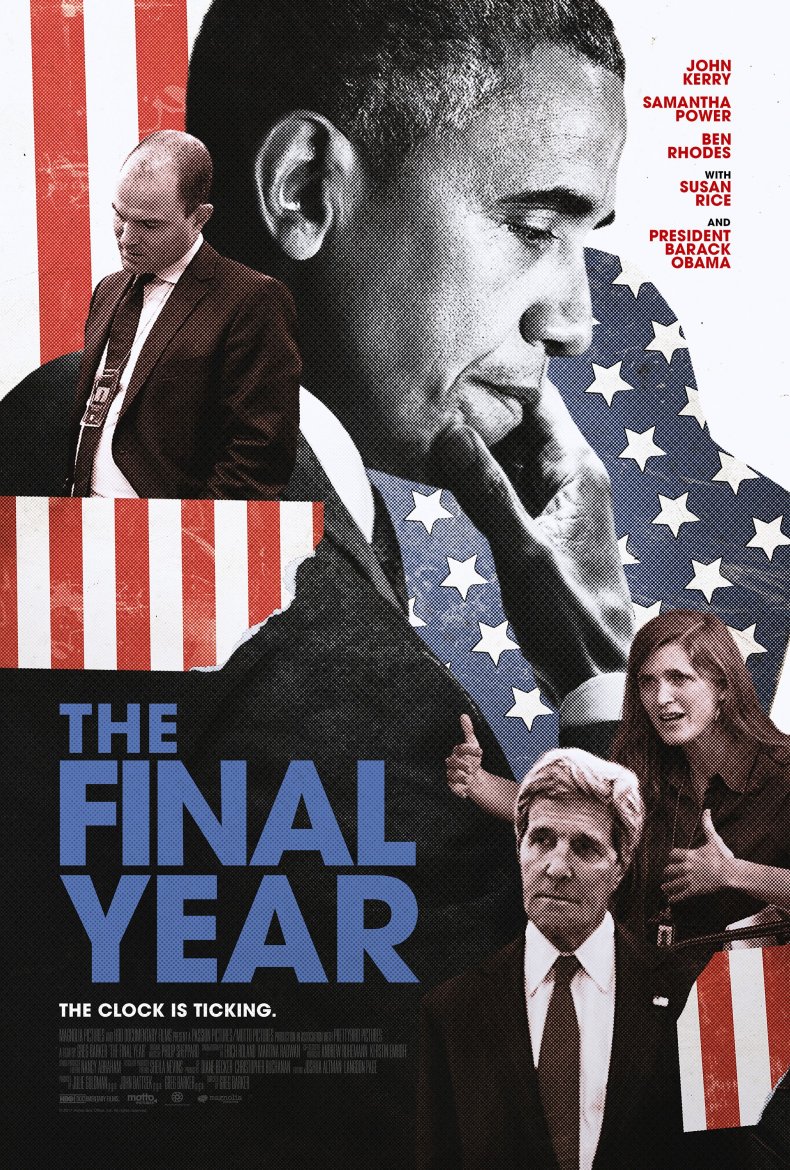 Had she known, Power might have thought twice about letting Barker and his cameras into what was supposed to be an historic election-night party. The evening began on a high note, with attendee's remarking on the appropriateness of shattered-glass-ceiling brooch of one of the guests—Madeline Albright, the country's first female secretary of state. It ended with a visibly stunned and subdued crowd, eyes glistening, hands rubbing their eyes in disbelief as the reality of President Trump became, well, reality. In another shot, Ben Rhodes sits outside, alone in the dark, processing.
Related: There Are No Grownups to Keep Trump in Check, Obama Official Fears in 'The Final Year' (Exclusive Clip)
The Final Year is not just a tragedy for Trump opponents. You also see Powers and her colleagues rush to tie up loose ends and convey an optimistic outlook on the eve of Trump's inauguration—a position Obama endorses towards the end of the film.
"History really doesn't follow a straight line. It zigs and zags, but the trend lines ultimately will be in the direction of a less violent, more empathetic, more generous world. And that requires individuals fighting for that future," the former president says. "I think of all the young people who I've met around the world, and they are representative of a lifetime of potential," he adds. "That's not the side of foreign policy that attracts attention, but it may ultimately be the thing that has the most impact."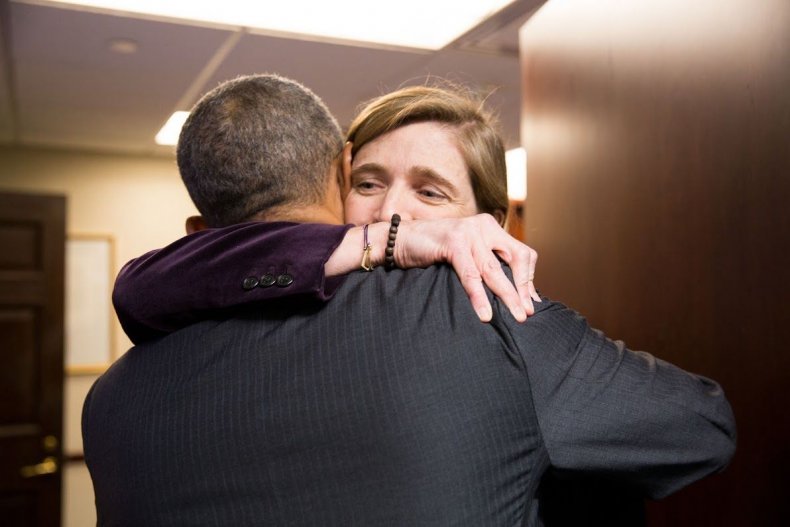 Granted, the last of the footage was shot before Trump actually took office. The Obama Foundation did not respond to Newsweek 's request for comment; it's possible that the views of its namesake have shifted in the past year. But at the screening, Power echoed an optimism contingent on action.
"The film to me now, it's not about our legacy, it's not about a period piece, it's not about nostalgia," she said. Rather, it's "very important as an activator, especially for young people," who have never "been more horrified by what's coming out of Washington."
Powers conceded that while young people tended to like Obama personally, they'd already begun losing faith in government institutions during his presidency. "And yet there's also something stirring," said Power, who encouraged anyone who wants a future different from our present to do something, anything—from going into public service to tutoring in schools. "If we want the arc of history to bend in a different direction, we better make it bend."