Donald Trump's Next Legal Battle Will Again Decide Whether the President Can Block Twitter Critics in Landmark First Amendment Case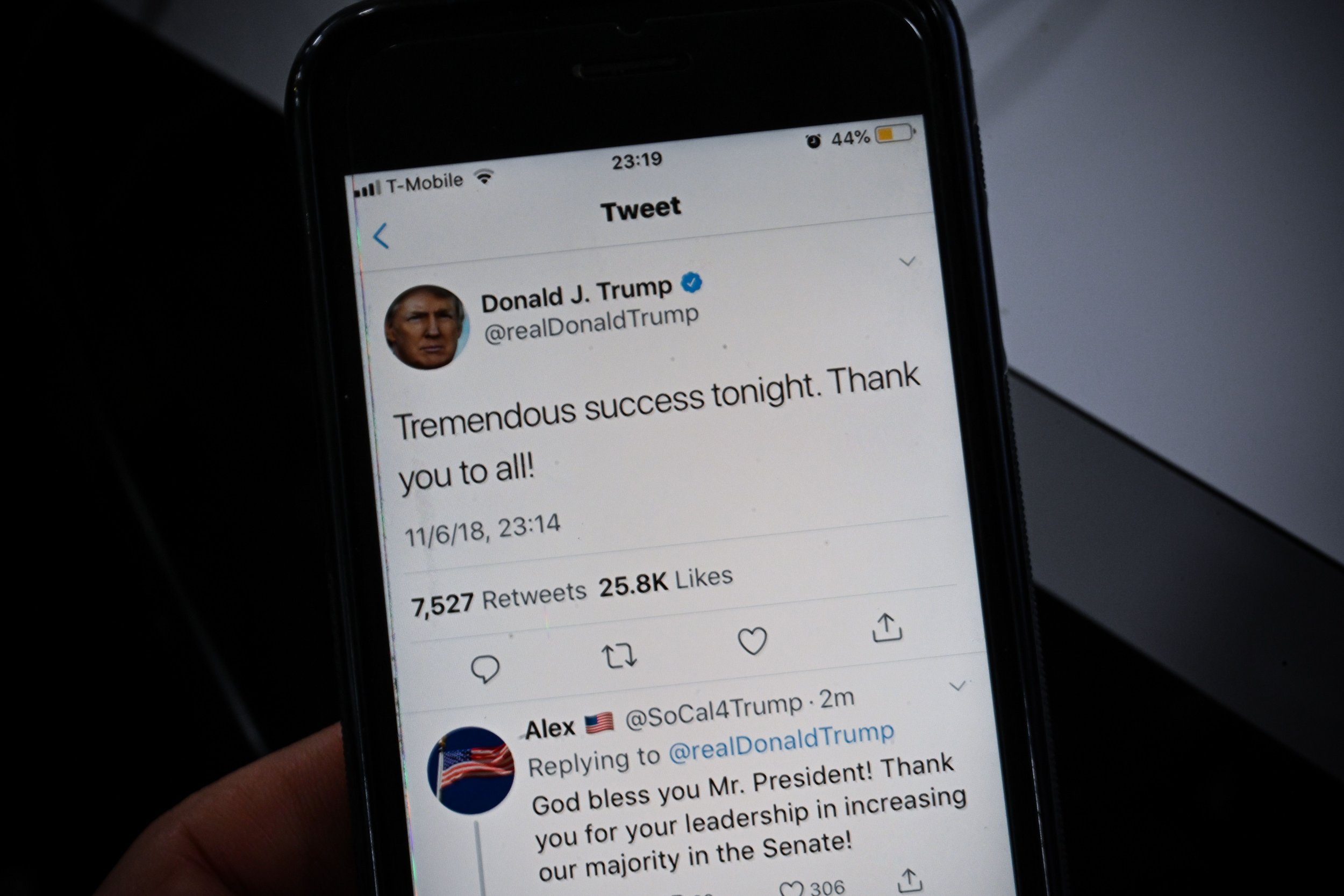 Three federal appeals court judges in New York on Tuesday will hear a case looking at whether a district court last year was correct to rule that it was unconstitutional for Donald Trump, in his official capacity as president, to block critics on Twitter because he did not agree with their viewpoints.
It's a case that could have far-reaching implications by setting a legal precedent for future presidents and government officials who try to silence members of the public on social media.
"It's a matter of free speech," Nick Pappas, a comic, writer and one of several plaintiffs who sued Trump after being blocked, told Newsweek. "For the president and increasingly for more and more public officials, social media is where we talk now and where we talk to our officials and they hear from their constituents."
Pappas said he was blocked when he replied to one of Trump's tweets in June 2017 to protest a court rejection of a Muslim travel ban. "Trump is right. The government should protect the people. That's why the courts are protecting us from him," Pappas wrote.
Pappas and six other individuals represented by the Knight First Amendment Institute at Columbia University successfully sued the president and won in May 2018. Judge Naomi Reice Buchwald of the Southern District of New York ruled that Trump's Twitter feed, @realdonaldtrump, was a public forum, and that under the First Amendment, it was unconstitutional for a government official to bar Americans from participating in a public forum simply because they offered criticism.
"The viewpoint-based exclusion of the individual plaintiffs from the designated public forum is proscribed by the First Amendment and cannot be justified by the president's personal First Amendment interests," Buchwald wrote in her ruling. "Because no government official is above the law and because all government officials are presumed to follow the law once the judiciary has said what the law is, we must assume that the president and [White House Social Media Director [Dan] Scavino will remedy the blocking we have held to be unconstitutional."
The plaintiffs said they were unblocked a few weeks after Buchwald's ruling, but Justice Department lawyers representing the president appealed the decision. The Justice Department declined to comment on Tuesday's upcoming appeals case.
Joshua Geltzer, executive director at Georgetown University Law Center's Institute for Constitutional Advocacy and Protection, has filed a friend-of-the-court brief stating his support for the plaintiffs, urging the appeals court to affirm the district court's ruling. He told Newsweek that the government's argument is that Trump's Twitter, @realdonaldtrump, is not an official government account, like @POTUS, and because he's maintained his account since before taking office and uses it as a private citizen, it's not applicable to First Amendment standards.
But Geltzer's argument—in agreement with the plaintiffs, other First Amendment advocates and Judge Buchwald's ruling—is that the president cannot prevent people from engaging in the public forum and digital town hall that is his Twitter account because it's not solely for personal use. Trump uses his feed to conduct presidential business, including making statements, issuing policy directives and announcing new government personnel. A tweet by Trump last week announcing the withdrawal of "additional large scale sanctions" against North Korea reportedly left senior administration officials confused as they scrambled to find an answer to what the president was referencing.
Government officials have also conceded that the president's tweets were official statements.
"The president is president of the United States," said then–White House press secretary Sean Spicer in June 2017, "so, they are considered official statements by the president of the United States."
In a November 2017 court filing, Justice Department officials said, "The government is treating the President's statements to which plaintiffs point—whether by tweet, speech or interview—as official statements of the president of the United States."
Geltzer, who's previously held positions at the National Security Council and DOJ, said based on those previous statements alone, it "seems pretty hard to wriggle out of that now."
A federal court of appeals ruling in the Fourth Circuit in January could bolster the plaintiff's arguments when the appeals court hears the case, Geltzer said. The Fourth Circuit found it was unconstitutional for a local official in Virginia to block a man from her official Facebook page that was created for engagement with constituents.
It's the way in which Trump uses his Twitter feed that the plaintiffs say is important for them to have access to see and interact with his tweets.
"Being blocked by the president on Twitter, while it may seem like no big deal to some people, it's actually a huge deal, at least for me personally, because of how the president operates and how he skips the mainstream press and calls them fake news all the time," Eugene Gu, a plaintiff, told Newsweek.
Gu said he was blocked for tweeting at Trump "something along the lines of 'The president doesn't even proof-read his own tweets and he's in control of the nuclear button. That's pretty scary.'
"Just out of the blue, I got blocked by the president of the United States, which was kind of a shock to me," he said. "I at first couldn't even believe that the president would even notice my tweets and went so far as to block me."
The plaintiffs said their legal case was about more than being blocked on a social media site—it's about having the constitutional right as a U.S. citizen to participate in the public forum with an elected official and to not be silenced for their criticism.
"For me, I'm a journalist, I'm a lawyer, I am the granddaughter of immigrants, so the freedom of expression and the integrity of our courts and our democracy are a paramount importance for me, not just for who I am, but for who we are as a country," Rebecca Buckwalter-Poza, a plaintiff, told Newsweek. "Having the opportunity to protect the Constitution, to protect our laws is amazing. You can't shy away from that opportunity."