Donald Trump's Blog Permanently Shuts Down After a Month of Operation
"From the Desk of Donald J. Trump," the blog started by former President Donald Trump as a way to send out messages following his bans from various social media sites, is no more as of Wednesday morning.
Trump senior aide Jason Miller confirmed to CNBC that the site has been permanently suspended and "will not be returning."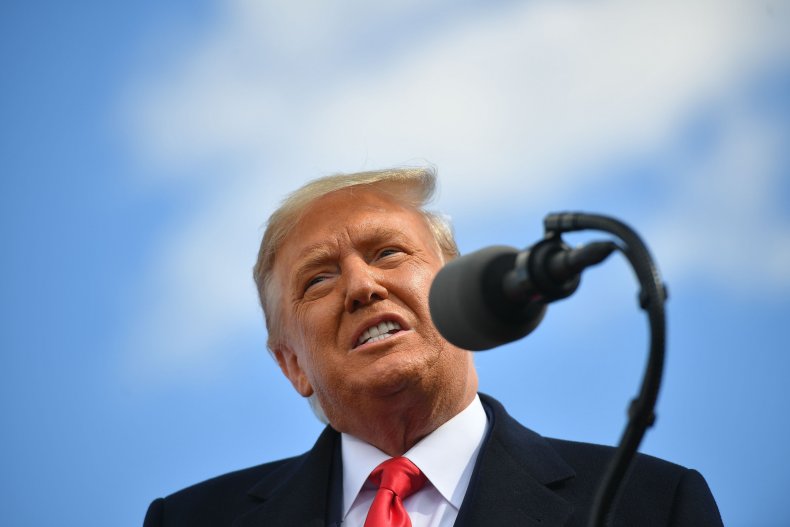 Miller told Newsweek via email that the blog "was just auxiliary to the broader efforts we have and are working on."
He did not provide any additional details about other plans forthcoming for Trump to release his statements. However, Miller did tell CNBC, "Hoping to have more information on the broader efforts soon, but I do not have a precise awareness of timing."
Trump launched the communications platform on May 4 as "a place to speak freely and safely." It was also meant to eventually allow his followers to communicate directly with him after Facebook and Twitter both banned him from using their platforms following the January 6 Capitol riots. Trump also repeatedly made widely refuted claims regarding election fraud on social media, as well as made controversial statements regarding COVID-19.
His blog did not allow people to post comments, but it did give Trump the opportunity to share his statements on a variety of topics directly to his supporters. The blog also included social media share buttons for people to post his statements on other platforms, including the ones where he is currently banned from using personally.
Although no reason was given for the blog's demise, a report from The Washington Post published on May 21 discussed the site's decline in popularity. The story noted that in the week prior, "Trump's website—including his new blog, fundraising page and online storefront—attracted fewer estimated visitors than the pet-adoption service Petfinder and the recipe site Delish."
Trump's entire website saw around 4 million visits from desktop and mobile devices in the United States in the week ending May 18, according to the Post. About 60 percent of that week's traffic came from other right-wing websites like Newsmax, according to an analysis by the online-analytics firm SimilarWeb.
Meanwhile, his "From the Desk of Donald Trump" blog was shared to Facebook on average fewer than 2,000 times a day during the week analyzed by The Washington Post. By comparison, Trump's own Facebook page last year fielded tens of millions of comments, shares, and other interactions on a weekly basis.
The page "From the Desk of Donald J. Trump" is no longer visible on DonaldJTrump.com. When one tries to access the page directly through the address DonaldJTrump.com/desk, the site instead redirects to an "alerts" sign-up page. All of Trump's previous blog entires are now under the "news" link, where entries are retitled as "statements." The last three such statements came on Memorial Day. One was a statement about the holiday, which thanked troops. Another statement pushed false election fraud claims in Georgia. The final entry praised a boat parade in his honor in Florida.
Updated 06/02/21, 12:50 p.m. EDT: This story has been updated to include a statement from Trump advisor Jason Miller.