Turkish President Tayyip Erdoğan on Monday called the United States a "partner in bloodshed" over President Donald Trump's decision to recognize Jerusalem as Israel's capital. Since Trump's decision on Wednesday, protests and demonstrations broke out across the Arab world.
Erdoğan, whose nation only started to normalize relations with Israel last year, said Trump's announcement would permanently damage the United States' reputation.
"The ones who made Jerusalem a dungeon for Muslims and members of other religions will never be able to clean the blood from their hands," Erdoğan said during a speech at the capital city of Ankara, according to Reuters.
Erdoğan punctuated his message by continuing, "With their decision to recognize Jerusalem as Israel's capital, the United States has become a partner in this bloodshed."
A regular critic of Israel, the Turkish leader called the Jewish nation a "terror state" and an "invader state."
Jerusalem is a holy city to Jews, Muslims and Christians, and its status as either Israel's capital or part of a potential future Palestinian state is a contentious issue that held up previous negotiations for peace.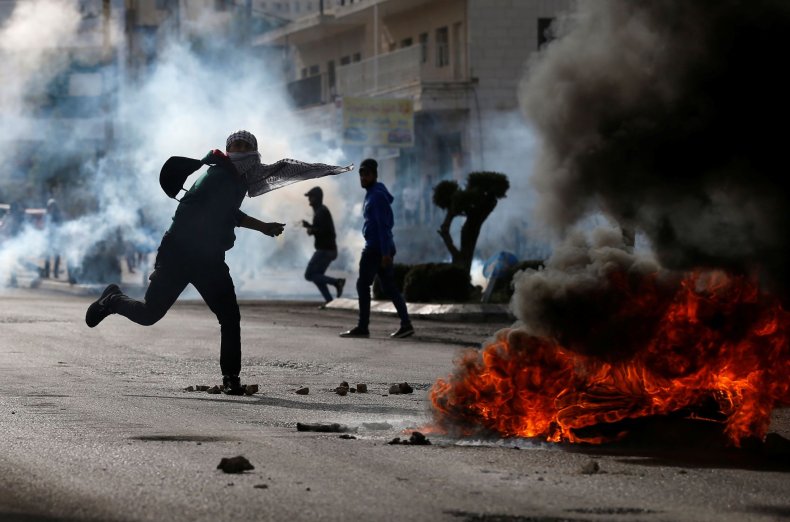 "Today we finally acknowledge the obvious: that Jerusalem is Israel's capital," Trump said in his speech at the White House. "This is nothing more or less than a recognition of reality. It is also the right thing to do. It's something that has to be done."
He added: "It would be folly to assume that repeating the exact same formula would now produce a different or better result."
Protests broke out almost immediately after Trump announced his decision, which he said was necessary since previous U.S. policies had done little to broker a lasting peace deal. Part of the recognition included moving the U.S. embassy in Tel Aviv to Jerusalem, which would likely take years. It remained unclear when the move would be made; later reports indicated that the U.S. had asked Israel not to rush any process.
Protests took place in Turkey, Pakistan and Lebanon, including at the U.S. embassy in Beirut, and led to other Middle East powers like Saudi Arabia, Qatar, Kuwait and the United Arab Emirates to find ways to attempt to reverse Trump's decision, according to ABC News.
Violence was not rampant during the protests, but an Israeli security guard was stabbed Sunday by a 24-year-old Palestinian man at the main bus station in Jerusalem, Reuters reported.
The Arab League, an organization comprised of Arabic-speaking countries, met in Cairo Sunday and said it was aiming for a United Nations resolution to block Trump's move.