Trump Wants Bonuses for Teachers Who Carry Guns: 'I Want My Schools Protected Just Like I Want My Banks Protected'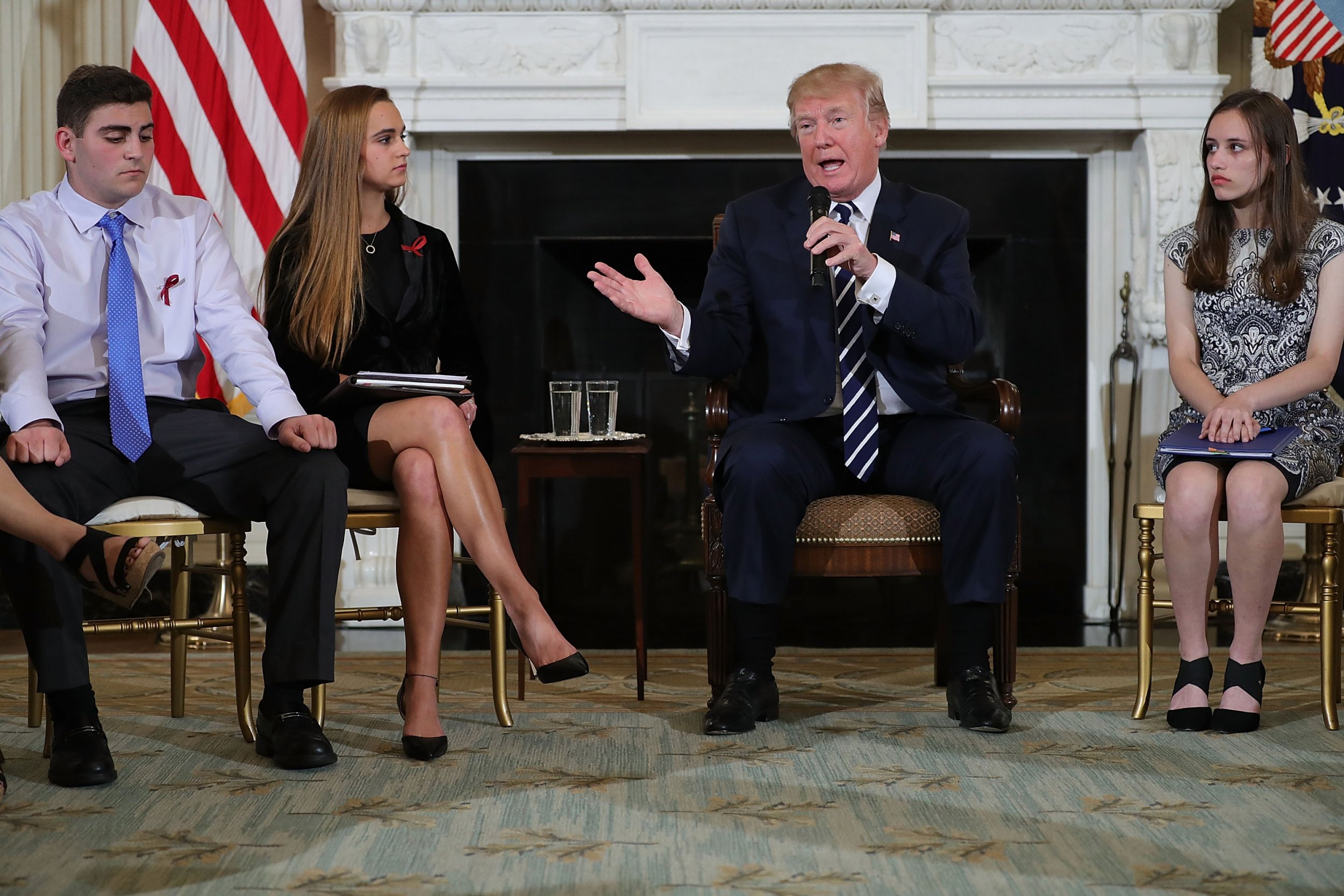 President Donald Trump suggested Thursday that bonuses should be given to qualified teachers who carry concealed weapons in schools as a way to deter mass shootings. The comments came as he sat down with officials in an effort to tackle gun control issues in the wake of last week's deadly massacre at a high school in Florida.
The Republican ran off potential ideas for guarding schools, including bonuses for the between 10 percent and 40 percent of educators who he said could be granted concealed weapon permits.
"I want certain highly adept people, people who understand weaponry, guns...a concealed permit," he said, before suggesting that participating teachers would receive "a little bit of a bonus."
Security guards, the president added, would not be enough to hinder potential shootings.
"You can't hire enough security guards…. You need 100, 150 security guards…. But you could have concealed on the teacher," Trump said.
"I want my schools protected just like I want my banks protected. We have to harden our sites. If you harden the sites, you're not going to have this problem.... When you say this school is gun-free.... That's what they want to hear."
The president, who campaigned as a staunch defender of the Second Amendment, also said he wanted "rigorous training" for teachers.
Trump tweeted as much Thursday morning, stating armed teachers would serve as a "GREAT DETERRENT."
"History shows that a school shooting lasts, on average, 3 minutes," he went on during several tweets. "It takes police & first responders approximately 5 to 8 minutes to get to site of crime. Highly trained, gun adept, teachers/coaches would solve the problem instantly, before police arrive. GREAT DETERRENT! " the president wrote.
Trump also said he backed stronger background checks "with an emphasis on Mental Health," as well as raising the legal age to purchase a gun to 21 and a ban on the sale of bump stocks, which turn semi-automatic weapons into automatic weapons.
The comments followed Trump's listening session Wednesday with survivors of last week's mass shooting at Marjory Stoneman Douglas High School in Parkland, Florida, which resulted in the killing of 17 people.
The idea of armed teachers, though, did not sit well with some educators.
"Bringing more guns into our schools does nothing to protect our students and educators from gun violence," National Education Association President Lily Eskelsen Garcia told Education Week. "We need solutions that will keep guns out of the hands of those who want to use them to massacre innocent children and educators. Arming teachers does nothing to prevent that."