Trump's Border Wall Will Be 'Better' for Kentucky Middle School Students Than a New School Building, GOP Senator Graham Says
Republican Senator Lindsey Graham thinks that President Donald Trump's border wall with Mexico will be "better" for middle school children in Kentucky than a new school building.
Graham, who represents South Carolina, appeared Sunday on CBS News' Face the Nation to discuss Trump national emergency declaration regarding the southern border of the United States with Mexico. The senator has voiced his support for the controversial decision, which many analysts and critics have slammed as a challenge to the Constitution. Trump's announcement on Friday came as a last ditch effort to fulfill his campaign promise and construct his promised wall along the border, after Congress refused to allocate the required funds.
Face the Nation host Marg Brennan confronted Graham about his support for the declaration. She pointed out that the move could reallocate military constructions funds intended for "construction of a middle school in Kentucky, housing for military families, improvements for bases like Camp Pendleton and Hanscom Air Force Base." She asked Graham if he was concerned that these projects could now be sacrificed for the border wall.
"Well, the president will have to make a decision where to get the money," he said. "But let's just say for a moment that he took some money out of the military construction budget. I would say it's better for the middle school kids in Kentucky to have a secure border."
Graham said that the kids would eventually get the school "but right now we've got a national emergency on our hands."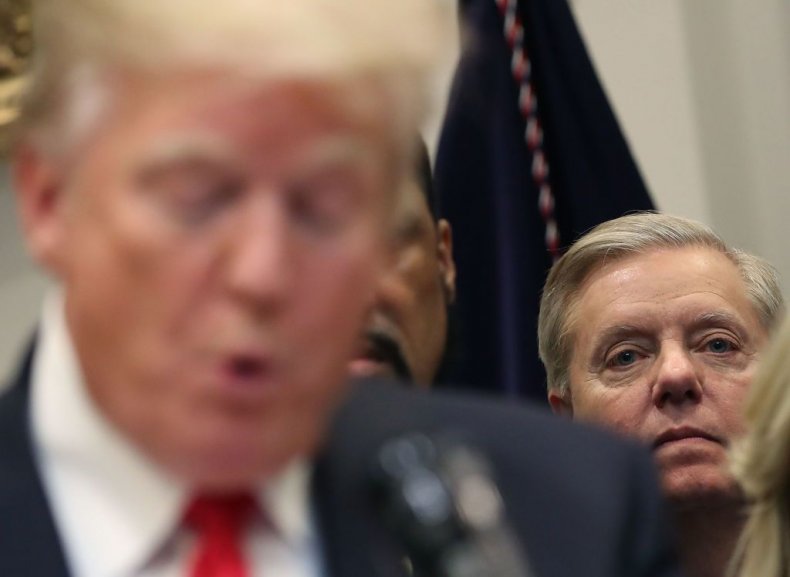 Democratic lawmakers have harshly criticized Trump's decision to declare the emergency in order to secure border wall funding, calling the move a "power grab." Some Republicans in Washington and several Conservative groups have also raised concerns, arguing the move is an overreach of executive power and goes against the Constitution. Trump's decision will reallocate funds already approved by Congress, but for different projects.
"It is going to be a real test for my GOP colleagues in Congress and their devotion to the institution," Democratic Congressman Adam Schiff told CNN's State of the Union on Sunday. "If we give away, if we surrender the power of the purse, which is our most important power, there will be little check and no balance left," he warned. "It will not be a separation of powers anymore, just a separation of parties."
Republican Senator Marco Rubio from Florida appeared to share similar concerns. He argued against the president's decision as well, saying: "no crisis justifies violating the constitution," according to the Associated Press. Republican Senator Lamar Alexander from Tennessee also classified Trump's move as being "inconsistent with the Constitution."