Trump Bragged His Approval Rating Was Higher Than Obama's, Then People Corrected Him
President Donald Trump's not-so-humble brag about his polling numbers being better than Barack Obama's has been called into question by a number of pundits.
The president tweeted about his support over the weekend—prompting several people to share polling numbers that showed Trump was not enjoying a higher approval rating than Obama 18 months into his first term.
"Presidential Approval numbers are very good—strong economy, military and just about everything else. Better numbers than Obama at this point, by far," he tweeted on Sunday.
"We are winning on just about every front and for that reason there will not be a Blue Wave, but there might be a Red Wave!" he added.
The president appears to have been referring to a Rasmussen Reports poll, which does indeed show him with an approval rating of 50 percent compared with Obama's approval rating of 45 percent in August 2010.
The poll also showed Trump with a disapproval rating of 49 percent, with 35 percent strongly approving of his job performance and 41 percent strongly disapproving.
Despite the Rasmussen poll showing the president with a higher approval rating than Obama at this point in his presidency, several people showed that other polls and polling averages did not put Trump above Obama.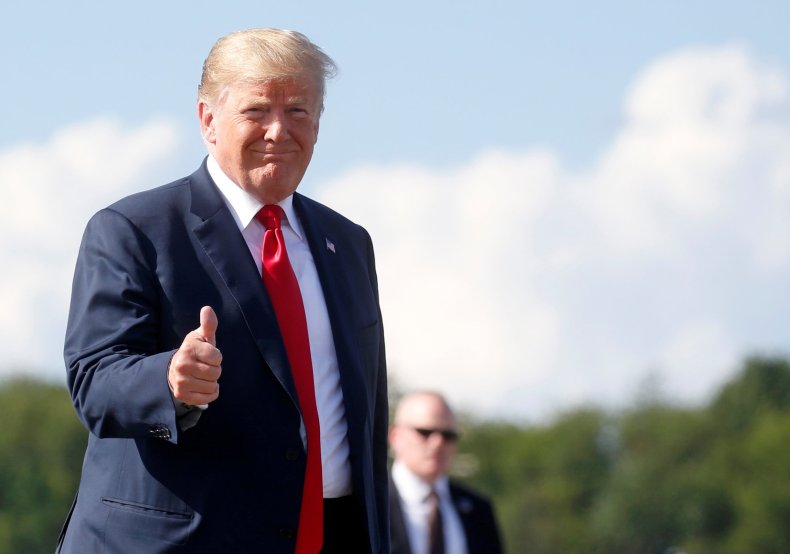 "Not true, of course, at least in terms of the approval numbers," wrote CNN's Ryan Lizza on Twitter, sharing a link to a Gallup poll that showed Obama with a higher approval rating than Trump at this point in his presidency.
And polling average data from Real Clear Politics was used by Washington correspondent Daniel Dale of the Toronto Star to point out that if the president looked at more than one poll for his information, he would see quite a different result.
"This is a lie. Obama's net approval number was more than 4 points better than Trump's on this day in their presidencies, per RealClearPolitics polling averages - Obama was at negative-5.2, Trump is at negative-9.5," Dale wrote, joining the chorus of voices calling Trump's statement into question.
The president has previously compared his polling data to Obama's, commenting in April on the results of another Rasmussen poll that gave him a 50 percent approval rating and ignoring three other polls that showed him with 44 percent or lower.
""Thank you to Rasmussen for the honest polling," Trump tweeted at the time. "Just hit 50%, which is higher than Cheatin' Obama at the same time in his Administration."