Trump Brags He'd Quickly Fell Joe Biden in a Fight
President Donald Trump at a campaign rally in Topeka, Kansas, on Saturday night bragged that he'd quickly defeat Vice President Joe Biden in a fight.
"Remember he challenged me to a fight. 'I'd like to take him behind the barn.' I'd love that. That wouldn't last long. That would not last long. That wouldn't last long," Trump said, imitating Biden, The Hill reported.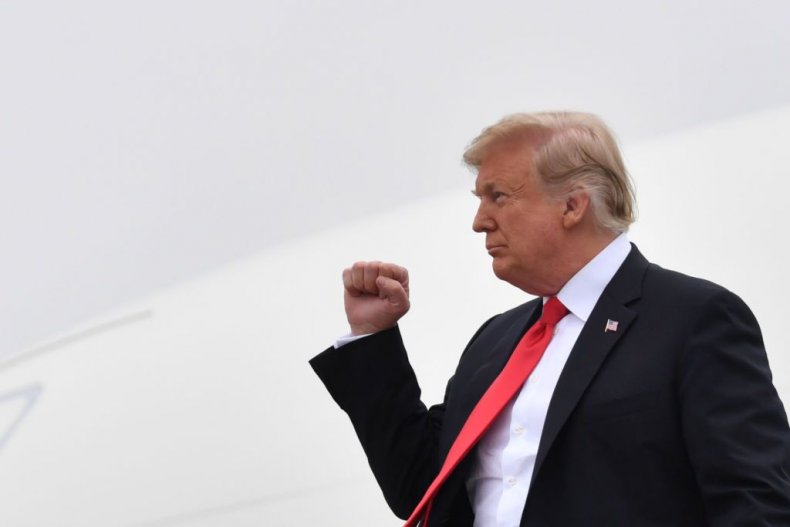 Trump then reportedly pointed to his forearm and suggested that Biden would quickly end up floored in a confrontation.
"He's down, and he'll never get up," Trump then said.
Biden, who is considering running for president in 2020, at a Florida rally in March 2017 accused Trump of being a bully, and said at high school he would have taken Trump "behind the gym and beat the hell out of him."
Trump responded by taunting Biden as "crazy."
"Crazy Joe Biden is trying to act like a tough guy. Actually, he is weak, both mentally and physically, and yet he threatens me, for the second time, with physical assault. He doesn't know me, but he would go down fast and hard, crying all the way. Don't threaten people Joe!" Trump responded in a tweet at the time.
Trump boasted last night of his ability to defeat Biden while mocking prospective Democratic presidential contenders in 2020. He had also attacked the Democrat at a rally in Tennessee last week decribing him as "one percent Biden" in reference to the senator's failure to gain traction in polls during previous presidential bids.
The two are scheduled to campaign in the hotly contested congressional race between Andy Barr and Amy McGrath in Kentucky this week.
Trump Brags He'd Quickly Fell Joe Biden in a Fight | U.S.