Trump Branded a 'Five-Deferment Draft Dodger' by Senator Who Lost Legs in Iraq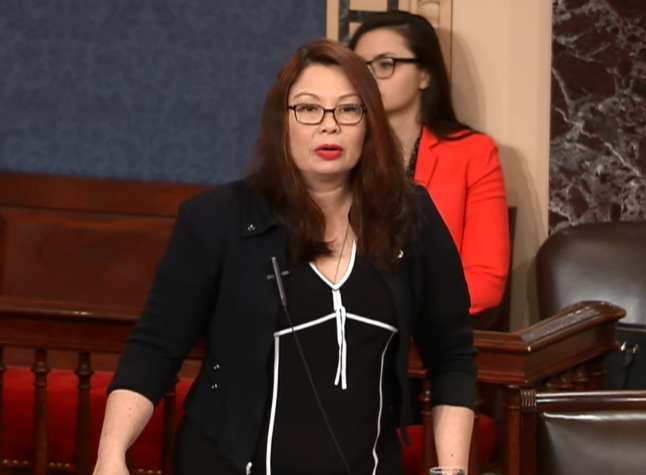 Senator Tammy Duckworth (D-Ill.) had strong words for President Donald Trump during a Senate floor speech on Saturday, blasting the U.S. leader as a "five-deferment draft dodger" trying to start a war with North Korea.
Duckworth, who lost both of her legs in 2004 while serving in the Iraq war, said her fiery speech was in response to a tweet Trump had posted Saturday morning accusing Democrats of "holding our military hostage" in a bid to have "unchecked illegal immigration."
The tweet was one of several from Trump in an effort to blame Democrats for the stalemate in Congress that led to a shutdown of the federal government.
For Duckworth, an outspoken advocate for military and disability issues, the president's accusation that she was doing a disservice to the military as a Democrat crossed a line.
"Does he even know that there are service members who are in harm's way right now, watching him, looking for their commander in chief to show leadership, rather than to try to deflect blame?" The senator asked, after reading out the U.S. leader's tweet.
Related: Government shutdown: Here is a list of things you can't do
"I spent my entire adult life looking out for the well-being, the training, the equipping of the troops for whom I was responsible," Duckworth said.
"Sadly, this is something the current occupant of the Oval Office does not seem to care to do—and I will not be lectured about what our military needs by a five-deferment draft dodger."
Duckworth did not stop there, delivering a final blow that took a jab at one of Trump's reasons for avoiding military service.
Trump received five deferments from service in Vietnam, with four citing academic reasons and another citing bone spurs, which typically manifest as small pointed outgrowths of bone, in his heels. The growths can be associated with pain and numbness, but also may not cause any symptoms at all.
"I have a message for 'Cadet Bone Spurs,'" she said. "If you cared about our military, you'd stop baiting Kim Jong Un into a war that could put 85,000 American troops, and millions of innocent civilians, in danger."
Trump and North Korean leader Kim have engaged in a year-long war of words, making threats over each country's capacity for nuclear warfare.
The two world leaders have also exchanged a range of barbs, with Trump calling Kim "Little Rocket Man" and the North Korean leader calling the president a "mentally deranged dotard," as well as a "lunatic."
The federal government shutdown entered its third day on Monday, freezing non-essential services. Most military services, however, will still be running.