Former CIA Director John Brennan Says He Is Concerned about U.S. Reputation under Trump Due to 'Lawlessness' in White House
The former director of the CIA, John Brennan, has said that he is worried about the reputation of the United States globally under the leadership of President Donald Trump.
Brennan, who served under President Barack Obama and is a security and intelligence analyst for MSNBC was asked on the network about "what keeps him up at night" about the current administration.
He told Nicolle Wallace that he is concerned about the "dysfunctionality of our government at this time because of the lawlessness that I think is manifest in this White House."
"I am concerned about the U.S. reputation, not just the reputation on the world stage," he said, adding that the the U.S. had for "many, many years, basically led western democracies and been the leader of the free world."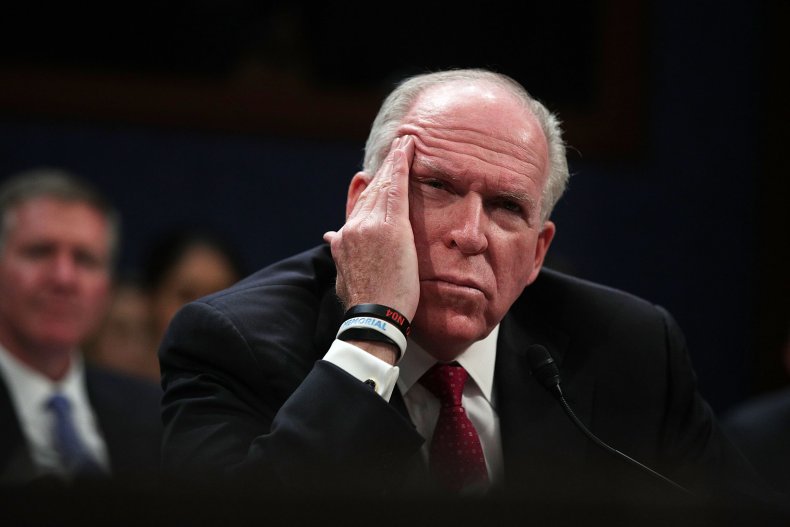 "From one administration to the next, the United States is whipsawing its policy and whipsawing the rest of the world. What message does that send? What is our credibility and how can people put any sense of confidence in what it is that we say that's going to be enduring?" he told Deadline White House on Tuesday.
During a separate appearance on the network's show Hardball that day, Brennan said the president was compromised in how he responds to the attacks on Saudi oil facilities, which Trump says Tehran was behind, because of the nuclear deal with the Islamic republic that he tore up.
The U.S. secretaries of state and energy joined Trump in blaming Tehran for the Saudi attacks, although the president said any response would depend on Riyadh's assessment.
Brennan told Wallace: "For many years...I thought there was an enduring sense of values and principles that really led the United States on the international stage. I think a lot of countries did too, and a lot of our adversaries did and that's why they had to be very careful about what they did.
"But I think we have shot that to pieces now in the last two-and-a-half years and I really worry (about) the longer-term impacts of Mr Trump's presidency long after he has left office," he added.
Iran has denied responsibility for the attacks and its president Hassan Rouhani appeared to defend the Yemeni Houthi armed movement, which has claimed responsibility.
Rouhani said in a statement: "Yemeni people are exercising their legitimate right of defense ... the attacks were a reciprocal response to aggression against Yemen for years," according to The Guardian.
Meanwhile, Nato chief, Jens Stoltenberg, said he was "extremely concerned about a risk of escalation.