Trump Uses 9/11 Anniversary to Rant About DOJ in Series of Tweets
President Donald Trump gave the anniversary of the 9/11 attacks only a brief mention on Twitter as he sent a series of tweets lashing out at the Department of Justice and the FBI.
Taking to social media on Tuesday morning, on a day that marks the 17th anniversary of the deadly attacks that devastated the nation and left thousands dead, the president took a few shots at the Justice Department and the FBI over the Russia probe—before mentioning the anniversary, tweeting #neverforget #September11th.
In his tweet, Trump shared a message from his assistant Dan Scavino Jr. that showed the president signing a proclamation, and said: "President Donald J. Trump signs a Proclamation at his desk in the Oval Office designating "Patriot Day 2018" to honor the memories of the nearly 3,000 lives lost on September 11, 2001, and of every hero who has given their life since that day to protect our safety & our freedom."
Before the tweet that mentioned 9/11, Trump had written: ""We have found nothing to show collusion between President Trump & Russia, absolutely zero, but every day we get more documentation showing collusion between the FBI & DOJ, the Hillary campaign, foreign spies & Russians, incredible." ‪@SaraCarterDC ‪@LouDobbs."
And after the 9/11 tweet, Trump followed up with a series of complaints about the Justice Department.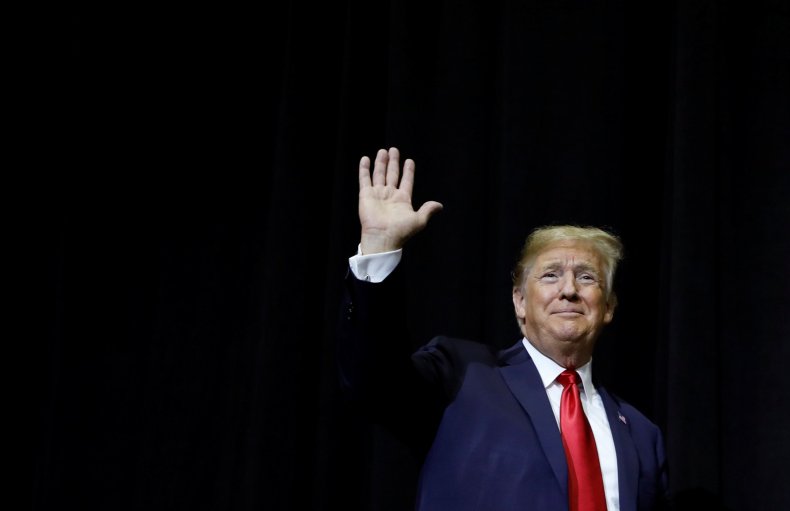 "New Strzok-Page texts reveal "Media Leak Strategy." @FoxNews So terrible, and NOTHING is being done at DOJ or FBI - but the world is watching, and they get it completely," he wrote, adding: "'ERIC Holder could be running the Justice Department right now and it would be behaving no differently than it is.' ‪@LouDobbs."
The president's initial tweet on the Justice Department prompted a series of replies questioning why the president was concerned with such matters on the anniversary of 9/11, but this did not appear to deter Trump from continuing to tweet on the topic.
Trump and the first lady are scheduled to attend a ceremony in Shanksville, Pennsylvania, at the 9/11 Memorial Park, which marks the downing of United Airlines Flight 93. Vice President Mike Pence is set to speak at the Pentagon, The Hill reported.