Conservative Christian Says Trump Is Making It Hard to Remain in GOP, Calls President 'The Bully From the White House'
President Donald Trump's policies are a strain on religious GOP voters, a conservative Christian columnist at The Daily Beast wrote on Christmas Eve.
"Christian conservatives must grapple with the dissonance between what is preached from the pulpit at Christmas and what is being tweeted by the bully from the White House," Matt Lewis wrote on Monday night, noting the personal struggle of trying to reconcile political and religious identity.
"These two identities—the sacred and the secular—once coexisted happily. Not so today. Increasingly, my faith and my political loyalties are at odds, and sometimes even seem to be mutually exclusive," he wrote.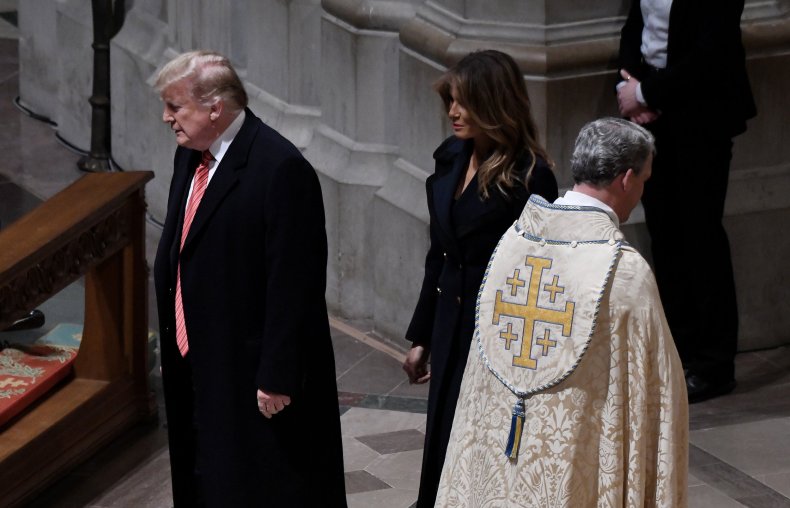 "In fact, as another year ends, I'm left wondering: Will 'Christian conservative' be an oxymoron in 2019?" he continued. "The dichotomy between this season of peaceful reflection and the state of American politics is stark, but it's not new. It is perhaps appropriate that many of us find ourselves politically homeless during this season."
Lewis's denunciation of Trump is one of many recent religious rebukes of the president. White evangelicals, 81 percent of whom voted for Trump in the 2016 election, have levied some of the most notable condemnations of the 45th commander-in-chief.
At the beginning of October, almost 40 religious leaders signed a document titled "The Chicago Invitation," which said white evangelicals backed Trump, whereas "evangelicals of color voted overwhelmingly otherwise."
The letter asserted the racial diversity of those who identify religiously as evangelicals and said, "We recommit to a biblical justice that demonstrates the reign of God as we strive for abundant life for all God's children, which must include combating economic inequality and exploitation."
Weeks later, a Minneapolis evangelical pastor published an opinion article in USA Today that bemoaned the religious right for turning away from its moral values.
Doug Pagitt said that religious voters' devotion to the Republican Party—which he attributed to the GOP's stance on abortion—was leading worshippers to stray from morality that faith intended to enforce.
"My faith does not call me to be Republican or Democrat. My faith calls me to love God and love my neighbor as I love myself," the Minnesota religious leader wrote, after presenting scientific evidence to challenge conservative opinions about abortion. "I am called to vote for the common good, for justice and humanity."
Despite the denunciations of the president, many born-again Christians still support Trump. Seventy-two percent of white evangelical Protestants hold a favorable opinion of Trump according to a Public Religion Research Institute poll published in October.
Many supporters noted the high number of conservative judges who have been approved to federal judgeships under Trump, NPR reported on Monday.