A last-minute bump from President Donald Trump appears to have helped his ally Rep. Katie Arrington to triumph over his critic Rep. Mark Sanford in the GOP primary for South Carolina's first Congressional district.
As Republican voters went to the polls in South Carolina to select their nominee, just hours after Trump's historic summit with North Korean leader Kim Jong Un, the president lashed out at Sanford on Twitter. Sanford, a former governor of South Carolina, is the incumbent.
"Mark Sanford has been very unhelpful to me in my campaign to MAGA [Make America Great Again]," Trump wrote. "He is MIA and nothing but trouble. He is better off in Argentina. I fully endorse Katie Arrington for Congress in SC, a state I love. She is tough on crime and will continue our fight to lower taxes. VOTE Katie!"
The reference to Argentina is about Sanford's disappearance for several days in 2009 while state governor. After speculation about his absence in the media, during which his spokesperson erroneously claimed Sanford was hiking on the Appalachian Trail, he reappeared and admitted he had been Buenos Aires with his lover, an Argentine journalist, with whom he was having an affair. He was by that point separated from his wife.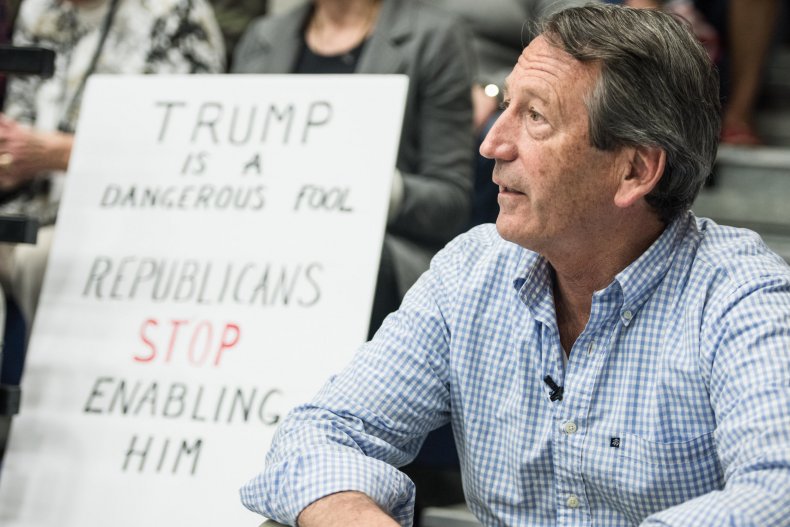 Katie Arrington is a Trump supporter who currently sits in the South Carolina House of Representatives. Now it looks like she's on her way to a seat in Congress after Sanford all but conceded defeat in the primary for the seat he has held since 2013.
"I've always been a realist and at this point, based on the numbers I see, I think that I'll end up losing this election," Sanford told his supporters at an event in Mount Pleasant, CNN reported, as votes were being tallied overnight.
Arrington weaponized Sanford's criticisms of Trump in her Congressional campaign, accusing him of being a "Never Trumper" who is disrupting the work of the president. In one barbed campaign ad, she made references to his 2009 disappearance and echoed the rhetoric of Trump.
"Mark Sanford and the career politicians cheated on us. We send him to do a job but he left his post and set off on a long trail towards obstructionism," Arrington, who was first elected to the state legislature in 2017, said. "I'm a conservative businesswoman and I'm running for Congress to get things done, not to go on CNN to bash President Trump."
As the words "drain the swamp" appear on screen—one of President Trump's best known campaign slogans—Arrington says: "Bless his heart, but it's time for Sanford to take a hike—for real this time."
"I'm neither for nor against Trump," Sanford, once tipped to be a presidential candidate, told his supporters at Mount Pleasant, The Hill reported. "I'm for ideas that I've long stood for of the entirety of my carer in politics based on limited government.
"It may have cost me an election in this case, but I stand by every one of those decisions to disagree with the president because I didn't think, at the end of the day, it was concurrent with the promises I made when I first ran for office or the voices of the very people of the First District."
After news emerged that Sanford was set to lose, President Trump tweeted: "My political representatives didn't want me to get involved in the Mark Sanford primary thinking that Sanford would easily win - but with a few hours left I felt that Katie was such a good candidate, and Sanford was so bad, I had to give it a shot. Congrats to Katie Arrington!"
Sanford's impending loss in his primary will send nervous shivers down the spines of other Republican lawmakers critical of Trump and facing primaries against challengers supportive of the president.
But the real test for Trump and the Republicans will come in the November midterms, when voters outside of the party cast their verdict on his administration—and early polling suggests it could be a punishing night.
The pollster Gallup has Trump's current weekly approval rating at 42 percent, well below the general average for presidents of 53 percent. And for presidents in their sixth quarter, where Trump is now, the average approval rating is even higher at 57 percent.
According to FiveThirtyEight's polling tracker, the Democrats are currently on 47.6 percent. The Republicans trail them by several points at 39.3 percent, though there is still a long way to go until polling day.
Updated | President Trump's second tweet.