Trump Business Plan Casts Spotlight on Law Firm That Worked for Russia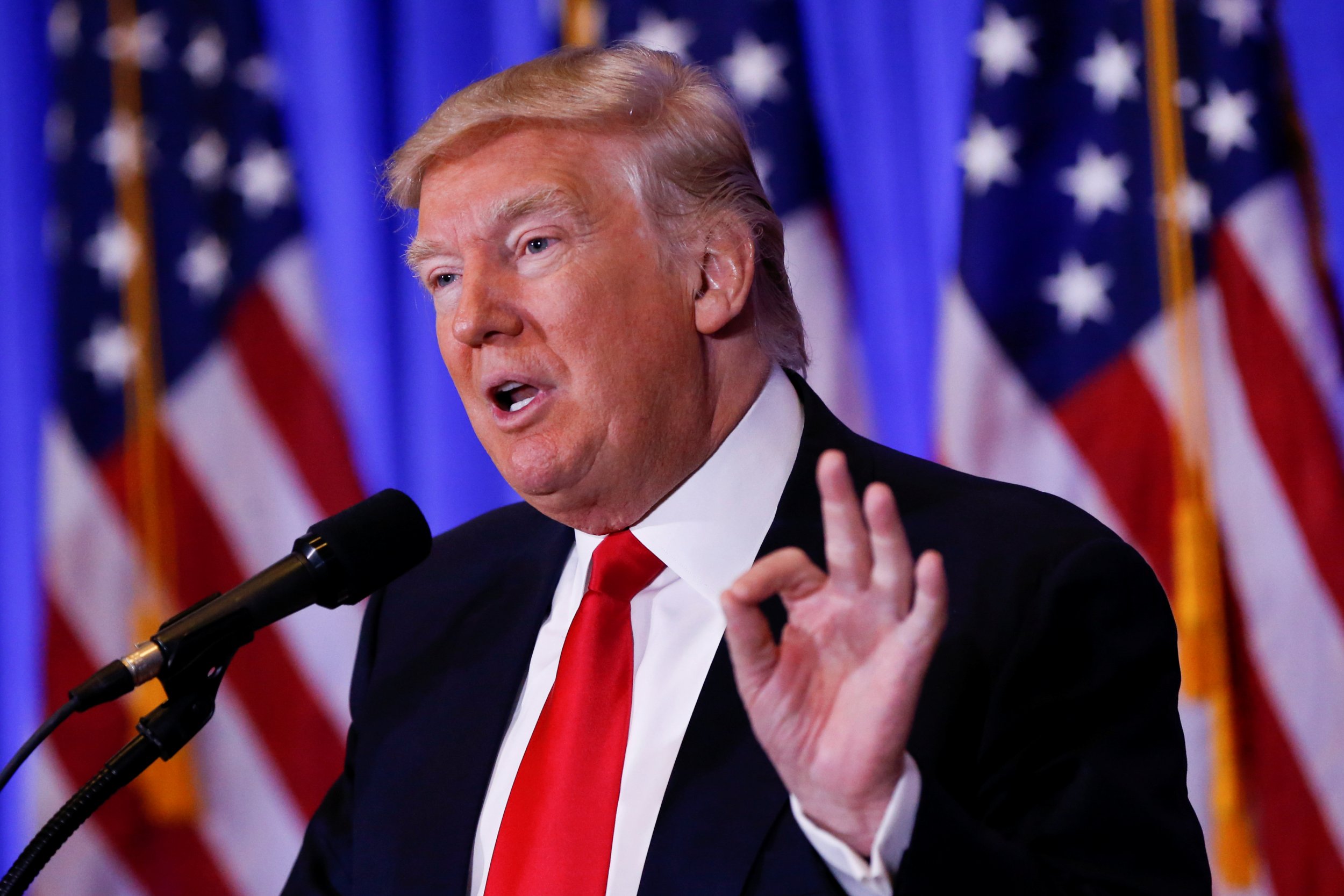 When tax lawyer Sheri Dillon took the stage during President-elect Donald Trump's press conference on Wednesday, she quickly began a defense of the billionaire businessman's plan to resolve conflicts of interest by distancing himself from his company.
"As you know, the business empire built by President Trump over the years is massive, not dissimilar to the fortunes of Nelson Rockefeller when he became vice president, but at that time no one was so concerned," Dillon said, standing before eight American flags while speaking to gathered reporters. "He directed me and my colleagues at Morgan, Lewis and Bockius to design a structure for his business empire that would completely isolate him from the management of the company."
Related: Donald Trump dismisses Russia reports as 'fake news' during bizarre press conference
The law firm Dillon works for, Morgan Lewis, was in the spotlight this week not only for its work on Trump's controversial plans for his business but also because it received the "Russia Law Firm of the Year" award last year from a London organization that ranks lawyers and law firms. Critics have questioned Trump's ties to Russia and President Vladimir Putin, and the president-elect has at times appeared to try to distance himself from Putin.
But another possible link between Trump and the Russian government has materialized: Morgan Lewis does work directly for the Russian government, according to a Newsweek review. At least three lawyers in the firm's Moscow and London offices list work for Russian sovereign wealth funds or state corporations among their accomplishments.
A partner in the Moscow office advised four investors—one of which was "a new Russian sovereign fund"—on a $750 million purchase of a stake in a Russian power company, the partner's profile on the firm's website states. An associate in the London office advised a Russian state corporation on a venture with an Asian energy company, according to her profile. And an associate in the Moscow office advised investors, including "the Russian investment fund and international investment funds," on the purchase of a Russian power generation company for more than $600 million, that associate's profile states.
"If they're representing a Russian sovereign wealth fund, they are really indirectly representing the Russian government," said Richard Painter, a law professor at the University of Minnesota who served as the chief ethics lawyer for the president from 2005 to 2007. "If that sovereign wealth fund or that state corporation has any investments or deals with any of the Trump entities, then we've got a problem," he tells Newsweek, calling the question "a huge hypothetical."
Another law professor, who writes regularly about Trump's business interests and conflicts, tells Newsweek he sees no conflict of interest or any problems with Morgan Lewis advising the president-elect on his business and also doing work for the Russian government. "I don't think Trump could find good legal advice, especially tax advice, without going to a global law firm that does work in Russia," says Andy Grewal of the University of Iowa. "A law firm of this size represents everyone, everywhere. Conflicts are par for the course."
In its announcement of the Russia Law Firm of the Year award, the legal ranking organization Chambers and Partners revealed an interesting relationship as it praised the legal work Morgan Lewis did in Russia. "Another significant instruction was representing Russia-Chinа Investment Fund in its 9.75 billion [rubles, or about $163 million] acquisition of a minority stake in Detsky Mir from Sistema Group," the organization said.
That note appears to refer to a deal last year in which the Russia-China Investment Fund—the joint fund of the Russian and Chinese sovereign wealth funds—bought a 23 percent share in a large Russian retailer of children's goods. The Russian Direct Investment Fund, which is the Russian half of the Russian-China fund, has $10 billion under management and was created in 2011 by the president and prime minister, according to its website. (A legal magazine that covers lawyers and law firms in Central and Eastern Europe, CEE Legal Matters, also identified Morgan Lewis as the firm representing the Russian-China Investment Fund in the deal and named the six Morgan Lewis lawyers who worked on it.)
A spokeswoman for Trump's transition team referred comment to Morgan Lewis and said, " We have no knowledge of their other clients, past or present." A spokeswoman for Morgan Lewis said, "We do not comment on our clients or the work we do for them."
Morgan Lewis has more than 2,000 legal professionals in offices on three continents and practices in a range of areas, including energy, financial services, litigation and, of course, tax law. During the presidential campaign, Hillary Clinton reportedly used a Morgan Lewis partner to vet potential running mates. At the press conference Wednesday, Dillon said Trump would not sell his business or put his assets in a blind trust.
The Trump transition team also released a background paper Wednesday, prepared by six Morgan Lewis lawyers and titled "Conflicts of Interest and the President," that laid out Trump's plans. "The Constitution does not forbid fair-market-value transactions with foreign officials," the paper states. "To put to rest any concerns, however, the president-elect is announcing he will donate all profits from foreign governments' patronage of his hotels and similar businesses during his presidential term to the U.S. Treasury."