Trump Business Records Could Be Handed Over 'Within 7 Days,' CNN Reporter Says After Judge Sides With Congress
After a New York-based federal judge on Wednesday ruled that Deutsche Bank and Capital One could provide Donald Trump's financial records to Congress, a CNN reporter said the president's financial documents may be handed over to Democratic lawmakers within seven days.
Federal judge Edgardo Ramos, appointed by former President Barack Obama, rejected a preliminary injunction, sought by Trump's attorney's, to stop Deutsche Bank and another major banking institution from complying with a subpoena from Congress for his family's financial records. The move comes two days after a federal judge in Washington, D.C., ordered Trump's longtime accounting firm, Mazars USA LLP, to comply with a congressional subpoena for his financial documents. Both decisions marked major blows for the president in his fight with Democrats over the release of his documents.
Speaking to CNN host Wolf Blitzer during a segment on The Situation Room, Washington, D.C. correspondent Kara Scannell discussed what today's ruling means for Trump and when the documents will likely be handed over.
"This is the second major blow this week for the president, what is the very latest?" Blitzer asked.
"It's the second setback for the president in just three days," Scannell explained. "Judge Edgardo Ramos here, going point by point through Trump Organization's arguments of why they shouldn't comply with the subpoenas sent by the congressional committees and he said that the subpoenas are valid, that Congress, particularly the House of Financial Services Committee, House Intelligence Committee, had a right to these documents even though the subpoenas were very broad."
"The judge said that, 'the power of Congress to conduct investigations in inherent in their legislative process. That power is broad.' So he's ruling unequivocally that Congress has a right to the documents that the banks have, Deutsche Bank and Capital One, banks that Donald Trump and his family members have done business with for years," she added.
Scannell noted that the judge also said he would "denying their stay pending appeal" meaning he refused to "put these decisions aside, so that the Trump Organization and the president could appeal this case."
"Instead, he's saying that they're unlikely to succeed on the merits, and therefore, that they will not get this stay," she added.
Blitzer then asked Scannell "how quickly do you think they'll be released?," referring to Trump's financial documents.
"Well, under an agreement that they had before today's ruling, there are seven days," said Scannell. "Now, in the accounting firm case that was decided on Monday, the Trump Organization and the president said they would appeal and they notified the court of that in D.C."
"The judge asked the lawyer for the president if what he was going to do in this matter, and he said that he would consult with his client. He has not yet announced that they're going to appeal this decision, but it could go into effect within seven days," she concluded.
Deutsche Bank and Capital One did not immediately respond to Newsweek's request for comment on Wednesday. The Trump Organization also did not immediately respond.
Following U.S. District judge Amit Mehta's ruling on Monday, which ordered Mazars USA LLP to turn over eight years of the president's financial records before he took office to the Democratic-led House and Oversight and Reform Committee, the spokesperson for the accounting firm told Newsweek that they "will respect the legal process and fully comply with its legal obligations."
"We believe strongly in the ethical and professional rules and regulations that govern our industry, our work and our client interactions," the spokesperson added. "As a matter of firm policy and professional rules we do not comment on the work we conduct for our clients."
Mehta on Monday refused to hold the ruling pending appeal, as requested by Trump's attorney. Jay Sekulow, one of the president's attorneys, decleared that his team will be "filing a timely notice of appeal to the D.C. Circuit Court of Appeals."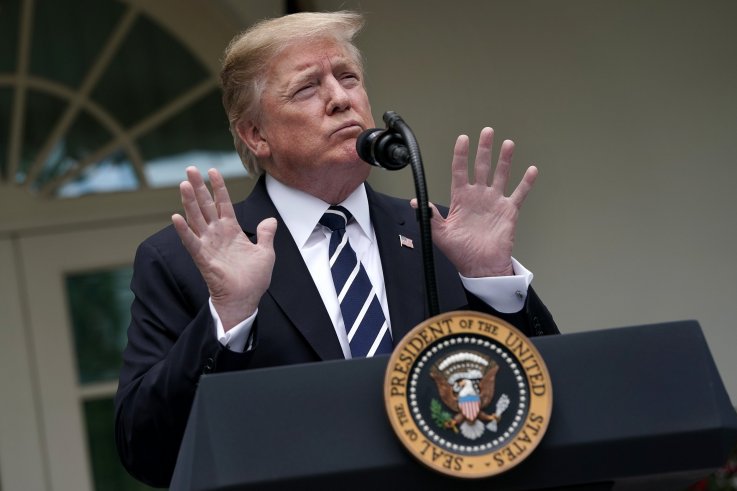 Trump Business Records Could Be Handed Over 'Within 7 Days,' CNN Reporter Says After Judge Sides With Congress | U.S.