Watch 'Morning Joe' Parody Trump's 'Sick, Shameful, Un-American' Cabinet Meeting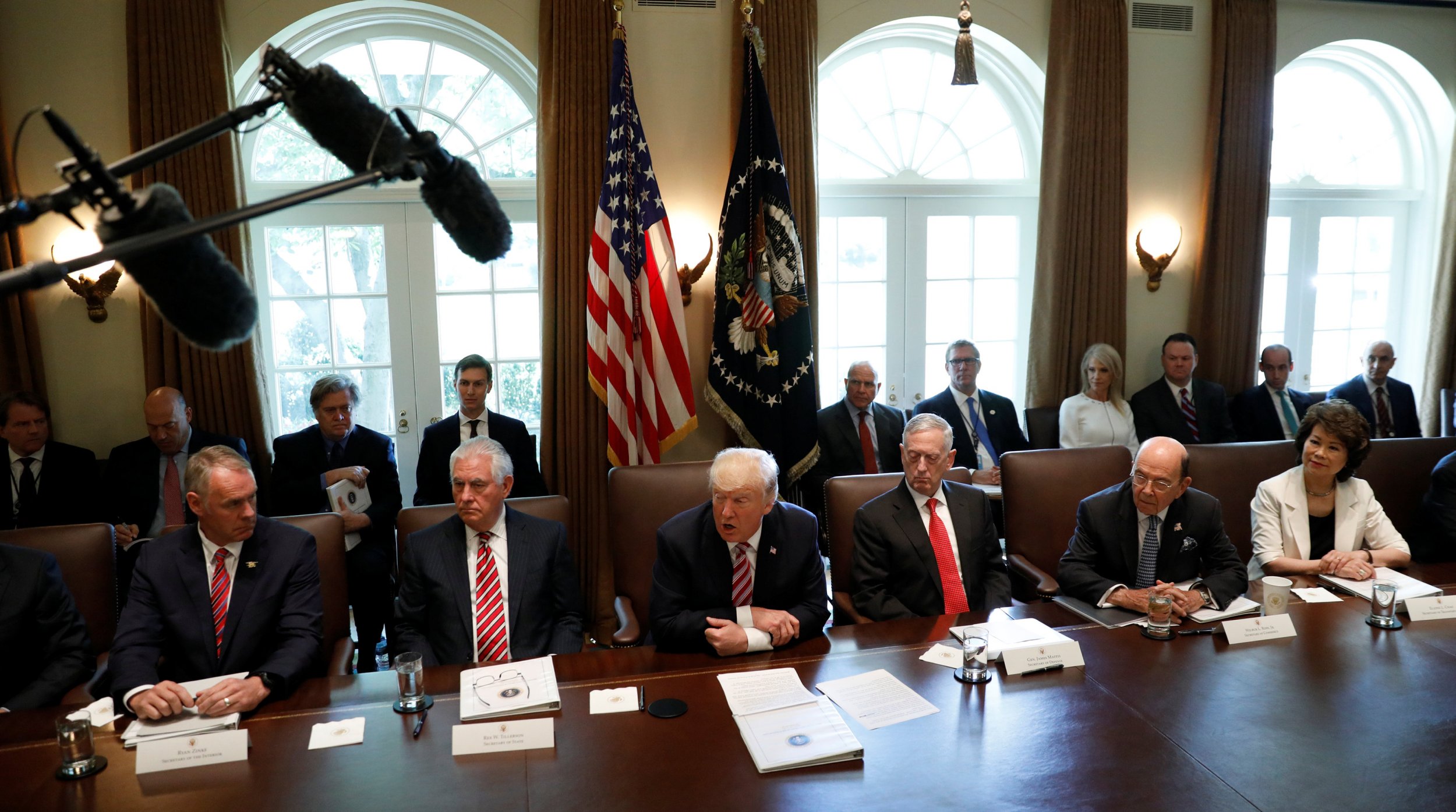 President Donald Trump's first Cabinet meeting Monday was a cynically orchestrated demonstration of love and loyalty, Morning Joe host Joe Scarborough suggested in a searing takedown Tuesday.
Related: Donald Trump's Cabinet meeting was Soviet and surreal
The Cabinet gathering has already earned plenty of criticism and ridicule for its display of affection around the table. Democratic Senator Chuck Schumer conducted his own parody of the Trump lovefest, and MSNBC's Morning Joe followed suit Tuesday with a barrage of insults thrown in for good measure.
After showing a clip of the Cabinet members paying homage to their great leader, the Morning Joe panel flooded Scarborough with compliments. "Your hair looks great today, Joe," said Mike Barnacle. Former Democratic Representative Harold Ford Jr. thanked Scarborough and co-host Mika Brzezinski for "having us here. I cannot even begin to express the honor and pride I feel just being near you and all the great work you do."
Then things took a more serious turn as Scarborough excoriated the president for what he implied was a sycophantic display.
"Let me just say that was the most sick, shameful, pathetic, un-American, autocratic display," he said. "I will tell you if I were ever in a meeting and people did that to me, I would say shut up, and I would fire you."
He added, "You can't run an organization that way. You're sure to be at 36 percent in the polls," he said in a reference to Trump's low approval rating numbers.
Brzezinski concurred. "That's sick, that is just sick," she said. "That was sick in so many ways. Sick in the head."
During the meeting, Trump's Cabinet exclaimed one by one how fortunate they were to be working for the 45th president of the United States.
"The greatest privilege in my life," Vice President Mike Pence described it.
"I want to thank you for getting this country moving again and also working again," said Elaine Chao, secretary of transportation.
Secretary of the Treasury Steve Mnuchin continued the theme. "Thank you, Mr. President. It was a great honor traveling with you around the country for the past year and an even greater honor to be here serving in your Cabinet," he said.
Perhaps the best, though, was left for last. Chief of Staff Reince Priebus, whose future with Trump's team has recently been the subject of much speculation, told the president, "We thank you for the opportunity and the blessing that you've given us to serve your agenda."