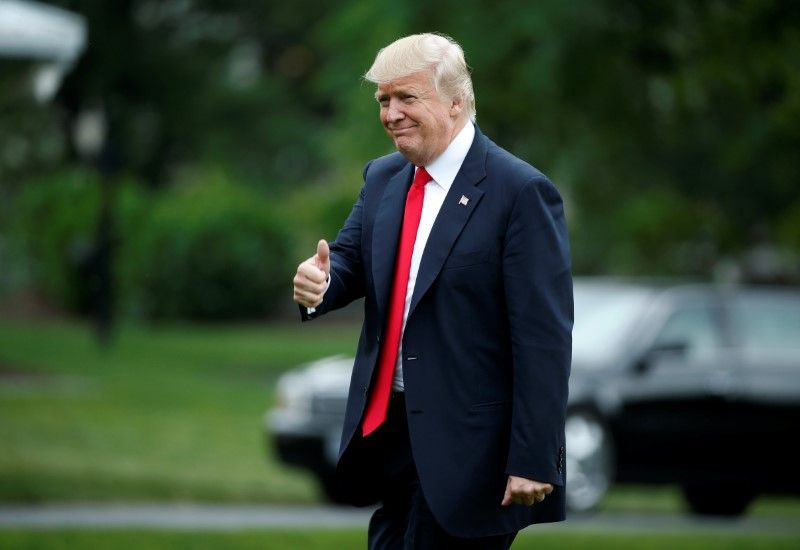 There they sat, like Soviet mandarins, one by one praising the fearless leader making America great again. Most impressive of all, they did it with straight face, though there couldn't have been a man or woman in that room who wasn't aware of how surreal the scene was.
Well, except for President Donald Trump, who seemed to enjoy every moment. He set the tone by doing the thing he loves most: celebrating himself. "Never has there been a president, with few exceptions—case of FDR, he had a major depression to handle—who has passed more legislation and who has done more things than what we've done," he declared.
As political reporters and observers quickly noted, this is not true. But that was the tone of the cabinet meeting. It had a valedictory feel, like something coming at the very end of a presidential term, not the beginning. And while such conclaves are in some part for show, it's hard to think of another cabinet meeting in modern American presidential history so entirely occupied with the adulation of one man.
Related: 'Infrastructure week' is a symbol of Trump's many problems
"The weirdest cabinet meeting ever," decreed Chris Cillizza of CNN, a sentiment that was widely shared on social media. Trump's love of loyalty is widely known, but that loyalty manifested by so many cabinet members, at the same time, and in the presence of the press, was truly ludicrous to behold, like something out of an anti-Stalinist comedy the Soviet censors were too dim to miss.
Except this wasn't a comedy. This was the political leadership of the United States.
The orgy of praise and good feeling began with Vice President Mike Pence, who called working with Trump "the greatest privilege of my life." Many others described the "privilege" and "honor" of working for Trump, in seeming contradiction to reports that many positions in the higher ranks of the federal government remain open because nobody wants them.
Jeff Sessions, the attorney general who has faced increasing questions over his contacts with Russia, said the administration was sending "the exact right message" to criminals and law enforcement officers alike. He and Trump then briefly discussed the eradication of MS-13, a street gang on which both men have an inordinate fixation.
"They'll all be gone pretty soon," Trump said.
Alexander Acosta, the Labor Secretary, praised Trump's "commitment to the American workers." He did not describe the nature of that commitment.
Trump looked on happily as Energy Secretary Rick Perry derided the Paris climate accords as "some executive order that was ill thought-out."
"Hats off for you for taking that stand," Perry said, a reference to Trump's now-famous declaration that he was looking out for Pittsburgh, not Paris (the mayors of Pittsburgh and Paris have since committed to a climate change deal of their own).
Mick Mulvaney, the White House budget director, said that "with Trump's direction," he has been empowered to "take care of people who really need it." In fact, a blueprint of Mulvaney's budget released this spring contained cuts to popular programs like Meals on Wheels. That budget appeared to reflect little of Trump's campaign-trail populism, but, rather, the business-friendly attitude of House Speaker Paul Ryan.
"I'm thrilled to have a chance to help you live up to your campaign promises," said Wilbur Ross, the Commerce Secretary. Those promises included a trade war with China, which most economists do not think is a good idea.
"Last week was a great week, it was Infrastructure Week. Thank you so much for coming over to the Department of Transportation," said that department's head, Elaine Chao. She continued, seemingly aware of Trump's obsession with crowd sizes: "Hundreds and hundreds were just so thrilled, hanging out, watching the whole ceremony."
Infrastructure Week was widely mocked as lacking substance. It was also overshadowed by the Senate Intelligence Committee testimony of fired FBI director James B. Comey. Some believe the fallout from Comey's firing will lead to Trump's eventual downfall.
But nobody could quite top Chief of Staff Reince R. Priebus, who is said to have until the Independence Day holiday to put the West Wing in order. If he fails to do so, Trump may reportedly ship him off to serve as the ambassador to Greece.
"On behalf of the entire senior staff around you, Mr. President, we thank you for the opportunity and the blessing you've given us to serve your agenda and the American people," Priebus said.
Sonny Perdue, the Agriculture Secretary, came closest to equaling Priebus's fulsome assessment of what has, thus far, been the most unpopular presidency of the modern era: "I just got back from Mississippi. They love you there." This made Trump visibly happy. "I want to congratulate you on the men and women you've placed around this table," Purdue added.
As has frequently been the case, Trump's desire to project gravitas, confidence and achievement were met by liberal mockery on social media. Steve Benen of MSNBC, for example, called the meeting "surprisingly creepy."
And New York Senator Charles E. Schumer decided to join in the fun with video of a cabinet meeting of his own.