California became the heart of the anti-Trump resistance as soon as there was a Donald J. Trump presidency to resist, with some calling for the state to secede from the rest of the country. Six months later, California remains part of the United States, but it now has an opportunity to show its mettle on an issue central not only to the Golden State but also the state of the human race: global warming.
Shortly after Trump announced that he was pulling the United States out of the Paris climate accord on Thursday, California's governor, Jerry Brown, released a withering statement on that decision, which read in part:
Donald Trump has absolutely chosen the wrong course. He's wrong on the facts. America's economy is boosted by following the Paris Agreement. He's wrong on the science. Totally wrong. California will resist this misguided and insane course of action. Trump is AWOL but California is on the field, ready for battle.
Now, Brown is on his way to China to discuss the future of the Paris agreement. With that trip, Brown will effectively be playing the role of emissary for Americans—private citizens, corporations and some members of Trump's own Cabinet, most notably his daughter Ivanka—who are opposed to the president's environmental policies, including an unlikely return to a coal-based economy and a broader retreat from the global stage.
Related: Why Trump can't replace the Paris climate accord
"I'm on the side of the angels," Brown told Politico. "I'm going to do everything I can, and people are going to join with me." Brown will, according to the website, spend the week "participating in a global climate summit and meeting with high-level Chinese officials, possibly including President Xi Jinping."
The governor will bring with him the clout of the nation's most populous and economically successful state, one that boasts the sixth largest economy in the world. More intangibly, he has on his side the idea of California as a fundamentally sunny land, always looking to the future with optimism and a can-do spirit.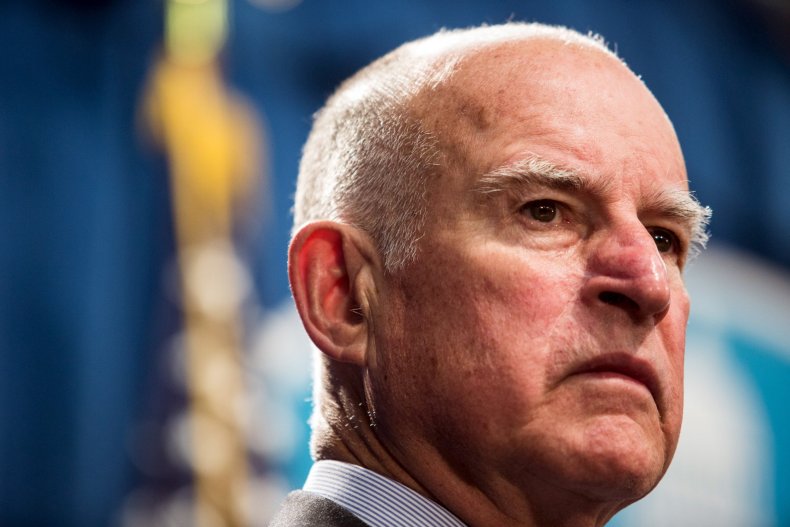 Although California could not sign the Paris accord, it was a leading force behind the Under2 Coalition, an agreement to keep global temperatures from rising more than 2 degrees Celsius. A memorandum of understanding has been signed by 170 subnational jurisdictions.
Before that deal, Brown's predecessor at the state house in Sacramento, the Republican Arnold Schwarzenegger (lately a Trump nemesis on Twitter, as well as an erstwhile Celebrity Apprentice host), signed an ambitious bill to curb greenhouse emissions.
Schwarzenegger has not yet commented on Trump's announcement. Yet after leaving office, he become even more of an environmental advocate, appearing with Brown in Paris in late 2015, as the international agreement was being negotiated. Around that time, he published a Facebook post titled "I don't give a **** if we agree about climate change." In it, he said green thinking had benefited California, not harmed it:
Renewable energy is great for the economy, and you don't have to take my word for it. California has some of the most revolutionary environmental laws in the United States, we get 40 percent of our power from renewables, and we are 40 percent more energy efficient than the rest of the country. We were an early-adopter of a clean energy future.

Our economy has not suffered. In fact, our economy in California is growing faster than the U.S. economy. We lead the nation in manufacturing, agriculture, tourism, entertainment, high tech, biotech, and, of course, green tech.
Brown, now in his fourth and final term as governor, has made climate change his signature issue. Late last year, as many around the nation worried that Trump would ditch the climate pact, Brown told a gathering of geophysicists in San Francisco, "We've got the scientists, we've got the lawyers, and we're ready to fight. We're ready to defend."
Now, that fight is on, with Sacramento more closely aligned with Beijing than Washington. At the very least, Brown will have support from two fellow Democratic governors, Andrew Cuomo of New York and Jay Inslee of Washington; the three have announced the formation of a Climate Alliance. Inslee said in a statement that Trump's move "leaves the full responsibility of climate action on states and cities throughout our nation." About 20 percent of all Americans live in the three states that will participate in the Climate Alliance.
In addition, The San Francisco Chronicle reported that "27 California state senators, led by President Pro Tem Kevin De León, sent Brown a letter Thursday urging him to convene a climate summit with representatives of Mexico, Canada and other states and subnational governments." That could further burnish his credentials as a world leader on climate change, as Trump continues to wax rhapsodic about the coal mines he believes (falsely) are about to reopen as a result of the United States leaving the Paris agreement.
However, Trump could still hamper California's green efforts. The state's tough vehicle emissions standards are a national trendsetter, but they require a federal waiver granted by the Environmental Protection Agency. That agency is now led by the anti-environmentalist Scott Pruitt, who supported leaving the Paris deal; he may withhold that waiver, thus weakening emissions standards in much of the rest of the nation.
California, though, will surely fight that move—and much more.