Trump Is Right About Raking Leaves and California Wildfires, Says Ryan Zinke, Adding 'Environmental Radicals' Are to Blame for Fires
Secretary of the Interior Ryan Zinke on Sunday blamed the California wildfires on "environmental radicals" and said that President Donald Trump had been "absolutely right" that forest mismanagement over the years had led to the blazes.
Zinke said in a Breitbart News Sunday radio show interview that "radical environmentalists" filed lawsuits aimed at letting "nature take its course" and that the deadly California wildfires were a result of them.
"I will lay this on the foot of those environmental radicals that have prevented us from managing the forests for years and, you know what, this is on them," Zinke told host Amanda House.
"The president is absolutely right. This is as much about mismanagement over time," he continued. The mismanagement problem has been "going on for years," said Zinke, who also blamed the Obama administration.
"The president is absolutely engaged," Zinke said. "Forests need active management."
The interior secretary brought up the California drought and the fact that firefighters battled the flames while their own houses were threatened. He added that "the amount of fuel in the forest is at historic highs." Zinke suggested removing timber that is dead or dying and echoed Trump by saying that Finland and Germany were examples of countries that managed their forests right.
Trump, in a news conference on Saturday afternoon, in Paradise, California, which was destroyed by the Camp Fire, said that Finland did not have a wildfires problem like California's because they spent resources on raking their forests.
"You've got to take care of the floors. You know the floors of the forest, very important. You look at other countries where they do it differently, and it's a whole different story," Trump said. "I was with the president of Finland and he said, 'We have a much different—we're a forest nation.' He called it a forest nation, and they spent a lot of time on raking and cleaning and doing things and they don't have any problem."
But Finnish President Sauli Niinistö later on Sunday told the Ilta-Sanomat newspaper that he did not recall speaking with Trump about "raking" forest floors in his own country. Niinistö said he spoke to Trump briefly in Paris during the World War I centennial, and that he had said that Finland was able to "take care of our forests," but not the "raking" part. The Finnish president said the discussion with Trump concerned Finland's new surveillance system to monitor potential fires and California wildfires.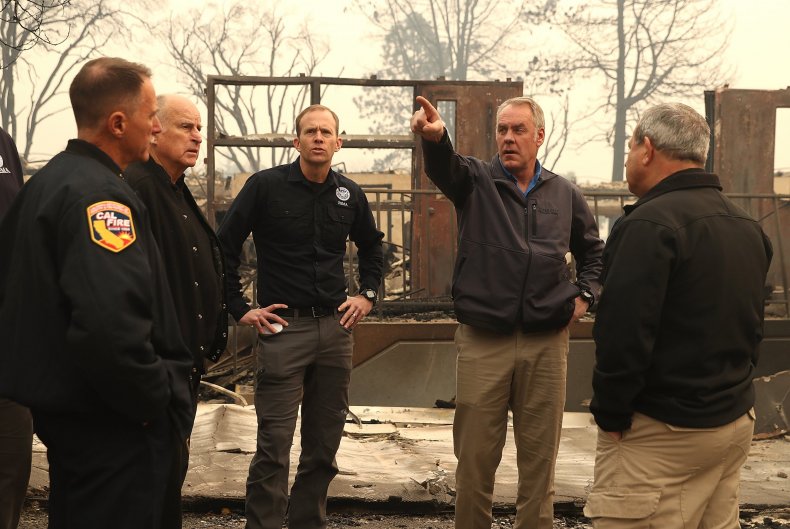 Experts have have attributed fires mostly to dry conditions from California's record drought, high winds and climate change.