Trump Called Steve Bannon 'Bam Bam' as Their Friendship Soured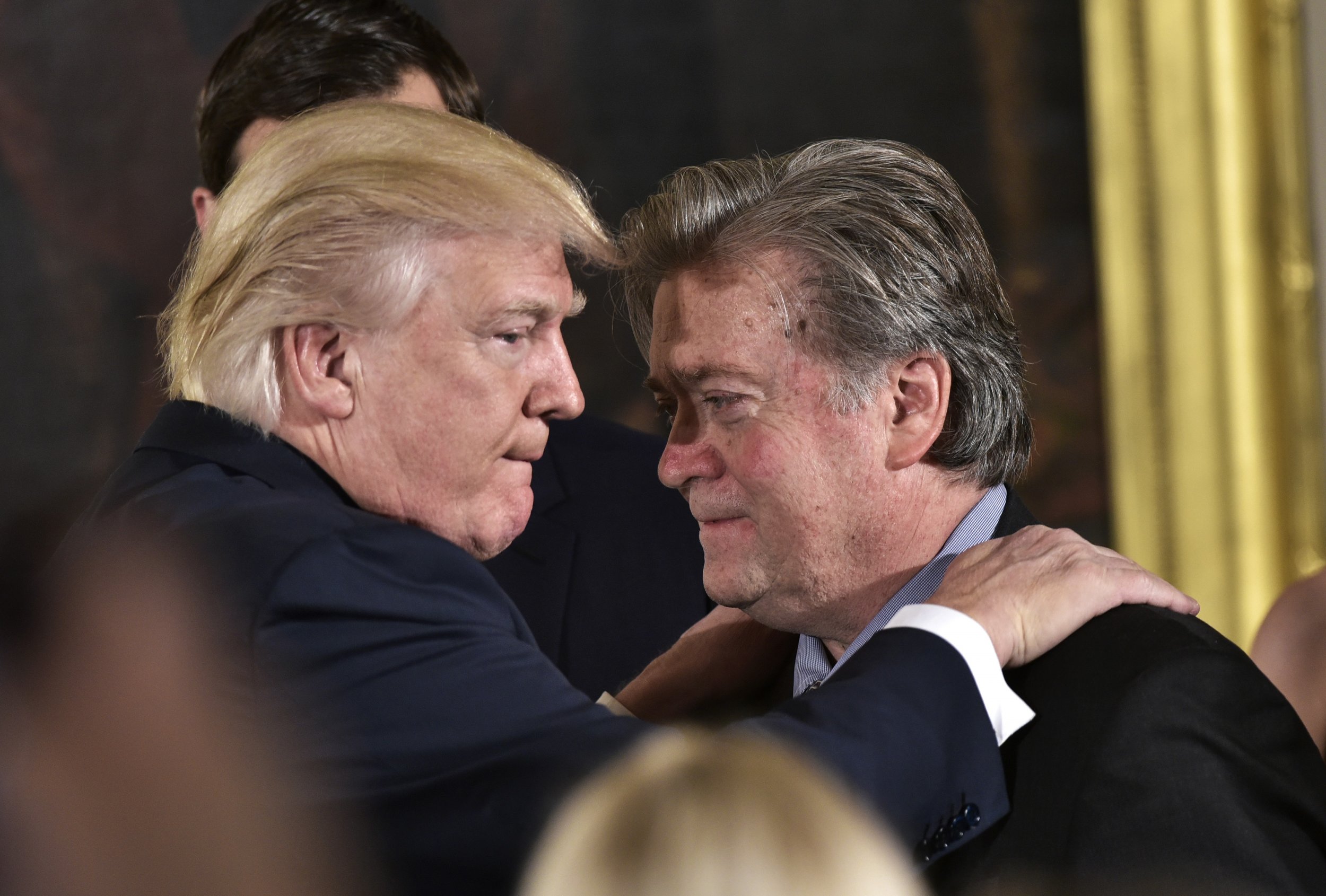 President Donald Trump reportedly compares his former chief strategist Steve Bannon to a fictional "Flintstones" character, "Bam Bam," a baby who throws tantrums with a wooden club, according to reports on Wednesday detailing their strained relationship.
Trump cut ties with Bannon in a statement saying that the Breitbart News executive chairman had "lost his mind" after media outlets ran excerpts of a forthcoming book by journalist Michael Wolff that quoted Bannon's thoughts on everything from Ivanka Trump to the president himself.
So it's no surprise that the president who gives nicknames to his nemeses calls Bannon "Bam Bam," according to Politico.
Tension had been growing publicly between the two in recent months. But Wolff's book appeared to be the last straw for the president. In the Fire and Fury: Inside the Trump White House book, Bannon calls Ivanka Trump "dumb as a brick", refers to the meeting between Donald Trump, Jr. and Russian officials "treasonous" and "unpatriotic" and claims that first lady Melania Trump cried on election night. Wolff reportedly wrote the book detailing the first year of Trump's presidency after conducting more than 200 interviews with the president and members of his inner circle.
Trump released a statement following the revelations saying that Bannon has "nothing to do" with him or the presidency.
"When he was fired, he not only lost his job," the president said in a statement. "He lost his mind."
Bannon was let go from the White House in August. White House Press Secretary Sarah Huckabee Sanders said that White House Chief of Staff John Kelly and Bannon had "mutually agreed" that Bannon would exit.
The president posted on Twitter thanking his former aide for his service in August.
"He came to the campaign during my run against Crooked Hillary Clinton," he said.
In his statement, Trump said Bannon had "very little to do with our historic victory."
Bannon appeared to backtrack on comments that were made in the book. In an interview on the "Breitbart News Tonight" Sirius XM show Wednesday, Bannon remained loyal to the president.
"The president is a great man," Bannon he said. "You know I support him day in and day out."
Trump's lawyers are now trying to stop the book from being published. In a legal notice obtained by The Washington Post, Trump's lawyers ask Wolff and his publisher to "immediately cease and desist from any further publication, release or dissemination of the book."​