Donald Trump Called Up 'Fox & Friends' Host So He Could Weigh In on Veteran Healthcare: Report
During a meeting with embattled Secretary of Veterans Affairs David Shulkin last week President Donald Trump called up a host from Fox & Friends so he could weigh in on the further privatization of veterans healthcare, according to a report.
Trump put host Pete Hegseth on speakerphone so he could tell Shulkin his take on new laws proposed in Congress that would expand access to private healthcare for veterans, two sources with knowledge of the conversation told Axios.
Hegseth, a veteran of the wars in Afghanistan and Iraq, competed against Shulkin for the job of heading Veterans Affairs. Trump said during a press conference early last week that he likes "conflict" and having "having two people with different points of view" go head-to-head in front of him, adding that it helps him make decisions.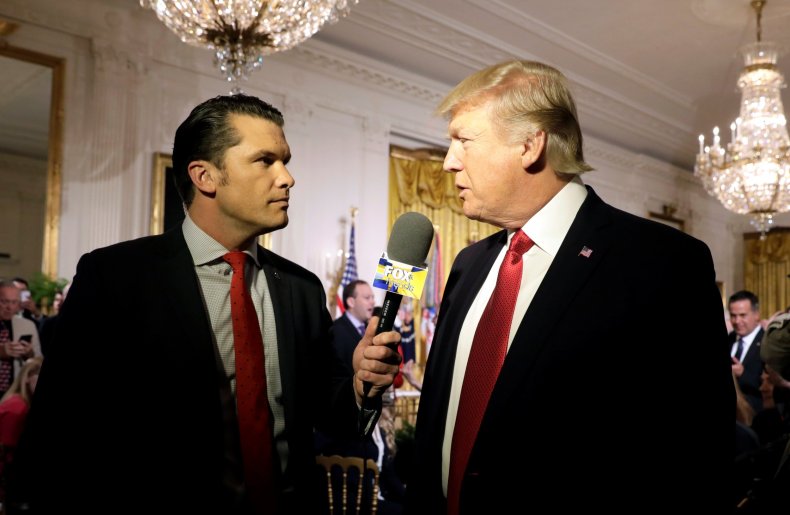 The call with Hegseth put Shulkin in an odd position as the Fox host advocates for more aggressive changes to the VA and the secretary already has a strike against him.
The White House scolded Shulkin and several other cabinet officials last month over a series of investigations into their spending. Shulkin was found in an inspector general's report to have violated ethics rules by using taxpayer money to subsidize his wife's $4,300 flight to Europe last year and improperly accepting tickets to the Wimbledon tennis tournament in London. The trip mixed business and sightseeing and cost taxpayers $122,334.
Read more: Ryan Zinke spent $139K on doors—here are all the Trump officials accused of misspending taxpayer dollars
Trump is a big fan of Fox & Friends and often tweets about segments he has seen on the early morning show. This is not the first time he has called up a Fox host for advice.
According to previous a report, Trump was in frequent contact with Fox News host Sean Hannity ahead of the release of a controversial intelligence memo last month. The FBI said it had "grave concerns" about its release, but Hannity advocated for it to be made public. In the end Trump authorized the memo's release—a move that scored him political points with his right-wing base.