Donald Trump Called North Korea's Kim Jong Un 'a F***ing Lunatic,' New Book Claims
Outside of the flowery words shared in their famous "love letters," former U.S. President Donald Trump once offered a frank, explicit assessment of North Korean Supreme Leader Kim Jong Un as they embarked on an unprecedented peace process, according to an upcoming book by Washington Post reporters Bob Woodward and Robert Costa.
The book, Peril, is set to be released next Tuesday, but leaked content has already begun to cause a stir in the media. One previously unreported excerpt shared with Newsweek covers Trump's relationship with Keith Kellogg, a retired lieutenant general who served as national security adviser to then-Vice President Mike Pence.
"Trump felt comfortable with Kellogg. He could curse around him," the authors wrote.
The president apparently felt so comfortable, he took a shot at the young North Korean ruler wielding a nuclear arsenal that the United States was trying to convince him to abandon.
"'I'm dealing with a f**king lunatic,' Trump said in one meeting with Kellogg, referring to his engagement with North Korean dictator Kim Jong-un," according to Woodward and Costa's book.
Neither a spokesperson for Trump nor a media contact for Kellogg's America First Policy Institute immediately responded to Newsweek's request for comment.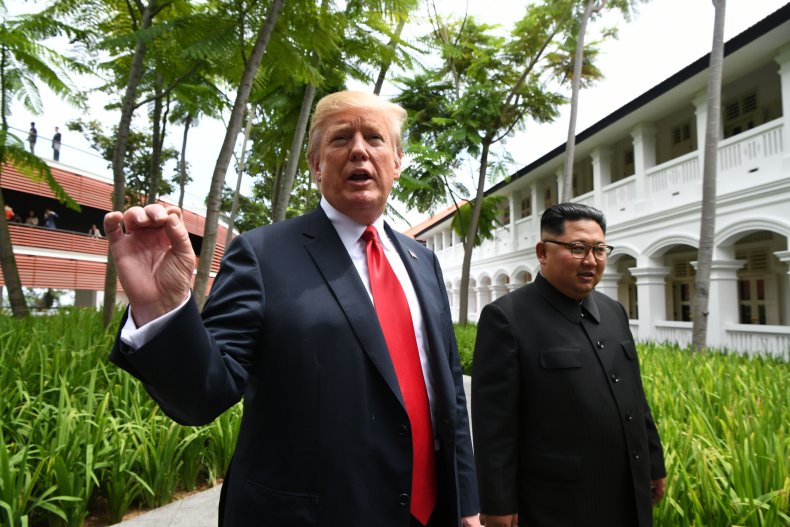 The excerpt seen by Newsweek did not provide a date for when the words were supposedly uttered. Kellogg was transferred from his role as executive director and chief of staff of the White House national security council to Pence's national security adviser on April 27, 2018—the same day that the first inter-Korean summit took place between Kim and South Korean President Moon Jae-in.
The book describes Kellogg as being "torn between two wolds: Pence World, where he was the vice president's national security adviser, and Trump World."
"I make no bones about it. I'm a Trump loyalist," Kellogg was cited by the book's authors as telling people, despite his posting under Pence.
Kellogg was said to have had his own nickname for the president and vice president: "Fire and Ice."
"Pence was the total opposite of Trump. Pence had an open Bible on his desk and prayed daily," the book's authors described. "He held Bible study meetings with friends and kept things tight with Marc Short and his wife, Karen Pence, with few others in the know. In fours of being around Pence, Kellogg had never heard him curse—and Kellogg did not curse around him."
By the time Kellogg settled into his new role, Trump had already accepted an invitation from Kim to hold a historic summit between their two nations, and Secretary of State Mike Pompeo had met with the supreme leader just 10 days earlier.
But even as the Trump administration gradually warmed toward the idea of Kim, the road to their eventual Singapore summit was a rough one, and the two were no stranger to engaging in insults. In fact, Trump's North Korea policy throughout his first year in the White House was dominated by a heated war of words.
Trump famously referred to Kim as "rocket man" in September 2017 and would continue to use the monicker to belittle the North Korean dynast and the arsenal of weapons his nation had developed, including intercontinental ballistic missiles and nuclear warheads. Even prior to taking office, Trump referred to Kim as a "maniac" during a debate among Republic presidential candidates two years earlier.
Kim had his own creative stockpile of terms for Trump, most notable of which was "mentally deranged U.S. dotard," a term that sent journalists around the world scrambling for a dictionary just to find out that Kim was essentially calling the U.S. president more than twice his age senile.
Their feud had taken darker turns as well, such as when Trump warned that August that North Korea "will be met with fire and fury like the world has never seen" should Kim continue to issue threats. The phrase "fire and fury" would serve as the title to another prominent book on Trump by a notable journalist, Michael Wolff.
Trump and Kim's rivalry peaked at the beginning of 2018, when both men indicated the prospect of using weapons of mass destruction by individually referring to the "nuclear button" on their respective desks. Shortly after, however, tensions rapidly subsided as diplomacy quietly developed between North Korea and U.S. ally South Korea.
When their debut U.S.-North Korea summit in Singapore came around in June, Trump and Kim were regularly expressing goodwill and soon went on to exchange what the U.S. president himself referred to as "love letters." This correspondence became the subject of Woodward's previous book, Rage, which was released last year and covered some 27 messages exchanged between Trump and Kim.
Little remains known about the details of this communication, only that much of it was imbued with a profound sense of flattery. For those hoping for an end to the decades-long conflict, it seemed to nearly pay off as the two Koreas began to draw up plans for future cooperation.
Trump and Kim's push for peace ultimately unraveled, however. Even a second summit in the Vietnamese capital of Hanoi and the third meeting alongside South Korean President Moon Jae-in along the heavily fortified Demilitarized Zone between the two rival Koreas failed to produce a deal that would secure North Korea's denuclearization in exchange for sanctions relief and lasting peace on the peninsula.
Tensions gradually returned to the region, and Trump's successor, President Joe Biden has inherited a cold shoulder from Kim.
But returning to civilian life has not stopped Trump from weighing in on North Korea policy. Soon after Moon criticized Trump for failing to establish a deal with North Korea during an interview with The New York Times in April, the former U.S. president lashed out at the South Korea leader, calling him "weak" and appearing to prefer dealing with Kim.
"Kim Jong-un of North Korea, who I have gotten to know (and like) under the most trying of circumstances, never respected the current President of South Korea, Moon Jae-in," Trump said in a statement at the time.
He also took credit for avoiding a nuclear conflict, a common theme for his remarks on North Korea. Just last month, the former president again praised his relationship with Kim and said the alternative would have been catastrophic.
"I have a great relationship with [Kim]," Trump told Newsmax. "We didn't have a war. It would have been a nuclear nightmare. It would have been a bad one."