Trump Calls 1.5 Million Domestic Coronavirus Cases 'Badge of Honor' That Shows 'Testing Is Much Better'
President Donald Trump on Tuesday said he sees the high number of domestic coronavirus cases as a "badge of honor" that demonstrates America's increased testing capacity.
"When we have a lot of cases, I don't look at that as a bad thing, I look at that as, in a certain respect, as being a good thing," the president told reporters. "Because it means our testing is much better. So, if we were testing a million people instead of 14 million people, it would have far few cases, right?"
"I view it as a badge of honor, really, it's a badge of honor," he added, in reference to the more than 1.5 million confirmed U.S. cases of COVID-19. "It's a great tribute to the testing and all of the work that a lot of professionals have done."
Democrats, who have repeatedly criticized the Trump administration over the allegedly slow pace of testing expansion, disagreed with the president's assessment, calling the high number of cases "a complete failure in leadership."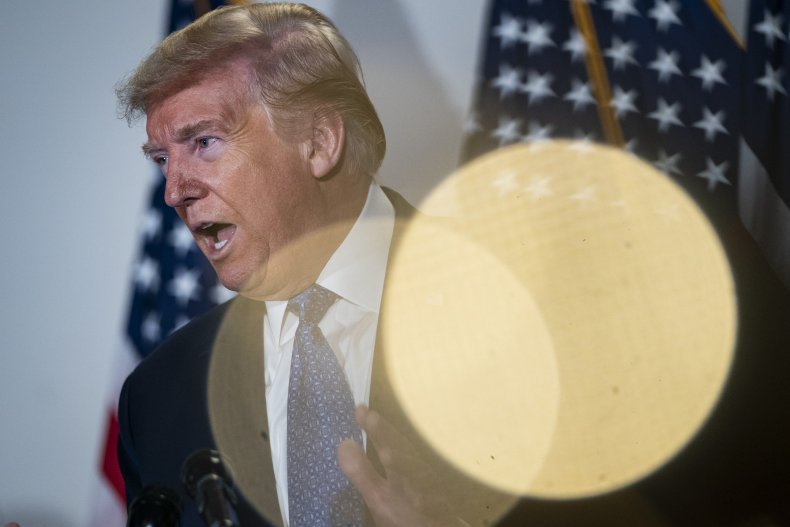 America became the country with the highest number of confirmed coronavirus cases on March 26 with 82,404, surpassing China's 81,782 cases at the time. Weeks later, on April 12, the U.S. hit another grim milestone after having overtaken Italy to be the country with the highest death toll.
As of May 19, more than 1,570,200 individuals had tested positive for coronavirus in the U.S., with over 93,500 caused by the new disease and 363,100 recoveries.
Newsweek reached out to the White House for comment. This article will be updated with any response.
Trump, faced with backlash over his early failures to provide adequate testing to Americans, has repeatedly attempted to deflect blame to governors and state leaders. But in recent months, the U.S. has drastically ramped up testing capacity. The White House told reporters in the Rose Garden last week that the country is now leading the world in testing.
Trump's promise made in early March to ensure anyone who "wants a test can get a test" has still not been actualized.
Despite his remarks today, the president has previously voiced his intention to keep coronavirus figures low. Trump said he'd prefer not to let infected passengers onboard a cruise ship docked near California off during a trip to CDC headquarters in Atlanta in March.
"I like the numbers being where they are. I don't need to have the numbers double because of one ship that wasn't our fault," the president said. "And it wasn't the fault of the people on the ship either, OK? I can live either way with it. I'd rather have them stay on, personally."