Trump Calls Barr a 'Swamp Creature' After Ex-Attorney General Turns on him
Former President Donald Trump called ex-Attorney General Bill Barr a "swamp creature" after Barr turned on his former commander-in-chief and discredited Trump's false claims about election fraud.
"Barr was a 'swamp creature' who was devastated when the Radical Left wanted to impeach him. He, and other RINOs (you see it all the time!), always fold. If he becomes 'less' for President Trump, maybe they will leave him alone. It takes a very strong and special person to go against the 'mob,'" Trump said in a Tuesday statement. "Bill Barr was not that person."
Trump's remarks come two days after The Atlantic published a new piece from Jonathan Karl, who spoke to Barr about Trump's claims about the 2020 presidential election.
"We realized from the beginning it was just bulls--t," Barr was quoted saying.
"My attitude was: It was put-up or shut-up time," Barr reportedly told Karl. "If there was evidence of fraud, I had no motive to suppress it. But my suspicion all the way along was that there was nothing there. It was all bulls--t."
The new interview is the former attorney general's first public account about his final weeks at the Department of Justice and indicates that Barr is no longer the staunch Trump ally he once was.
Barr also told Karl that then-Senate Majority Leader Mitch McConnell pressured him to publicly speak out against Trump's efforts to overturn the election in mid-November, citing the January Senate runoff elections in Georgia.
"Bill, I look around, and you are the only person who can do it," McConnell allegedly told the former DOJ head.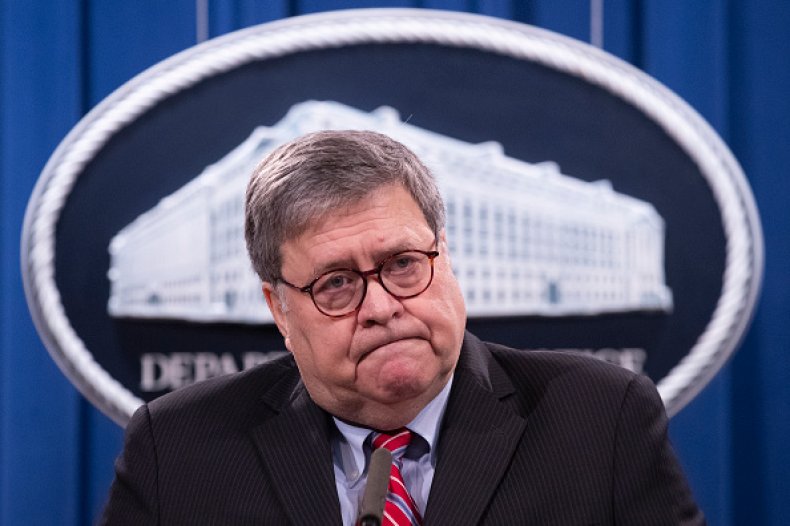 Shortly after the Atlantic article was published, Barr told a reporter at the Associated Press that his department never found fraud that could have overturned the election.
"Jonathan Karl's story on Slow Moving Bill Barr is made-up beyond any level imaginable. It is, in other words, Fake News!" Trump said Tuesday. "I lost confidence in Bill Barr long before the 2020 Presidential Election Scam. It was when he dismissed and didn't act on the very powerful Horowitz Report, and instead gave everything over to John Durham, who has seemingly disappeared from the planet."
The Horowitz Report debunked Trump's claims that there were partisan motivations behind the FBI's investigations of his campaign and found that the federal agency failed to justify the steps it took to investigate the campaign.
"Despite evidence of tremendous Election Fraud, [Barr] just didn't want to go there. He was afraid, weak, and frankly, now that I see what he is saying, pathetic," Trump said. "The facts are rapidly coming out in States and Courts about the 2020 Presidential Election scam, and let's see if Bill Barr, a man who was unable to handle the pressure, was correct? The answer will be a resounding, NO!"
Trump has continued to claim that the 2020 election was rigged despite numerous audits reaffirming President Joe Biden's victory and several election lawsuits from Trump's campaign that have been dismissed in court.