Trump Calls Birx 'Pathetic' Hours After Pelosi Rips Her for 'Enabling' President's Alleged COVID Disinformation
President Donald Trump on Monday called Dr. Deborah Brix, a member of the White House Coronavirus Task Force, "pathetic" shortly after Brix was criticized by House Speaker Nancy Pelosi.
"So Crazy Nancy Pelosi said horrible things about Dr. Deborah Birx, going after her because she was too positive on the very good job we are doing on combatting the China Virus, including Vaccines & Therapeutics. In order to counter Nancy, Deborah took the bait & hit us. Pathetic!" Trump wrote in a tweet published on Monday.
Trump's tweet came hours after Brix was criticized by Pelosi, who accused her of "enabling" the president's alleged spread of coronavirus disinformation.
"I don't have confidence in anyone who stands there while the president says, swallow Lysol, it's going to cure your virus. It'll kill you and you won't have the virus anymore," Pelosi told CNN's Jim Sciutto on Monday. "There has to be some responsibility. So if the president is saying these things, who's advising him that this is OK and enabling that to happen while millions of people have died?"
This is not the first time Pelosi has criticized Brix and her response to the pandemic. Over the weekend, the House Speaker made similar comments on Sunday during ABC's This Week.
During the interview, Pelosi was asked about a recent report from Politico, which stated that Pelosi said Brix was the "worst" when speaking with White House chief of staff Mark Meadows and Treasury Secretary Steven Mnuchin. According to the report, Pelosi also told Meadows and Mnuchin that they were in "horrible hands" with Brix.
The House speaker responded to the report by saying, "I think the President is spreading disinformation about the virus and she is his appointee, so I don't have confidence there, no."
Brix later appeared on CNN's State of the Union and responded to the criticism.
"I have tremendous respect for the speaker, and I have tremendous respect for her long dedication to the American people," Birx said.
"I have never been called pollyannish, or nonscientific, or non-data driven," she continued. "And I will stake my 40-year career on those fundamental principles of utilizing data to really implement better programs to save more lives."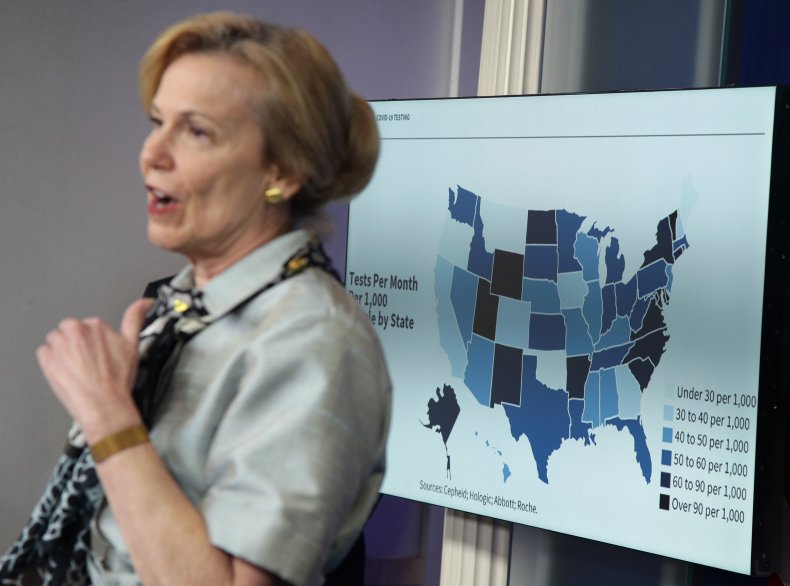 Prior to Trump calling Birx "pathetic," White House communications director Alyssa Farah issued a statement to Twitter in response to Pelosi.
"It is deeply irresponsible of Speaker Pelosi to repeatedly try to undermine & create public distrust in Dr Birx, the top public health professional on the coronavirus task force. It's also just wrong. Period. Hard stop," Farah wrote in her tweet.
Newsweek reached out to the Department of State for comment, but did not receive a response in time for publication.