President Donald Trump has sounded the alarm over the frontier between the United States and Mexico, but his misspelling of the word "border" has sparked as more reaction on Twitter than the announcement itself.
Trump tweeted on Thursday night: "Arizona, together with our Military and Border Patrol, is bracing for a massive surge at a NON-WALLED area. WE WILL NOT LET THEM THROUGH. Big danger. Nancy and Chuck must approve Boarder Security and the Wall!"
The post seems to refer to a statement by U.S. Customs and Border Protection that it had undertaken a large-scale exercise on Tuesday at Arizona's Port of Nogales, DeConcini Crossing.
But Twitter users were quick to point out Trump's typo. Judi Lembke wrote: "Boarder Security? We know you don't understand the law but can't you at least use spellcheck?"
Al Kandie wrote: "This reminded me of the fence we had around our BOARDing school. It probably also needed some form of approval from the school's BOARD of governors"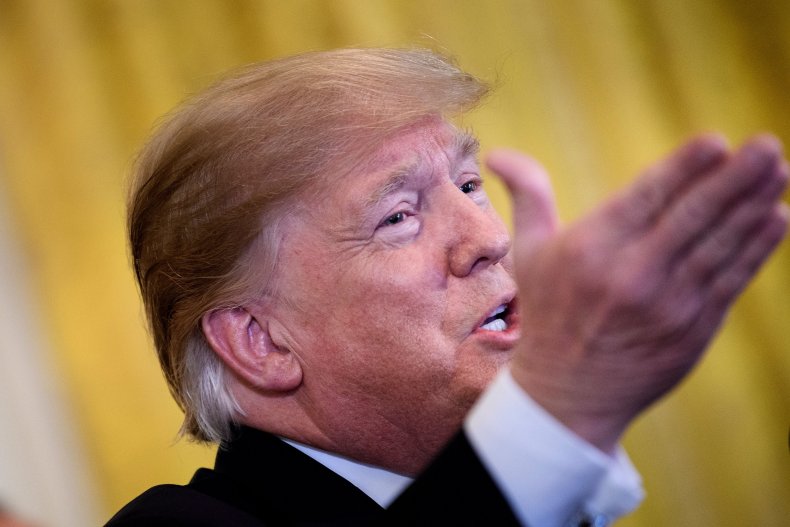 JZ Robinson wrote: BOARDER security? Awfully tempting. Can't spell, can't tell a convincing lie. So embarrassing."
July Sutor wrote: "Like security for snowboarders? Or pirates?" Another added: "Boarder" Wasn't this one of your spelling words a few weeks ago?
"Being poor at spelling is one thing. Being either incapable of learning or of caring enough to have someone proof your work when you're the POTUS is another. And this man has the nuclear launch codes."
Trump often perplexes his 56 million followers with the language he uses, such as the time he tweeted "covfefe" in the middle of the night.
Most recently the media had a field day when he referred to "Scott Free" during a Tweetstorm where he said he wanted his former personal lawyer Michael Cohen to go to jail.
Referring to Cohen, Trump tweeted: "You mean he can do all of the TERRIBLE, unrelated to Trump, things having to do with fraud, big loans, Taxis, etc., and not serve a long prison term? He makes up stories to get a GREAT & ALREADY reduced deal for himself, and get..... his wife and father-in-law (who has the money?) off Scott Free."
It prompted many on Twitter to ask: "Who is Scott Free?" The Washington Post reported that online dictionary searches for the definition or spelling of the word had spiked 3,100 percent.
Of course, he meant to write "scot-free," a phrase meaning to escape punishment.
Online writing service EduBirdie told Newsweek it has offered Trump free Twitter proofreading services for the remainder of his presidential term.
In an email to the White House, it said: "Not only will we be available for you around-the-clock for instant proofreading and editing, but we will also support you in all other writing you undertake in the years to come."