President Donald Trump called Chinese President Xi Jinping a "brilliant leader" and "great man" during a joint press conference with French President Emmanuel Macron at the G7 summit in France on Monday.
While speaking positively about the summit, Trump complained about media coverage of the international gathering.
"This is a truly successful G7. There was tremendous unity. There was great unity," Trump told reporters. "Sometimes I'd read a little bit of false reporting. I will tell you...we would have stayed for another hour. Nobody wanted to leave. We were accomplishing a lot but I think more importantly we were getting along very well. Seven countries. And it really was the G7."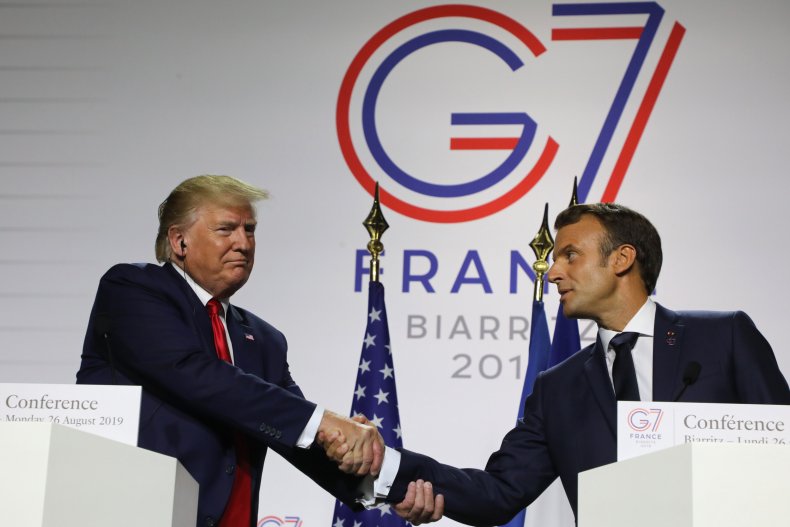 While his comments about the media were standard fare for a president who has regularly taken aim at reporters, his comments on China indicated a shift from just days earlier: On Friday, Trump called Xi an "enemy" after Beijing said it would be levying tariffs on $75 billion of U.S. goods before the end of the year.
Before Monday's presser, Trump claimed China had called "our top trade people and said 'let's get back to the table.' So we will be getting back to the table and I think they want to do something."
This account was challenged by the editor-in-chief of a newspaper run by the Communist Party of China, but Trump sounded optimistic about the prospects of progress in trade negotiations.
Despite Trump's praise of Xi, the tenor of trade negotiations between China and the U.S. has regularly fluctuated—and prior positive overtures have failed to lead to any compromise. The two countries have not indicated they are any closer to resolving ideological problems, which include forced technology transfers and allegations of intellectual property theft.
And tariffs on about $111 billion of imports from China are still set to go into effect on September 1, with China's retaliatory duties slated to begin on the same date.
The trade war with China, which has contributed to a global economic slowdown, has prompted concerns from numerous world leaders and analysts. Central banks have announced aggressive rate cuts in hopes of preventing a recession.
In his remarks about the impact of the U.S.-China trade war, Macron was diplomatic: The French leader said "lengthy discussions" about the global economy and the trade wars had taken place, adding that those talks "have clarified what is legitimate and what the United States feels is an unfair situation."
He talked broadly about negotiations creating uncertainty and issued a desire for both free and fair trade.
European leaders and Trump differ on key areas including environmental policy and the Iran nuclear accord. But while Trump often openly criticizes his European counterparts in blunt terms, they often voice their concerns less overtly.
Trump's outbursts have disrupted past international meetings among global leaders. Ahead of the 2018 NATO summit, he complained that European countries were not paying enough. After leaving last year's G7 in Canada, Trump lashed out at Canadian Prime Minister Justin Trudeau over Twitter and said he would refuse to sign a joint statement that had previously been agreed upon.
On Thursday Macron explained that the G7 would not conclude with its usual communiqué, saying "I know the points of disagreement with the U.S."
The Iran nuclear accord remains one of those key disagreements, and Trump noted his complaints about the Joint Comprehensive Plan of Action (JCPOA). He did, however, say that "if the circumstances were correct or right, I would certainly agree" to meet Iranian President Hassan Rouhani.