Trump Calls Dinner with Military Leaders 'The Calm Before the Storm'
As President Donald Trump met with his highest ranking U.S. military leaders and their spouses for dinner Thursday night, he said the moment could represent "the calm before the storm."
White House staff quickly gathered the press pool for an unscheduled photo opportunity after 7:00 pm, telling reporters the president decided he wanted the dinner documented. It was originally closed to the press.
As Trump and his wife, First Lady Melania Trump, stood beside Chairman of the Joint Chiefs of Staff, Gen. Joseph Dunford, and his wife for photos, the president pointed around the room and asked reporters if they knew "what this represents?"
"Maybe it's the calm before the storm," he said.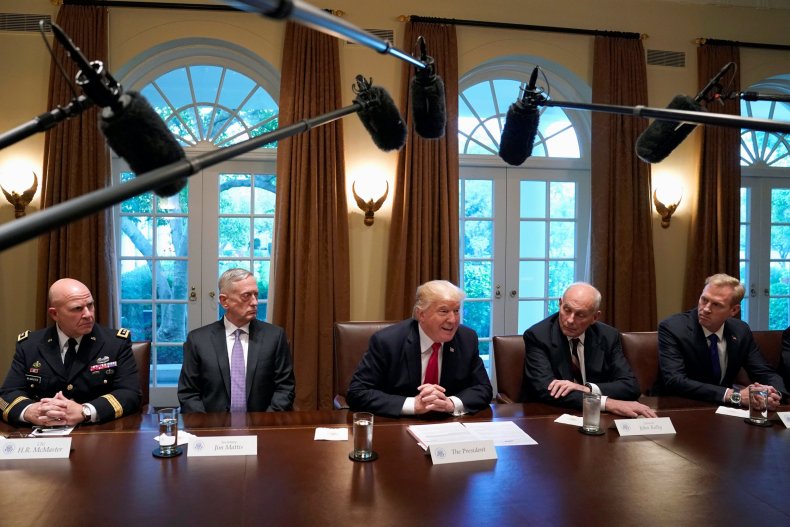 "What storm Mr. President?" asked NBC News reporter Kristen Welker.
"You'll find out," Trump replied cryptically. "We have the world's great military people," he said. "Thank you all for coming."
Trump did not answer questions about whether he was referring to an upcoming decision he has to make about keeping the Iran nuclear deal, tensions with North Korea over its nuclear weapons program, or the fight against the Islamic State extremist group.
Read more: Victims of the Islamic State group are taking revenge however they can
About an hour earlier, Trump met with senior military leaders, including his National Security Advisor H.R. McMaster, Secretary of Defense James Mattis, and Chief of Staff John Kelly.
During the meeting Trump picked out North Korea, Iran, Afghanistan, and ISIS as "challenges that we really should have taken care of a long time ago."
But he singled out the fight against ISIS in Iraq and Syria. "Tremendous progress has been made with respect to ISIS, and I guess the media is going to be finding out about that over the next short period of time," he said.
The president urged the military leaders in the room to give him "a broad range of military options, when needed, at a much faster pace."