Trump Calls Hillary Clinton 'Great Candidate... Very Smart'; Still Believes Illegal Votes Cost Him Popular Vote
President Donald Trump once again alleged, without evidence, that voter fraud may have been to blame for his losing the popular vote during the 2016 presidential election.
Although he secured the electoral college in that election with 304 votes, Trump lost the popular vote in 2016 by more a margin of 2.8 million ballots—the largest margin of any president in U.S. history. When asked Sunday by Meet the Press host Chuck Todd if that fact bothered him, Trump hedged his answer and attempted to cast doubt on the validity of the final tally. It was hardly the first time Trump has attempted to push forward the narrative.
"I'm going to say something again that I think is controversial," he said. "There were a lot of votes cast that I don't believe."
"There was much illegal voting," he added, insisting that the state of California "admitted to 1 million votes."
When pushed to elaborate, Trump said "look at Judicial Watch" and "I look at California." It wasn't immediately clear what news article the president was referencing. As reported by Judicial Watch, California did settle a lawsuit that allowed for the purging of inactive voter rolls—but those purged voters hadn't cast a ballot. Trump could have also been referencing a piece of viral, fake news that spread on Facebook, which claimed that 1.5 million people in California voted illegally in the 2016 election. That posting, which misinterpreted data from the Judicial Watch lawsuit, has been widely debunked.
Trump then pivoted and said he hadn't campaigned to win the popular vote, but asserted that he would have won had his campaign been strategically focused on garnering the most individual ballots.
"I like popular vote," Trump said. "I think I'd do better with the popular vote. But I didn't campaign for the popular vote. You didn't see me campaigning in California and New York. If it was up to the popular vote, I would have done even better."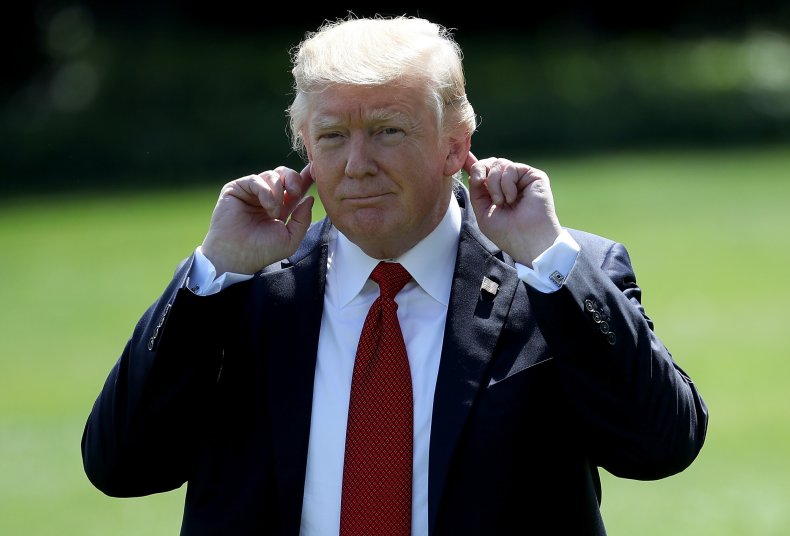 The president then said "she didn't do a good job, what can I tell you" referring to Democratic presidential candidate and former secretary of state Hillary Clinton, but changed his mind shortly after.
"No, maybe I did a great job. You know, I never get credit for that. They always say she was a lousy candidate. I actually think that Hillary Clinton was a great candidate. She was very smart. She was very tough. She was ruthless and vicious."
During the interview, Trump also revealed that he would prefer to compete against former Vice President Joe Biden in the looming presidential election. Biden, who announced his bid for the Democratic ticket in April, is currently leading more than a dozen hopefuls in early polling. Other polls show Biden besting Trump if the election were to be held in June.
When Todd asked Trump if he was prepared to lose, the president smiled and said "no."
"It would be much better if I said yeah," he said. "No, I'm probably not too prepared to lose. I haven't lost too much in my life."