In the biggest indication that he plans to run for president again so far, former President Donald Trump called himself the 47th president during a recent golf outing.
A video posted on Yeshiva World News' Instagram on Wednesday, showed Trump and a group of people on a golf course, which was identified in the video as Trump National. As Trump sets himself up for a shot, a member of the group noted that the 45th president of the United States was "first on tee."
"Forty-fifth and 47th," Trump responded as he turned around.
Trump's comment was met with applause and excitement from the rest of the golfing group. One person said, "I love it."
The former president has been teasing another presidential run since he left office, but hasn't officially confirmed it's in his plans. Instead, Trump has maintained interest in his decision by telling reporters people will be "very happy" with his choice, that he would be able to turn the country around and pointing to his strong polling numbers.
Despite being voted out of office in November 2020, Trump remains the strongest candidate for the Republican presidential nomination in 2024, according to polls. He regularly comes out as the top choice and some polls have found he has double the support as any other potential candidate.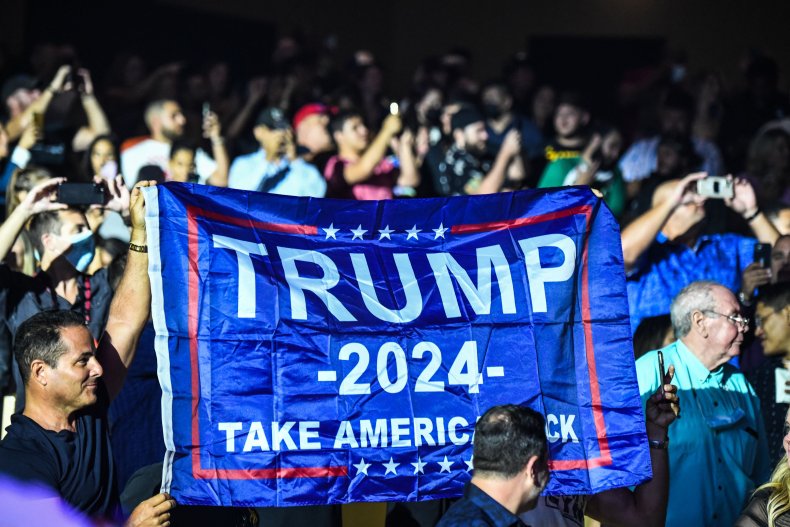 A Harvard CAPS/Harris poll released on Monday found Trump had the support of 57 percent of Republican voters in a hypothetical presidential primary, according to The Hill. Florida Governor Ron DeSantis and former Vice President Mike Pence were nearly tied for second, but only had 12 percent and 11 percent respectively.
Trump's support among Republicans was greater than Democratic support for President Joe Biden, according to the poll. In a hypothetical matchup between Trump and Biden, Trump came out on top with 46 percent and widened the gap when put up against Vice President Kamala Harris.
"Trump is starting out in a fairly strong position with Republicans while Biden and Harris have surprisingly little support among Democrats for incumbents. Trump is also starting out reasonably well-positioned for the general but he seems to be benefiting by being out of the limelight and no telling what would happen if he steps back in," Mark Penn, co-director of the Harvard CAPS/Harris poll, told The Hill.
The former president is unlikely to make any official announcement about a presidential run until after the 2022 midterms. Having vowed to help Republicans win, if Trump-backed candidates do well in the upcoming election and Republicans retake control of Congress, it could bolster chances that Trump makes a bid for the White House in 2024. However, large Republican losses in the midterms could throw cold water on a Trump 2024 campaign.
In May, Trump told Candace Owens that he hasn't officially launched a campaign, in part because of campaign finance reasons. But, he confirmed he was "beyond" seriously considering taking another shot at the White House and in September, made what many thought was a telling admission.
During an interview on Real America's Voice's The Water Cooler, Trump said the only thing that would prevent him from running is a "bad call from a doctor." He acknowledged it could happen, but noted that he feels "so good" right now.
Unlike Trump, President Joe Biden has committed to running for president in 2024. While marking the end of his first year in office, he said Harris would be his running mate, but, like Trump, has said that declining health could be a reason he doesn't launch another presidential campaign.
With a potential 2020 re-match on the horizon, Biden told ABC News in December that Trump being the Republican nominee only increases his interest in mounting a campaign of his own.
Newsweek reached out to Liz Harrington, a spokesperson for Trump, but did not receive a response in time for publication.