Trump Calls IG Report Critical of Coronavirus Response 'Just Wrong,' Implies It Could Be Politically Motivated
President Donald Trump said Monday during a coronavirus task force briefing that a report from an Inspector General at the Health and Human Services Department (HHS) which showed a lack of coronavirus testing supplies and long wait times may have been politically motivated.
"Hospitals reported that severe shortages of testing supplies and extended waits for test results limited hospitals' ability to monitor the health of patients and staff," read the Monday report by Principal Deputy Inspector General Christi Grimm. Personal protective equipment was also found to be in short supply, as were other basics such as food and toilet paper.
Trump cast doubts upon the veracity of the report. "That's just wrong," Trump said.
President Trump then asked a reporter to identify the person who wrote the report.
"Did I hear the word Inspector General? Really?" Trump asked. "It's wrong. Where did it come from, your Inspector General? What's his name? Find me his name. Let me know, okay? If you could find me his name, I'd appreciate it."
"We've had more testing and had more results than any country anywhere in the world," Trump continued. "They're doing an incredible job. Now, [other countries are] all calling us. They want our testing. What are we doing? How do you do the 5-minute test? How do you do the 15-minute test?"
"Give me the name of the Inspector General," Trump added. "Could politics be entered into that?"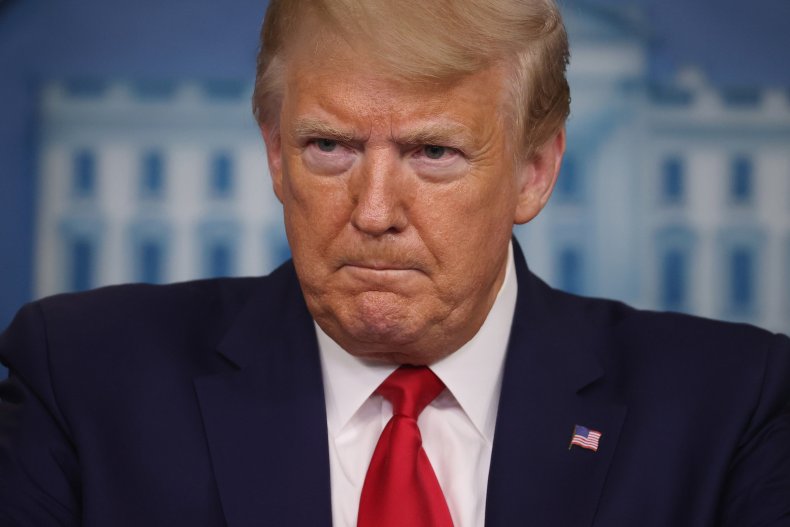 Trump may have been making a reference to the Inspector General of the Intelligence Community Michael Atkinson, who Trump fired on Friday. Atkinson had been instrumental in the launching of impeachment proceedings against Trump after informing the U.S. Congress of the whistleblower complaint that alleged improprieties in a telephone call between Trump and Ukraine President Volodymyr Zelenskiy.
ABC News reporter Jonathan Karl told Trump that Grimm had been appointed to her post in January 2020, but did not immediately mention the fact that Grimm had also served during the Obama administration.
After being informed that Grimm had served during the Obama administration, Trump told Karl he was a "third-rate reporter."
"See, there's a typical fake news deal," Trump said. "You're a third-rate reporter and what you just said is a disgrace, okay? You asked me. You said, 'Sir, they just got appointed.' Take a look at what you said. Now I said, 'When did they, when did this person, how long in government?' Well, it was appointed in the Obama administration."
"Thank you very much, Jon, thank you very much," Trump added. "You will never make it."
According to information from the HHS website, Grimm began her career with the Office of Inspector General (OIG) in 1999.
"Ms. Grimm serves as an executive liaison by engaging with Government partners, national professional associations, and the private sector," the website read, "and she frequently represents OIG as a speaker at educational programs and before Congress and the media."
Newsweek reached out to the HHS for comment but did not receive a response in time for publication.