Trump Calls McConnell a 'Political Hack,' Will Back MAGA-Supporting Challenger for His Seat
Former President Donald Trump criticized Senate Minority Leader Mitch McConnell's leadership and suggested Republican senators "will not win again" if McConnell remains in a GOP leadership position, in a statement released Tuesday.
Trump vowed to support candidates in upcoming primary elections who campaign on the Make America Great Again message that Trump himself campaigned on in 2016 and again last year.
"Mitch is a dour, sullen, and unsmiling political hack, and if Republican Senators are going to stay with him, they will not win again," Trump's statement said. "He will never do what needs to be done, or what is right for our Country.
"Where necessary and appropriate, I will back primary rivals who espouse Making America Great Again and our policy of America First. We want brilliant, strong, thoughtful, and compassionate leadership," he added.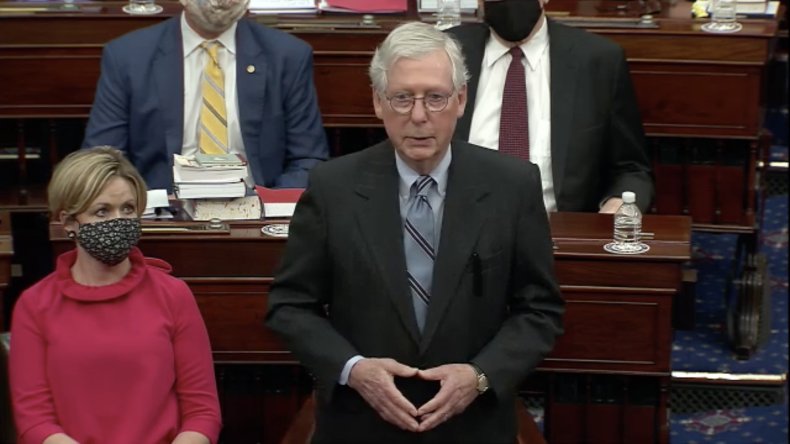 The former president's statement came three days after he was acquitted in the Senate following his impeachment on January 13 in the House. He was charged with "incitement of insurrection" in connection with the riot at the U.S. Capitol on January 6, and the article of impeachment marked the first time in history a president was impeached more than once. Trump's first impeachment ended with an acquittal in the Senate last February, which at the time was controlled by Republicans under McConnell, who was the majority leader.
During last week's impeachment trial, McConnell first voted against continuing with the proceedings because of questions about the constitutionality of convicting a president after he left office. Though seven Republican senators ultimately joined Democrats in voting to convict Trump, McConnell was not among him. Trump's acquittal was secured when House impeachment managers did not convince at least 67 senators to vote in favor of conviction.
After McConnell cast his vote for acquittal, he criticized Trump on the Senate floor, blaming him for provoking the January 6 riot.
"There is no question, none, that President Trump is practically and morally responsible for provoking the events of the day. No question about it," McConnell said. "The people who stormed this building believed they were acting on the wishes and instruction of their president."
Trump's statement did not reference McConnell's recent speech but did credit the GOP's loss of the Senate majority to the Kentucky Republican.
"The Republican Party can never again be respected or strong with political 'leaders' like Sen. Mitch McConnell at its helm," Trump's statement said. "McConnell's dedication to business as usual, status quo policies, together with his lack of political insight, wisdom, skill, and personality, has rapidly driven him from Majority Leader to Minority Leader, and it will only get worse."
Trump's statement went on to criticize McConnell for the two Senate runoff elections in Georgia—which both Republican incumbents lost, handing control of the Senate to the Democrats—and took credit for McConnell's successful reelection campaign last November.
"Without my endorsement, McConnell would have lost, and lost badly. Now, his numbers are lower than ever before, he is destroying the Republican side of the Senate, and in so doing, seriously hurting our Country," Trump's statement said.
The former president's statement concluded with a nod to some of the policy shifts that have occurred since he left office and President Joe Biden entered the White House.
"This is a big moment for our country, and we cannot let it pass by using third rate 'leaders' to dictate our future," the statement said.
Newsweek reached out to McConnell's office for comment and will update this story with any response.
This story has been updated with additional information and background.