Trump Calls Medina Spirit, Kentucky Derby Winner That Failed Drug Test, a 'Junky'
Medina Spirit won the Kentucky Derby just eight days ago, and that might be as long as it lasts while post-race drug tests indicate the race horse tested positive for elevated levels of betamethasone.
If another test sample comes back positive, the horse and its team will be stripped of the title, which would default to Mandaloun, who finished second in the May 1 race at Churchill Downs in Louisville, Kentucky.
News about Medina Spirit on Sunday prompted former President Donald Trump to issue a statement, in which he called the race horse a "junky," and said that cheating to win mirrors today's America.
"So now even our Kentucky Derby winner, Medina Spirit, is a junky," Trump said. "This is emblematic of what is happening to our Country. The whole world is laughing at us as we go to hell on our Borders, our fake Presidential Election, and everywhere else."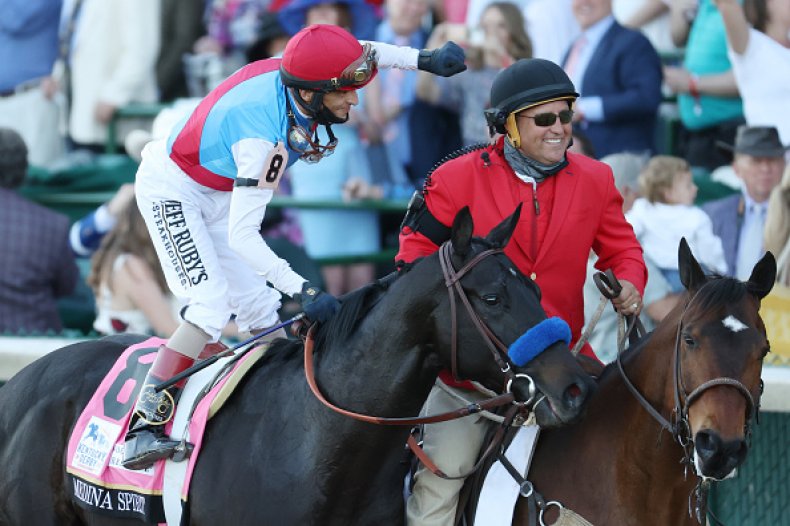 Newsweek reached out to Trump's office for further comment.
Bob Baffert, who won a record seventh Kentucky Derby as a trainer with Medina Spirit's victory, denies any doping of the race horse that almost led from wire-to-wire in the first leg of the Triple Crown.
"Yesterday, I got the biggest gut punch in racing for something that I didn't do," Baffert said Sunday morning. "[It's an] injustice to the horse. I don't feel embarrassed, I feel like I was wronged. But I'm going to fight it."
Should the split sample come back positive, Medina Spirit's Kentucky Derby title could be revoked, but it would likely be appealed. If an appeal doesn't work, then all earnings gained from the race would have to be returned.
Betamethasone is an anti-inflammatory corticosteroid, and Baffert denies any usage of the drug. Last September, another Baffert-trained horse, Gamine, tested positive for betamethasone.
Churchill Downs released a statement regarding Medina Spirit's test results, and added that Baffert will be banned from entering any horses at its track.
"It is our understanding that Kentucky Derby winner Medina Spirit's post-race blood sample indicated a violation of the Commonwealth of Kentucky's equine medication protocols. The connections of Medina Spirit have the right to request a test of a split sample and we understand they intend to do so. To be clear, if the findings are upheld, Medina Spirit's results in the Kentucky Derby will be invalidated and Mandaloun will be declared the winner."

"Given the seriousness of the alleged offense, Churchill Downs will immediately suspend Bob Baffert, the trainer of Medina Spirit, from entering any horses at Churchill Downs Racetrack. We will await the conclusion of the Kentucky Horse Racing Commissions' investigation before taking further steps."
Essential Quality (2-1) was the heavy favorite to win the Kentucky Derby, but finished a full length behind Medina Spirit (13-1). Mandaloun was second, and Hot Rod Charlie finished third.
The second leg of the Triple Crown is the Preakness Stakes at Pimlico Race Course in Baltimore this Saturday. Baffert showed no indication that Medina Spirit would miss that race.
In 2015, Baffert-trained American Pharoah won all three legs of the Triple Crown (Kentucky Derby, Preakness Stakes, Belmont Stakes), breaking a 37-year drought of a horse accomplishing that rare feat.