Trump Calls Meghan McCain a 'Lowlife,' Claims He Made John McCain's Funeral Possible
Former President Donald Trump reignited his ongoing feud with the family of late Senator John McCain on Friday as he attacked McCain's daughter and former co-host of the view Meghan McCain as a "bully and basically a lowlife."
"Isn't it funny that Meghan McCain, who has always been a bully and basically a lowlife, is now complaining that it was she who was bullied by the Slobs and Radical Left maniacs of 'The View,'" Trump said in a statement.
The former president also took credit for making the late senator's funeral possible.
"At the request of many of her representatives, I made it possible for her father to have the world's longest funeral, designed and orchestrated by him, even though I was never, to put it mildly, a fan," Trump said.
"In any event, Meghan should fight the Communists instead of explaining how they beat her, hurt her, and made her 'physically ill.' She should fight back against the Losers of The View the way she fights against very good and well-meaning Republicans, and she would do herself a world of good!," Trump added.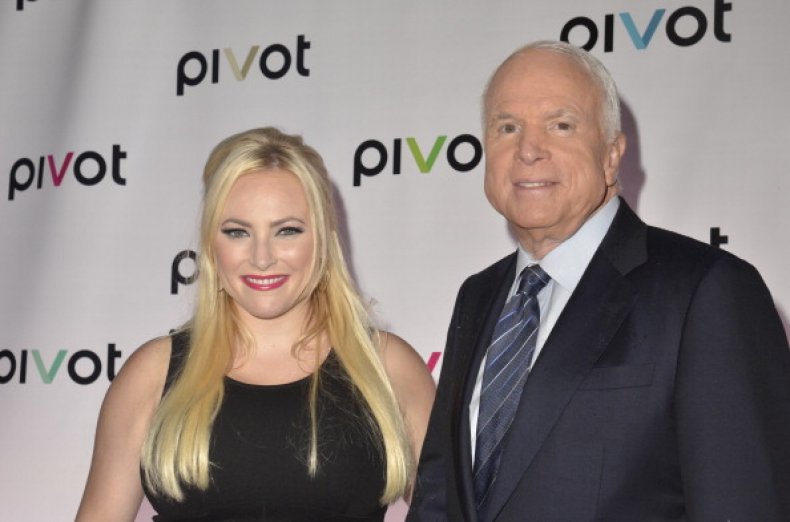 His comments come as a response to Meghan McCain's new Audible memoir, Bad Republican, which details her exit from The View earlier in August.
In the last chapter of the book, she reveals that she walked away from the talk show because of the way the other co-hosts treated her for her conservative voice, citing Whoopi Goldberg's "open disdain" for her and Joy Behar's on-air criticisms of her.
In the memoir, McCain also slammed Trump's daughter and son-in-law, Ivanka and Jared Kushner, for attending her father's funeral in 2018.
"They should never have come," she said on a Thursday appearance of Watch What Happens Live With Andy Cohen. "They had no business being there. I remember seeing them and seeing her specifically. They had no goddamn business being there, and it's something that still angers me, clearly."
It was reported that before his death in 2018, John McCain's team informed the Trump White House that the senator did not want Trump to attend his eventual funeral—a wish that Trump honored.
However, Trumps' daughter and son-in-law still attended the service. Meghan McCain later said that the couple was not invited by the family.
On Friday, Trump falsely claimed to have won Arizona in the 2020 presidential election again.
"Despite [John McCain's] fighting against me, I won Arizona by a lot in 2016 and won Arizona by even more in 2020—unfortunately the vote counters in 2020 were far more important than the candidate (See the determinative Report issued Wednesday by the Arizona Auditors!)," Trump said.
Several recounts and multiple failed lawsuits, however, have bolstered President Joe Biden's win of the state's 11 electoral votes.
Trump had a long-standing feud with the late senator, who was a staunch critic of Trump when he was alive.
John McCain notably refused to attend the Republican National Convention in 2016, at which Trump accepted the party's nomination and publicly criticized Trump even after he was elected to office.
Trump has also re-aired his grievances with John McCain over the years, suggesting that McCain was not technically a "war hero" because he was "captured" in the Vietnam War.
Newsweek reached out to the McCain family for comment but did not hear back before publication.