Trump Calls Mitch McConnell 'Knucklehead' for Not Eliminating Filibuster
Had Senate Minority Leader Mitch McConnell been more of a political powerhouse, the filibuster would be a thing of the past and Senator Joe Manchin would be a Republican, according to former President Donald Trump.
Once Trump's greatest ally on Capitol Hill, McConnell broke with the former president over his role in the Capitol riot, a cardinal sin in the eyes of Trump. The former president has since lobbed continuous attacks at the GOP leader for being a weak politician, unintelligent and a hindrance to the Republican Party.
"He's a stupid person," Trump said in a Vanity Fair interview published Monday. "I don't think he's smart enough."
One of Trump's gripes with McConnell is that he didn't eliminate the filibuster when Republicans had the majority. In 2018, Trump pleaded with GOP members of Congress to change the rules of the filibuster before Democrats took over the Senate, giving Senator Chuck Schumer the opportunity to gut the process of blocking majority-party-backed legislation.
"I tried to convince Mitch McConnell to get rid of the filibuster, to terminate it so that we would get everything, and he was a knucklehead and he didn't do it," Trump told Vanity Fair.
Newsweek reached out to Senator Mitch McConnell for comment but did not receive a response in time for publication.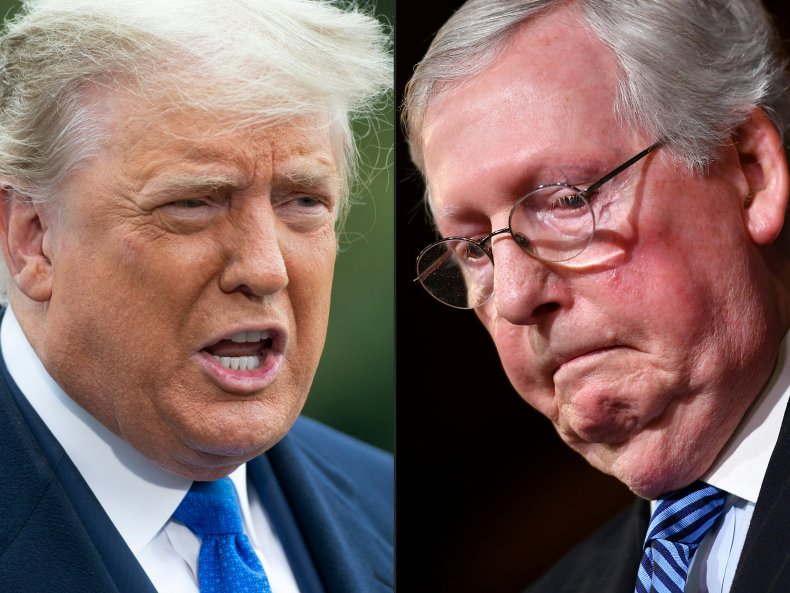 McConnell pushed back on Trump's request, saying that the filibuster isn't a "problem." He considered the filibuster a means of helping to generate a bipartisan solution to legislation and estimated that about two-thirds of the Republican caucus would oppose ending it.
Removing the filibuster would allow the majority party to pass legislation without any support from the minority party. Although tempting, as it would help guarantee a president's agenda moves forward, McConnell noted in 2018 that Republicans wouldn't always have the majority, so gutting the filibuster could give Democrats a way to ram through their agenda as well.
Fast forward three years and it's an argument McConnell's using to dissuade Democrats from gutting the measure.
"As soon as Republicans wound up back in the saddle, we wouldn't just erase every liberal change that hurt the country," McConnell said in a Senate floor speech in March. "We'd strengthen America with all kinds of conservative policies with zero input from the other side."
With the filibuster in place, Democrats need 10 Republicans on board with a piece of legislation to move it through the Senate because of their razor-thin majority. While some legislators have pushed for the elimination of the filibuster in the interest of passing Biden's agenda, that's unlikely to happen because of Manchin.
Manchin's held firm in his opposition to gutting the filibuster and the moderate Democrat has, at times, been a thorn in the side of the Democratic Party. The caucus can't afford to lose a single vote in the Senate and the moderate Democrat forced members of his party to come to the negotiating table on more than one occasion.
A key vote for the Democratic agenda, Trump faulted McConnell for not convincing Manchin to join the Republican Party, according to Vanity Fair. The former president previously praised Manchin for opposing filibuster reform and he's the only statewide Democrat representing West Virginia in Congress.
While his moderate persona and penchant for bipartisanship have enabled him to remain in office for 10 years, it's unclear how his most recent term will bode with constituents. Some Democrats see him as an opposing force to the values of the party and some Republicans want a member of their own party in office, as Manchin often ends up voting with Democrats despite his push for compromise.
Along with calling McConnell "stupid" and a "knucklehead," Trump disparagingly compared him to Meade Esposito, a Democratic Party leader who commanded respect.
"It's like a baby compared to a grownup football player with brains on top of everything else," Trump told Vanity Fair.