Former President Donald Trump is joining a chorus of people who want to know the name of the officer who fatally shot Ashli Babbitt while she was in the U.S. Capitol during the January 6 riot.
Babbitt was shot through the glass pane of a door inside the federal building, one of five people to lose their life that day. In June, the Department of Justice closed an investigation into the U.S. Capitol Police officer who shot her, clearing him of all wrongdoing. However, her family has filed a lawsuit to obtain the officer's records and is seeking more than $10 million for her death.
In a statement Wednesday, Trump asked, "Who shot Ashli Babbitt?" It was the first official statement he's made regarding the officer involved in her death.
In April, the Justice Department said it had conducted a thorough investigation into the 35-year-old's death that included examining video footage and speaking with other officers and witnesses, as well as the autopsy results. The investigation yielded insufficient evidence to support the criminal prosecution of the officer.
"Specifically, the investigation revealed no evidence to establish that, at the time the officer fired a single shot at Ms. Babbitt, the officer did not reasonably believe that it was necessary to do so in self-defense or in defense of the Members of Congress and others evacuating the House Chamber," the Department of Justice wrote.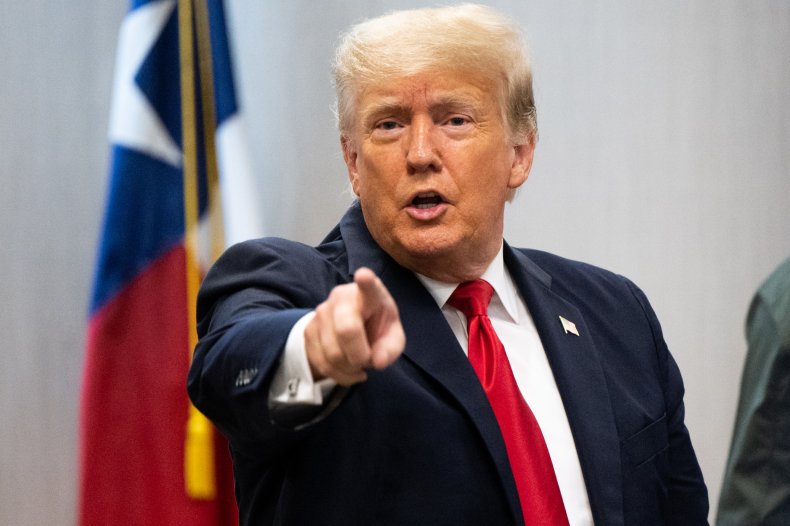 Babbitt was among a crowd of people who gathered in a hallway leading to the Speaker's Lobby. Officers positioned furniture in front of the doors to prevent them from being opened. The mob was able to break the glass of one of the doors, and Babbitt attempted to climb through it, at which point the officer fired a round from his pistol. Babbitt was hit in the shoulder and taken to MedStar Washington Hospital Center, where she died.
To charge the officer, the Department of Justice said, it would have been necessary to prove that he willfully deprived Babbitt of a constitutionally protected right.
Months after the investigation closed, Babbitt's family filed their lawsuit, which could reveal the officer's identity. The suit argued that the Metropolitan Police Department failed to comply with a May 12 deadline to provide records to Ashli's husband, Aaron, or to inform him that his Freedom of Information Act request was being denied.
Anthony Mazziott Jr., Babbitt's uncle, told KCAL-TV she was "fanatical" about her country and Trump.
"She loved her country, and she was doing what she thought was right to support her country, joining up with like-minded people that also love their president and their country," Aaron told KSWB-TV. "She was voicing her opinion, and she got killed for it."
To some on the right, Babbitt is regarded as a martyr, and a GoFundMe memorial account has raised more than $90,000. Along with Trump, several Republicans have called for the officer to be held accountable for shooting Babbitt. Representative Paul Gosar of Arizona has said she was "executed."
Other Republicans have taken a different view, acknowledging that the shooting was tragic but an unfortunate result of the assault on the Capitol. Representative Markwayne Mullin of Oklahoma said he had multiple conversations with a police lieutenant before rioters broke the glass. With members of Congress in danger, the officer "didn't have a choice" but to fire his weapon, the congressman said.
"That young lady's family's lives changed, and [the officer's] life also changed," Mullin told Good Morning America. "But what also happened is that mob that was trying to go through that door, they left. And his actions will be judged in a lot of different ways moving forward, but his actions I believe saved people's lives even more. Unfortunately, it did take one, though."