Trump Calls for 'No Violence' After FBI Warns of More Demonstrations Ahead of Biden Inauguration
President Donald Trump released a statement on Wednesday calling for "no violence" in the wake of reports of planned armed demonstrations by his supporters across the country.
The FBI warned in an internal memo reported by CNN on Tuesday that it has information regarding armed demonstrations planned in all 50 states, as well as further demonstrations planned for Washington, D.C. surrounding President-elect Joe Biden's nomination on January 20. Those demonstrations are planned in the wake of the violent insurrection by pro-Trump rioters at the U.S. Capitol last Wednesday. Five died as a result of the assault, which Democrats and many Republicans believe was incited by Trump.
"In light of reports of more demonstrations, I urge that there must be NO violence, NO lawbreaking and NO vandalism of any kind," the president said in a statement. "That is not what I stand for and it is not what America stands for. I call on ALL Americans to help ease tensions and calm tempers. Thank You."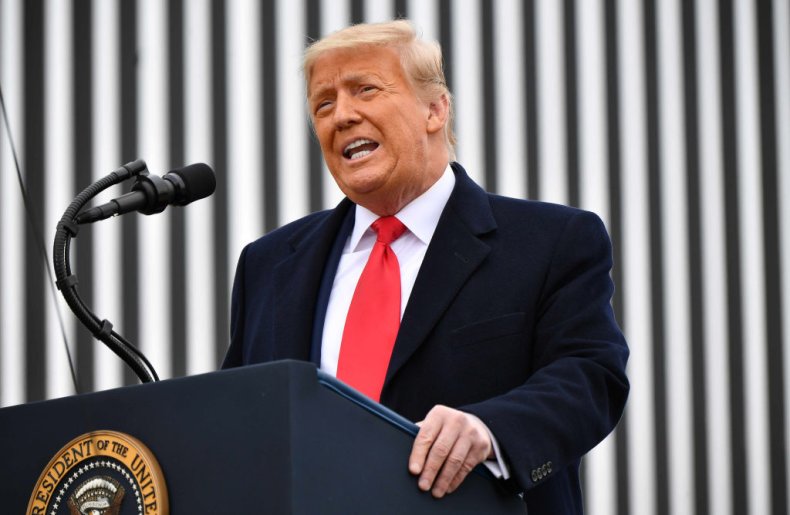 Republican National Committee chair Ronna McDaniel released a statement condemning violence on Wednesday as well.
"Violence has no place in our politics. Period. I wholly condemned last week's senseless acts of violence, and I strongly reiterate the calls to remain peaceful in the weeks ahead," McDaniel said. "Those who partook in the assault on our nation's Capitol and those who continue to threaten violence should be found, held accountable, and prosecuted to the fullest extent of the law."
"Let me be clear: Anyone who has malicious intent is not welcome in Washington, D.C. or in any other state capitol," she added. "The peaceful transition of power is one of our nation's founding principles and is necessary for our country to move forward. Now is the time to come together as one nation, united in the peaceful pursuit of our common democratic purpose."
Trump is expected to be impeached on Wednesday in the wake of the insurrection last week. Ahead of the riot at the U.S. Capitol, Trump spoke at a rally at The Ellipse near the White House, urging his supporters to "fight harder" and to march to the legislative building. As the riot continued, Trump released a video telling his supporters that he loved them, calling them "very special."
A number of Republicans have announced that they will vote with their Democratic colleagues to impeach the president. The most prominent of these GOP lawmakers is Representative Liz Cheney of Wyoming, the chair of the House Republican Conference.
"The President of the United States summoned this mob, assembled the mob, and lit the flame of this attack. Everything that followed was his doing. None of this would have happened without the President. The President could have immediately and forcefully intervened to stop the violence. He did not," Cheney said in a Tuesday statement. "There has never been a greater betrayal by a President of the United States of his office and his oath to the Constitution."
The president's supporters were angered due to his repeated baseless claims that the election was stolen from him. There is no evidence to back this allegation. More than 50 lawsuits brought by Trump and his supporters to overturn the election results have failed in court. Even judges appointed by Trump and other Republicans have pointed out in their rulings that lawyers did not provide evidence to back the extraordinary claims.
Former Attorney General William Barr, who was widely viewed as one of Trump's most loyal and effective Cabinet members, said in early December that there is "no evidence" of voter fraud that would change the election results. He resigned a few weeks later.
Newsweek reached out to the White House for comment but did not immediately receive a response.