Trump Calls Omar, Tlaib, Ocasio-Cortez Anti-Semites at Evangelical Rally: 'Where Do These People Come From?'
President Donald Trump appeared at the launch of the Evangelicals for Trump coalition Friday at the King Jesus International Ministry in Miami, Florida.
Trump announced the existence of Evangelicals for Trump soon after a December editorial in Christianity Today said he should be impeached and removed from office, labeling his actions in the Ukraine scandal "a violation of the Constitution" and "profoundly immoral."
Trump has a strong base of Republican support within the Evangelical Christian movement, with over 75 percent of them voting for Trump in 2016.
Although the event had been on Trump's schedule for weeks, the rally occurred the day after Trump ordered the drone strike that killed the leader of the Iranian Revolutionary Guards Corps Qassem Soleimani at the airport in Baghdad, Iraq.
After evangelical leaders laid hands on Trump and prayed, the president addressed the military action saying "Qassam Solemeini has been killed and his bloody rampage is forever gone. He was planning a very major attack and we got him."
"Let this be a warning to terrorists," Trump added. "If you value your own life, you will not threaten the lives of our citizens."
Trump expounded upon his idea of America as a country that appreciates and celebrates freedom of religion.
"What's happening to Christians in parts of the world is unbelievable and unthinkable and we're not putting up with it," Trump said to great applause.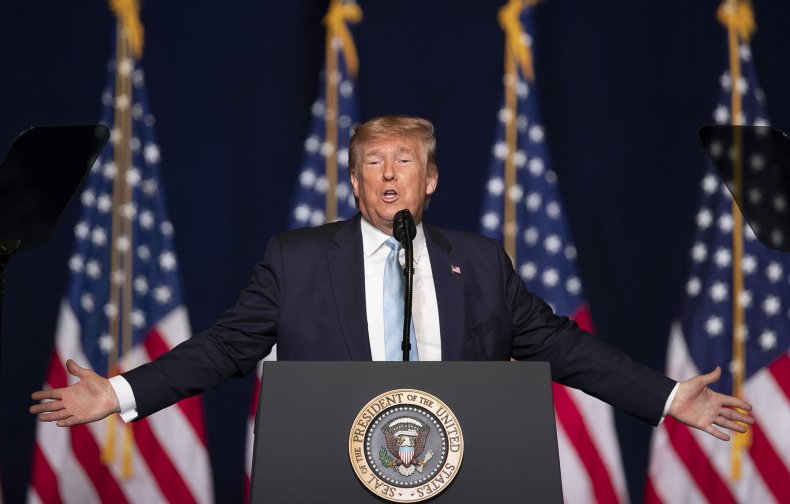 He also seemed to draw a link between religious freedom and the Second Amendment by referencing the Sunday shooting at the Freeway Church of Christ in White Settlement, Texas.
"You had 242 people," Trump said. "Worshippers. They were praying and this maniac walked in and started shooting. But then, a man had a gun and he knew how to use it and in a very short period of time, that was the end. Two people died, but you had 242 people and they could have all been dead, every one of them."
"And then these people talk about guns and gun safety and gun rights and honestly, they don't really know what they're talking about," Trump added.
"Your Second Amendment is under siege, but I guess that's why [Democrats] don't love me," Trump said. "Look, there's so many reasons they don't like me. This is one of many. But as long as I'm here, and I'm going to be here for a long time, your Second Amendment is protected."
Trump spoke of his administration's support for Israel and Jewish people, promising to eradicate the "sinister scourge of anti-Semitism" while calling out members of Congress for their perceived anti-Jewish sentiment.
"The love by evangelicals, Christians, for Jewish people and for Israel is incredible," Trump said. "We will not rest until the horrible and vile ideology of anti-Semitism has been defeated and destroyed."
"Unfortunately," Trump continued, "there is a growing left-wing movement who seeks to target and punish the state of Israel and its Jewish citizens. We have people in Congress, I don't know where they come from... but these people, they hate Israel. They hate Jewish people."
"I won't name them, I won't name bring up the name of [Representative Ilhan] Omar, [Representative Rashida] Tlaib, AOC, I won't bring that name up. But where do these people come from?"
Trump hammered home the importance of faith and family, painting socialism as a threat to the foundation of America.
"We know that families and churches, not Washington bureaucrats, know best how to create strong and loving communities," Trump said. "Above all else, we know this: In America, we don't worship government, we worship God."
"We resolve again today that America will never be a socialist country ever," Trump said to thunderous applause. "America was not built by religion-hating socialists. America was built by churchgoing, God-worshipping, freedom-loving patriots."