Trump Calls Out CBS' Lesley Stahl for 'Not Wearing A Mask at White House'
President Donald Trump posted a short video on Tuesday of CBS News correspondent Lesley Stahl not wearing a face mask at the White House.
In the video, two other individuals can be seen wearing face masks while Stahl is mask-free. Several members of the White House staff, including Trump, have tested positive for COVID-19 recently. Some observers have pointed to a September event at the White House for Supreme Court nominee Judge Amy Coney Barrett as potentially being the source of the virus's spread throughout Trump's staffers. Trump has often been observed in public without wearing a face mask.
"Lesley Stahl of 60 Minutes not wearing a mask in the White House after her interview with me," Trump tweeted. "Much more to come."
Interviews with Trump and Democratic presidential nominee Joe Biden are expected to be broadcast on Sunday's episode of 60 Minutes. Vice President Mike Pence and Democratic vice-presidential nominee Kamala Harris were also scheduled to be interviewed for the program.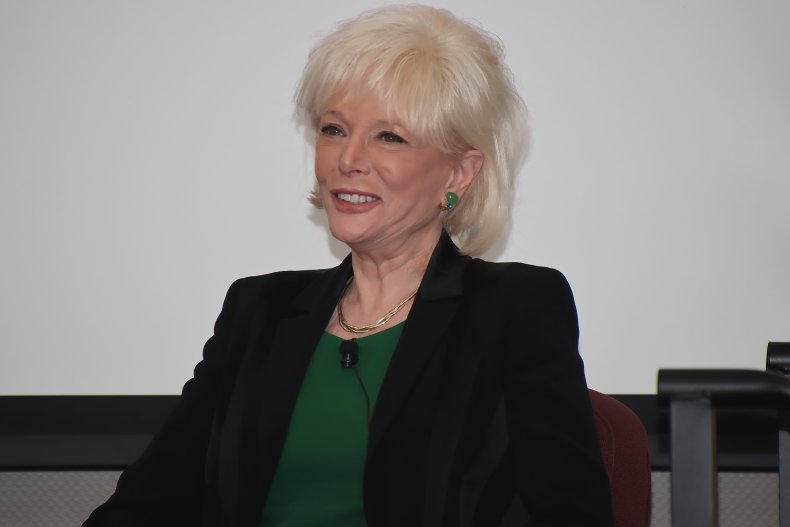 Trump also tweeted that he was considering releasing his interview with Stahl before it was scheduled to air.
"I am pleased to inform you that, for the sake of accuracy in reporting, I am considering posting my interview with Lesley Stahl of 60 Minutes, PRIOR TO AIRTIME!" Trump wrote. "This will be done so that everybody can get a glimpse of what a FAKE and BIASED interview is all about."
People familiar with the interview told Newsweek on Tuesday that the images posted by Trump were from immediately after the interview with the CBS team, who had all been tested. Stahl was wearing a face mask leading into the interviews as appropriate.
In May, Stahl revealed that she had been hospitalized with the coronavirus for a week. "One of the rules of journalism is 'don't become part of the story,'" Stahl said at the end of an episode of 60 Minutes. "But instead of covering the pandemic, I was one of the more than one million Americans who did become part of it."
Trump has claimed that since he received treatment for COVID-19 in October at Walter Reed National Military Medical Center, he could be immune to the disease.
"It looks like I'm immune for, I don't know, maybe a long time, maybe a short time," Trump told Fox News host Maria Bartiromo during an October interview. "It could be a lifetime. Nobody really knows, but I'm immune. So the president is in very good shape to fight the battles."
Trump also posted in October about his immunity on social media, writing that he "can't get it (immune), and can't give it." Twitter flagged Trump's tweet for violating its rules about disseminating "misleading and potentially harmful information related to COVID-19."
Some individuals who attended the September nomination event for Judge Barrett tested positive for COVID-19, including White House Press Secretary Kayleigh McEnany and Utah Republican Senator Mike Lee. Donald Trump revealed he had tested positive for the coronavirus in October.
First Lady Melania Trump revealed in October that she had tested positive for COVID-19 but had recovered. Melania Trump, who was expected to join Donald Trump at a campaign event in Pennsylvania on Tuesday, chose not to make the appearance. In a Tuesday statement, Melania Trump's chief of staff Stephanie Grisham said the First Lady had "a lingering cough."
Updated 6:29 p.m. EST 10/20/2020: This story has been updated with a tweet from Donald Trump.
Updated 7:00 p.m. EST 10/20/2020: This story has been updated with information from people familiar with the interview.