Trump Calls Roger Stone Judge 'Totally Biased' as She Condemns President for Criticizing Juror Who Voted to Convict
As Judge Amy Berman Jackson held a limited-access hearing Tuesday regarding a possible new trial for the convicted ally of President Donald Trump, Roger Stone, Trump called both Jackson and jury foreperson Tomeka Hart "totally biased."
Trump has spoken out about Hart before, telling a rally crowd Friday in Nevada that Hart was "jumping up and down" after Stone's prison sentence was announced.
Without mentioning her by name, Trump called Hart "a radical anti-Trump person, and she didn't say that when she went up there. And she became the foreperson of the jury. And she did terrible things and said terrible things."
Trump added that Hart's bias was uncovered "when he was convicted and then a statement was made, she started jumping up and down screaming, 'Yes, yes,' and started telling everybody and everybody said, 'Wait a minute, wasn't she just a juror?' The woman was totally biased."
Stone's attorneys filed a motion for a new trial after Trump's comments and tweet regarding Hart, alleging she provided untruthful answers on the jury questionnaire and failed to properly follow instructions during the legal proceedings against Stone.
"There has rarely been a juror so tainted as the forewoman in the Roger Stone case," Trump tweeted. "Look at her background. She never revealed her hatred of 'Trump' and Stone. She was totally biased, as is the judge. Roger wasn't even working on my campaign. Miscarriage of justice. Sad to watch!"
The White House declined to respond to Newsweek's request for comment.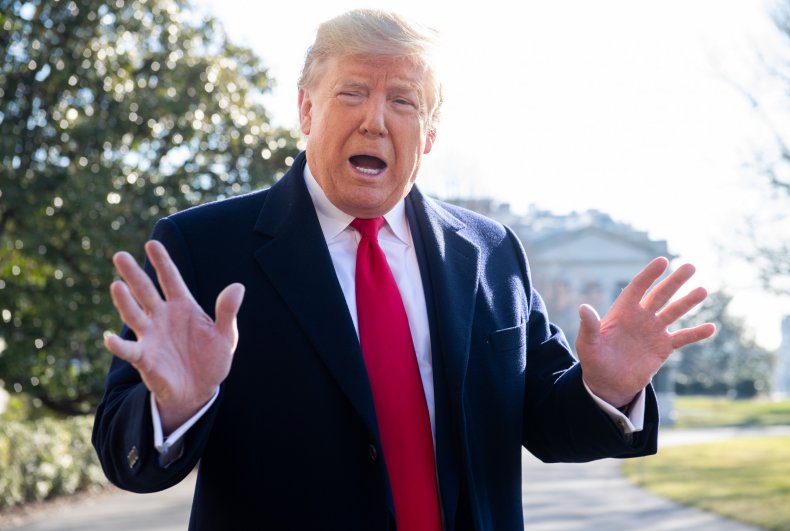 In a now-deleted Facebook post, Hart defended the original team of prosecutors after they withdrew from Stone's case when the Department of Justice indicated they would move to reduce their recommended prison sentence for Stone from the maximum of nine years.
"It pains me to see the DOJ now interfere with the hard work of the prosecutors," Hart wrote. "They acted with the utmost intelligence, integrity, and respect for our system of justice."
After Hart's identity became public knowledge, Jackson made reducing the risk of potential jurors a priority in Tuesday's hearing.
"Any attempts to invade the privacy of the jurors is completely antithetical to our entire system of justice," Jackson said, according to USA Today.
"Individuals who are angry about Mr. Stone's conviction may choose to take it out on them personally," Jackson said, according to reporting from NBC. "While judges may have volunteered for their positions, jurors are not volunteers. They are deserving of the public's respect and they deserve to have their privacy respected."
Jackson also disallowed the mentioning of the names of jury members, their jury numbers and their social media accounts.
Stone was sentenced to 40 months in prison for obstruction of justice, lying to Congress and witness tampering in regards to an investigation of Russian meddling in the 2016 presidential election. Trump has come out in defense of Stone, calling his conviction "unfair."
Trump has also hinted that he could pardon Stone, but wants to wait to see "the process play out."
"At some point, I'll make a determination," Trump said in February, "but Roger Stone and everybody has to be treated fairly. And this has not been a fair process."