Former Trump Campaign Adviser Calls Migrant Caravan a 'Political Gift,' Wishes They Were 'Carrying Heroin'
Just weeks before the midterm elections immigration has re-emerged as a key campaign issue as a migrant caravan makes its way through Central America toward the U.S. border.
The approaching caravan, which is estimated to be carrying up to 7,000 undocumented migrants, has been slammed by Donald Trump. The president claimed in a series of tweets on Monday that he is ready to declare a "national emergency" over the issue.
But Republican strategists say that the caravan may be reinvigorating the president's calls for increased border security. One former Trump campaign adviser told The Washington Post that the caravan was a "political gift" for the party before voters head to the polls this November.
"I wish they were carrying heroin. I wish we had thought of it. It speaks to the dearth of our creativity, unfortunately," Barry Bennett, an adviser for Trump's 2016 presidential campaign, said. "There are 7,000 people marching toward the U.S. border. One party wants to let them in. The other party wants to keep them out."
Trump has already blamed the migrant caravan on Democrats, accusing them of pushing for open borders and stalling Republican-led efforts to pass tougher immigration legislation.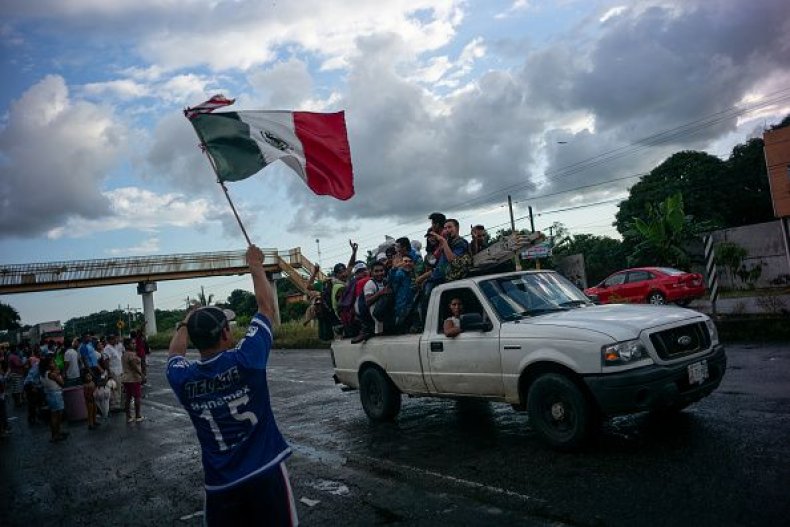 "Every time you see a Caravan, or people illegally coming, or attempting to come, into our Country illegally, think of and blame the Democrats for not giving us the votes to change our pathetic Immigration Laws! Remember the Midterms! So unfair to those who come in legally," Trump wrote in one social media post on Monday morning.
In another tweet, the president vowed to cut off foreign aid to Guatemala for failing to stop the caravan from moving closer to the U.S. border.
At a rally in Houston for Senator Ted Cruz, Trump told the crowd that Democrats "don't care what their extremist immigration agenda will do to your neighborhoods or your hospitals or your schools. They don't care that the mass illegal immigration will totally bankrupt our country."
A poll conducted by the Pew Research Center in October found illegal immigration was considered a "very big" problem for 75 percent of Republican voters. Only 19 percent of Democratic voters, on the other hand, found illegal immigration to be a top concern.
As of Tuesday morning, the caravan arrived in Huixtla, Mexico, a city located 1,100 miles from the nearest U.S.-Mexico border entry point, in McAllen, Texas. The caravan is expected to arrive at the southern U.S. border in early November.